Chinese President Hu Jintao's recent visit to Africa exemplified three leading features of China's policy toward Africa: all-round cooperation, unwavering assistance and commitment to promises. During his fourth tour to Africa as Chinese president, Hu visited Mali, Senegal, Tanzania and Mauritius from February 12 to 17, highlighting common interests between China and Africa amid the global financial crisis.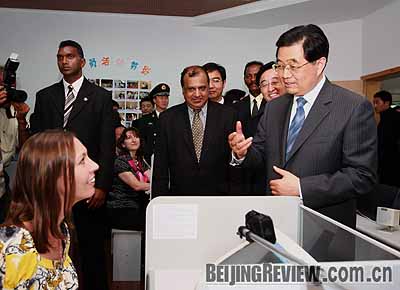 CULTURAL BOND: Chinese President Hu Jintao talks to a Mauritian student at the Chinese Culture Center in Mauritius on February 17 (JU PENG)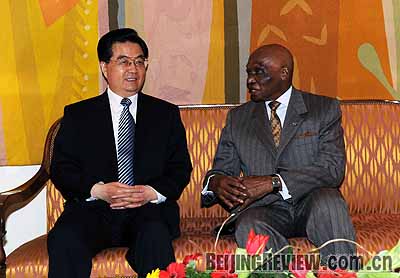 WORKING TOGETHER: Chinese President Hu Jintao holds talks with Senegalese President Abdoulaye Wade in Dakar on February 13 (RAO AIMIN)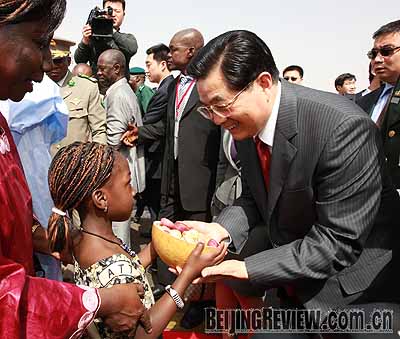 MALIAN HOSPITALITY: A Malian girl welcomes visiting Chinese President Hu Jintao at Bamako's airport on February 12 (JU PENG) 

At a time when both China and Africa are struggling to come to terms with the devastating impact of the ongoing financial crisis, Hu's visit showed determination to tackle difficulties through mutually beneficial cooperation, experts said.

Friends in need

At a meeting with Senegalese President Abdoulaye Wade in Dakar, Hu said China would not reduce its aid to Africa as a result of its efforts to address the financial crisis. China will keep the promises it made at the Beijing Summit of the Forum on China-Africa Cooperation (FOCAC) in November 2006.

China will urge the international community to pay attention to the difficulties Africa is facing in the financial crisis, maintain its aid input, Hu said. China is ready to better coordinate with Senegal and other African countries in an effort to weather the crisis, he added.