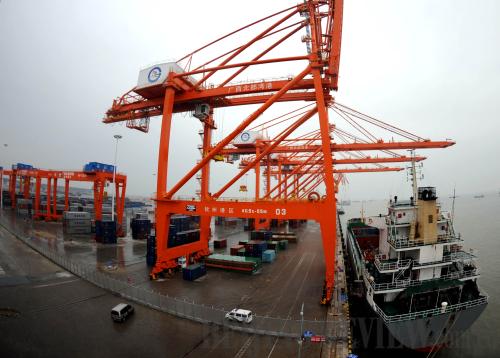 SHIFTING INTO HIGH GEAR: A cargo ship docks at a berth at the Qinzhou Free Trade Port in Guangxi. The port is the only free trade port in west China and the closest one to ASEAN member states (ZHANG AILIN)
The concept of CAFTA dates back to the Fourth China-ASEAN Summit in November 2000. At the summit, ASEAN member nations raised concerns that China's exports would be dramatically strengthened after it entered the World Trade Organization (WTO), thus threatening their interests, as the ASEAN economy was export-oriented.
To allay their concerns, Chinese leaders proposed the establishment of a free trade area between China and ASEAN to promote economic integration and mutual benefit. The two sides went on to establish an expert panel to research its feasibility.
In March 2001, the panel issued a report enthusiastically endorsing the move. Then, at the Fifth China-ASEAN Summit later that year, China and the 10 ASEAN member countries formally announced that they would jointly establish a free trade area.
In November 2002, the two sides signed the Framework Agreement on Comprehensive Economic Cooperation. Thus the stage was officially set for progress. To enjoy the benefits of free trade sooner rather than later, both sides formulated an "early harvest program" in the agreement, as requested by ASEAN member countries.
Under the plan, all sides agreed to cut tariffs on some 600 products (mostly agricultural products) as of January 1, 2004. It was also pledged that tariffs on these products traded between China and the six original members of ASEAN members—Brunei, the Philippines, Indonesia, Malaysia, Thailand and Singapore—would be reduced to zero by 2006. In addition, Viet Nam announced it would eliminate all tariffs on the early harvest products by January 2008. Laos and Myanmar would go on to follow suit by January 2009, and, Cambodia, by January 2010.
In October 2003, China and Thailand began to implement the agreement they had signed on mutual exemption of tariffs on imported fruits and vegetables, as a prelude to CAFTA's early harvest program.
In November 2004, China and ASEAN signed the Agreement on Trade in Goods, regulating a cut in tariffs on about 7,000 other items beginning from July 2005, while adopting a fresh dual track policy for newer ASEAN members—Viet Nam, Laos, Cambodia and Myanmar. At the same time, both sides signed the Agreement on Dispute Settlement Mechanism.
In January 2007, the two parties signed the Agreement on Trade in Services. In it, they promised to open bilateral trade at a level higher than that of the WTO in more than 60 different services sectors. In July of that same year, the agreement entered into force.
In August 2009, China and ASEAN signed the Investment Agreement, opening investment markets to each other. By then, the main legal frameworks of CAFTA had all been established.
Finally, on January 1, 2010, CAFTA became a full reality. China and the six original ASEAN member countries have slashed tariffs on more than 90 percent of traded goods to zero. China's average tariff on ASEAN goods has decreased from 9.8 percent in 2009 to 0.1 percent, while the six original ASEAN member countries' average tariff on Chinese goods has shrunk from 12.8 percent to 0.6 percent. The four newer ASEAN member states are, in turn, expected to achieve the goal of zero tariffs on 90 percent of Chinese goods by 2015.