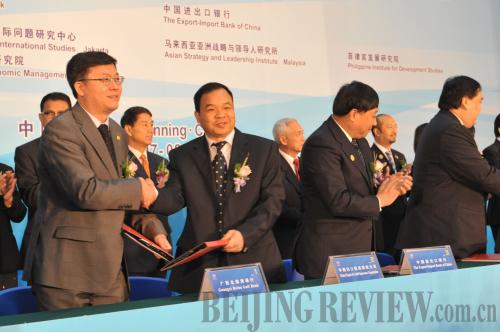 SEALING THE DEAL: Chinese and ASEAN partners sign agreements on 18 projects worth a total of $4.89 billion in Nanning on January 7 (ZHOU HUA)
How can countries ensure a fair business environment in the free trade area (FTA) between China and the Association of Southeast Asian Nations (ASEAN)? The question triggered wide discussion among participants at a forum on the China-ASEAN Free Trade Area (CAFTA) held on January 7-8 in Nanning, capital of southwest China's Guangxi Zhuang Autonomous Region.
With the theme of "win-win results and greater success," the event, proposed by Chinese Premier Wen Jiabao at the 12th China-ASEAN Summit in October 2009, aimed at celebrating the establishment of CAFTA, which started operation on January 1. It also sought to explore closer cooperation in trade and investment, while helping create more business opportunities for the region.
More than 400 participants—including high-level government officials from China and ASEAN member states, experts and scholars, and representatives from the private sector—attended the forum.
Events held in conjunction with the forum included the launch of a China-ASEAN business portal website, the opening of the Qinzhou Free Trade Port Area and the Nanning Bonded Logistics Center in Guangxi, and a signing ceremony for 18 projects between China and ASEAN worth a total of $4.89 billion.
CAFTA covers a population of 1.9 billion and involves about $4.5 trillion in trade volume. It is the world's third largest FTA after the North American Free Trade Area (NAFTA) and the European Union (EU) and the largest FTA for developing countries.
Under the CAFTA, the average tariff on goods from ASEAN countries to China has been reduced from 9.8 percent to 0.1 percent. The six original ASEAN member states, namely Brunei, Indonesia, Malaysia, the Philippines, Singapore and Thailand, have slashed the average tariff on Chinese goods from 12.8 percent to 0.6 percent. By 2015, the policy of a zero-tariff rate for 90 percent of Chinese goods is expected to extend to the four newer ASEAN members—Cambodia, Laos, Myanmar and Viet Nam.
Shared concerns
"The essence of CAFTA is to ensure that access to each other's markets is unhampered by any barriers, tariff and non-tariff alike," said Pushpanathan Sundram, Deputy Secretary General of ASEAN, at the forum's opening ceremony.
With the establishment of the CAFTA, the bigger challenge, according to Pushpanathan, would be for ASEAN and China to "collectively ensure that there is a level playing field where all parties will benefit from the CAFTA."
But different countries have different situations. How to realize trade facilitation through the newly launched CAFTA in the wake of the global economic downturn was a top concern for forum participants.
"Trade facilitation is an attempt to reform trade policy; its critical principle is transparency," said Nipon Poapongsakorn, President of the Thailand Development Research Institute.
Increased speed and other trade improvements will significantly reduce trade costs, increase foreign direct investment, promote trade competition, boost small and medium-sized enterprises (SMEs), and reduce corruption among customs officials, he noted.
"Now the tariff is down," said Lim Jock Hoi, an official from Brunei's Ministry of Foreign Affairs and Trade. "We still have to address issues related to trade facilitation from a broader perspective, such as non-tariff barriers, standards, customs cooperation and others."
Lack of connectivity and infrastructure development was another concern among participants.
Transportation infrastructure is regarded as the backbone of regional development, but the level of regional infrastructure construction is relatively low in general due to the absence of an overall plan as well as insufficient funds and technology limitations, according to Hu Dongsheng, an analyst with the China International Engineering Consulting Corporation.
Djisman Simandjuntak, Chair of the Center of Strategic and International Studies in Indonesia, echoed Hu's view, saying that building up the prospective areas of expansion with competitive infrastructure is an immediate challenge for governments in China and ASEAN.