Learning the rules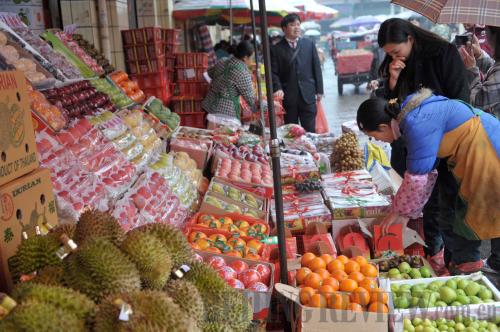 MORE CHOICES: Customers shop at the Wuliting Vegetable wholesale Market in Nanning on January 1, the day the China-ASEAN Free Trade Area was officially launched (XINHUA)
"All the nations in CAFTA should actively promote trade facilitation, based on the trade agreements for goods and services that have already been reached," said Zhang Kening, an official from China's Ministry of Commerce. "The preferential policies in CAFTA should be transferred into real actions."
Both China and ASEAN must abide by the principles of CAFTA to "implement agreements and encourage enterprises in China and ASEAN to make better use of CAFTA," Zhang said in a statement at the end of the forum. He also called for active participation by CAFTA members to ensure the ongoing process of free trade delivers benefit to all countries involved.
As the only region in China that links with ASEAN member states both by land and by sea, Guangxi Zhuang Autonomous Region has served as a gateway to cooperation between China and ASEAN over the past 10 years, said Ma Biao, Chairman of Guangxi Zhuang Autonomous Region.
The region will fully capitalize on its geographic advantages to push forward China-ASEAN cooperation, Ma said.
It will accelerate the construction of comprehensive transportation networks and create platforms for free trade through events such as the China-ASEAN Expo, the China-ASEAN Business and Investment Summit and the Pan-Beibu Gulf Economic Cooperation Forum, he said.
While strengthening trade and investment cooperation with ASEAN, it will focus on improving sub-regional cooperation mechanisms such as the Great Mekong Sub-region Economic Corridor and the Nanning-Singapore Economic Corridor, he added.
Concerning possible solutions for the development of SMEs, Zhang Yunling, Director of the Institute of Asia-Pacific Studies under the Chinese Academy of Social Sciences, said the key for their success in coping with CAFTA is to study and understand the rules and make full use of them.
A recent survey showed that the percentage of enterprises implementing CAFTA is relatively low due to their lack of understanding of FTA rules and details. Hence the government should help them in this regard, Zhang said.
"Enterprises, SMEs in particular, should not see ASEAN as purely an export market," Zhang told Beijing Review. "They should study regional markets, set long-term goals and find their niches. Cooperation among enterprises will be more helpful than marketing alone."
Mirzan Mahathir, President of the Asian Strategy and Leadership Institute in Malaysia, echoed Zhang's views. Mahathir said that a lot of encouragement is required to get SMEs to "look beyond their national borders."
"It is important to assist SMEs through incentives, concessionary funding and opportunities to network with potential partners so that they can make the changes necessitated by implementation of CAFTA," he said.
More work to do
Yi Xiaozhun, China's Vice Minister of Commerce, said China's investment in ASEAN countries will rise rapidly as the global economy recovers and firms become more eager to go abroad.
"With full consideration of the economic development levels and market capacities of both sides, CAFTA will help advance regional economic integration by eliminating barriers to trade and investment," Yi said. "Both sides should make the most of investment funds and other resources while stepping up infrastructure construction to meet the needs of further trade cooperation."
"Its level of integration may not be as deep and broad as that of NAFTA and the EU, but CAFTA succeeds in proving that a regional trading arrangement among developing countries is possible as long as the parties are open, flexible, understand each other's sensitivities and have a strong political will to achieve the vision they have set for themselves," said ASEAN Deputy Secretary General Pushpanathan.
Subash Pillai, Director for Market Integration in the ASEAN Economic Community Department under the ASEAN Secretariat, said the Nanning forum gave participants an idea of what is in store for further collaboration between China and ASEAN.
"I believe the three agreements [i.e. agreements on trade in goods, trade in services and investment] under CAFTA are only the tip of the iceberg," he said. "There is a lot more we can do together."
(Reporting from Nanning, Guangxi Zhuang Autonomous Region. Watch video on CAFTA's inauguration at www.bjreview.com)