(COURTESY OF YU WANLI) 
On January 20, 2009, weather forecasters in Washington, D.C. had predicted rain—not unlike the heavy downpour that greeted George W. Bush after he was elected to a second term five years earlier.
Instead the sun, almost miraculously, blanketed chilly skies amid fierce applause and cheers from hundreds of thousands of supporters outside Capitol Hill. A breathtaking performance by legendary Motown singer Aretha Franklin only added to the festive atmosphere.
But it was the words of President Barack Obama that truly stole the show. His promises of positive change brought hope, courage and inspiration to millions of Americans.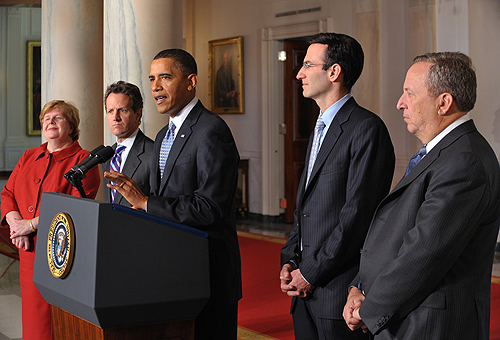 BUDGETING RESPONSIBLY: U.S. President Barack Obama holds a White House press conference regarding the 2011 federal budget on February 1. The proposed budget includes billions of dollars slated for job creation while emphasizing deficit reduction (XINHUA/AFP)

After a hard-won victory with the help of one of the most tenacious grassroots political campaigns in modern U.S. history, the 44th president of the United States came to power not just as a national leader emboldened with a popular mandate, but one with overwhelming popularity worldwide.

But amid a recession that has since spread to become a global financial crisis, the challenges America—and the world beyond—have faced since January 2009, have grown markedly.

In his State of the Union Address on January 27, 2010, Obama, unlike his predecessor, was quick to admit to some mistakes. But Americans have grown impatient waiting for his election-year promises to come to fruition. This has been seen in a sharp drop in which his popularity ratings have fallen from 70 percent to 50 percent.

Moreover, the magic year is over. Now it is time for him to show the courage and wisdom of the true politician he proved himself to be on the campaign trail.

Saving Wall Street

The financial crisis helped Obama realize and define his dream of moving into the White House. "Yes we can" was his rallying cry, and a mantra for his legions of supporters. Since then, it has also become the most pressing priority of his administration. Soon after he took office, Obama decisively launched an economic stimulus package worth $787 billion.

On the one hand, he has adopted unprecedented monetary means to directly support the faltering banks on Wall Street while stabilizing the financial credit and restoring liquidity. On the other hand, through expansionist fiscal policies, he has increased investments in alternative energy to foster economic growth. Collectively, these measures have proven effective.

In this era of globalization, an economic stimulus is more than a domestic mechanism—it also involves diplomacy. Obama has thus pushed for global cooperation in conquering the crisis. On March 31, 2009, he attended the Group of 20 summit in London on his first state visit abroad.

Obama's economic stimulus package has paid off a year later. The gross domestic product of the United States dropped by 2.6 percent in the fiscal year of 2009. In the fourth quarter, however, the United States saw a growth of 5.7 percent. This indicates that the U.S. economy has initially escaped the downward trend and is beginning to recover.

But another important statistic remains troublesome: an unemployment rate that has reached 10 percent.

"The worst of the storm has passed," Obama said in his State of the Union Address, while admitting that "the devastation remains."

He then brought forward a fresh economic recovery plan. Through supporting small and medium-sized enterprises—in addition to expanding exports, fostering new industries and constructing high-speed railways and other public utility investments—Obama pledged to curtail both stagnant growth and high unemployment at the same time.

Some economists believe that usually after a crisis, GDP growth recovers first. After that, the employment rate will begin to increase. There is a lag phase between the two, they say. This view makes people feel relieved.

But in the United States, where economic recovery remains far from certain, a persistently high unemployment rate means more families cannot afford simple housing and costs associated with credit card debt. Thus, a second round of financial credit-based crashes could well be triggered.

For Obama and the Democratic Party, a high unemployment rate means more and more Americans will be dissatisfied with the current situation, and thus will vote Republican in the upcoming midterm Congressional elections.

Losing Democratic majorities in both the House and the Senate could cost Obama dearly: Indeed, lawmakers in both houses of Congress even now have proven recalcitrant at best regarding his attempts to enact a universal health care plan.

As Obama's health insurance bill alienated representatives from both parties on Capitol Hill and their ideologues, it is clear that any increase in Republican Party seats will only lead to fiercer competition. One possible result of the midterms could make Obama a "lame duck."

Obama himself also realized the economic stimulus plan only treated the symptoms, rather than the cause. It was the greed of Wall Street that caused this crisis. In order to avoid a bigger loss, Obama was forced to save the bankers with taxpayers' money. But the bankers never reflected on their mistakes; instead they gave themselves nig bonuses upon their recovery.