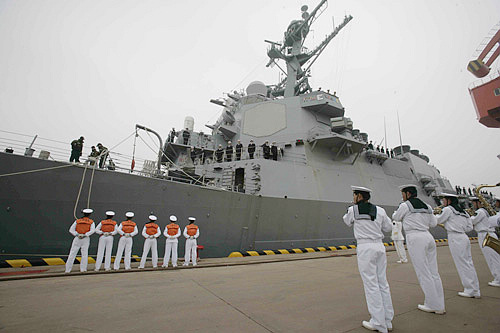 GOODWILL VISIT: U.S. destroyer USS Fitzgerald arrives at Qingdao, east China's Shandong Province, on April 19, 2009, to take part in the international fleet review celebrating the 60th anniversary of the founding of the People's Liberation Army Navy (WANG JIANMIN)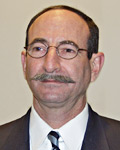 David M. Finkelstein
The latest round of the U.S.-China Strategic and Economic Dialogue (S&ED) was held in Beijing on May 24 and 25. For the second time since June 2009, American and Chinese government officials met to discuss ways to move forward on difficult issues in the bilateral relationship as well as consult on some of the most complex security and economic challenges facing the international community. The American contingent alone reportedly consisted of some 200 officials, probably making it the largest high-level American delegation ever to travel to China.
That the meeting took place at all after a winter of bilateral tensions underscores that officials in both capitals accept that the U.S.-China relationship is too important to be allowed to languish in the face of differences--no matter how serious or fundamental those differences may be. U.S. Secretary of State Hillary Clinton, Treasury Secretary Timothy Geithner, Chinese Vice Premier Wang Qishan and State Councilor Dai Bingguo have each said as much in different ways at various times. So, too, have presidents Barack Obama and Hu Jintao.
The one exception to this philosophical approach appears to be in the realm of military relations. As we know, in January 2010, military relations were suspended by Beijing to protest Washington's decision to offer Taiwan an arms sales package.
On the fringes of the S&ED, American and Chinese defense and military officials held their first high-level discussions since the January suspension. According to media reports, key U.S. participants included the Commander of the U.S. Pacific Command, Robert F. Willard and Assistant Secretary of Defense for Asia Pacific Security Affairs Wallace Gregson. They were received by Ma Xiaotian, Deputy Chief of the General Staff of the People's Liberation Army (PLA) and, reportedly, others from the Foreign Affairs Office of China's Defense Ministry.
Before the S&ED took place, analysts who follow the U.S.-China military relationship were speculating as to whether the occasion of the convening of this major meeting would result in an end to the suspension in military contacts. News that a meeting of military officials would take place on the sidelines of the S&ED raised hopes in some quarters that this would be the case. However, by now it is clear that no breakthrough was made and the military relationship is still technically in a state of suspension.
Meanwhile, it is interesting to note that the suspended state of ties between the Pentagon and the PLA apparently has not precluded civilian officials in Beijing and Washington from consulting about, and in some cases coordinating on, some of the most critical security issues of the day: Iran, North Korea, non-proliferation, terrorism, etc. When asked to comment on the implications for the situation in Korea of suspended military ties between Beijing and Washington, and Defense Secretary Robert Gates' postponed trip to Beijing, Pentagon Press Secretary Geoff Morrell averred that "there is not a lack of communication between our respective governments." While reassuring, this assessment, unfortunately, speaks volumes about the practical efficacies that bilateral military relations have yet to achieve after three decades of contact.
In the past, it has been all too easy for either side to suspend or curtail military relations over matters of principle because the cost of doing so has been considered negligible. Alternately stated, in years past, little of practical importance has been perceived as being placed at risk when decisions have been made to sacrifice military relations upon the altar of indignation. After six suspensions in military relations since 1989, the defense and military establishments of the United States and China still appear to be grappling with two fundamental questions: What role should military ties serve in the larger context of U.S.-China relations and, more difficult, what are the best and appropriate means to serve those ends?
This being the case, perhaps another vacation from the U.S.-China military relationship will not be such a bad thing if--and only if--it will provide time for each side to fundamentally rethink what kind of military relationship is necessary from the perspective of each nation's national interests, feasible from an institutional perspective and acceptable given the realities of domestic politics in both capitals. Each side must first answer these questions for itself and then see what middle ground, if any, can be reached with each other.
Let us hope that the two defense establishments do not take too much time in figuring this out. It may no longer be the case that there is "little at stake" when military ties are in periods of suspension. With the two militaries operating in increasingly close proximity of each other, especially in the maritime commons, a failure to talk or reach consensus on the "rules of the road" or to establish communications regimes only invites unnecessary risk and more unwanted incidents. Also, critical security developments in Asia--such as the current situation on the Korean Peninsula--demand that practical consultations between the two defense-military establishments override other extant bilateral issues in contention. Failure to do so risks miscalculations neither side wants nor can afford. Finally, there are a host of non-traditional security challenges that the world's most powerful military and Asia's largest modernizing military both face and could be working on together. But for the moment, political exigencies continue to trump strategic possibilities.
The author is the director of China studies at the Center for Naval Analyses, an independent, non-profit research institute in Alexandria, Virginia.
(Viewpoints in this article do not necessarily represent those of Beijing Review)