Regional cooperative frameworks in East Asia were established after the outbreak of the Asian financial crisis in 1997. When the Association of Southeast Asian Nations (ASEAN) invited three Northeastern Asian countries—China, Japan and South Korea—to join the efforts to cope with the financial crisis, frameworks that stretched beyond ASEAN's initial scope were created.
Multiple frameworks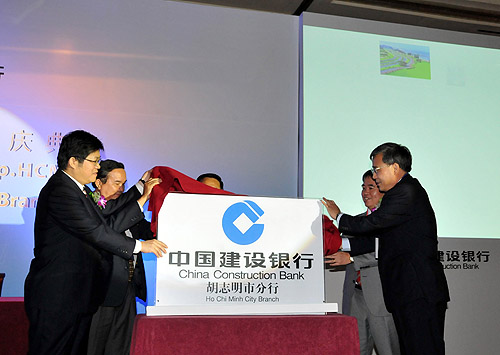 CARVING A NICHE: The China Construction Bank opens its first branch in Viet Nam in Ho Chi Minh City on April 16 (LI QING)
From ASEAN's perspective, ASEAN+1 is a bilateral mechanism with which other countries can strengthen cooperation with ASEAN. So far, through this mechanism, ASEAN has established partnerships with China, Japan, South Korea, India, Australia, New Zealand and the EU respectively.
With the support of China, Japan and South Korea, the East Asia Vision Group was founded in 1999. The group put forward a long-term goal for East Asian cooperation: the establishment of an East Asian Community.
According to the group's vision, the core structure of the East Asian Community includes a political summit, a free trade area and a regional fund for financial and monetary cooperation. As the ASEAN nations, along with China, Japan and South Korea (ASEAN+3), strengthened their efforts to create these mechanisms, disagreements occurred.
A new East Asia Summit, which also includes India, Australia and New Zealand, was established in 2005 as a forum for strategic dialogue. Known as ASEAN+6, it has since coexisted with ASEAN+3 as a mechanism for regional political cooperation.
The establishment of a free trade area in East Asia began with ASEAN+1. In 2000, China took the initiative and proposed a China-ASEAN free trade area. Japan and South Korea soon followed. ASEAN also completed a series of free trade negotiations with Australia, New Zealand, India and the EU within the ASEAN+1 framework.
Efforts toward a unified free trade area started in 2004 when an expert panel was established to study the feasibility of the East Asia Free Trade Area (EAFTA).
By 2009, the panel had completed two reports. A core suggestion was that the EAFTA could be established by integrating the three existing free trade areas—ASEAN-China, ASEAN-Japan and ASEAN-South Korea—within the ASEAN+3 framework.
Japan, however, did not agree to the establishment of a free trade area based on ASEAN+3, and instead suggested one based on ASEAN+6. Given this disagreement, no substantial progress has yet been made in the establishment of a free trade area in East Asia.
There has been progress in monetary and financial cooperation, though. This owes to the 1997 Asian financial crisis, after which a bilateral currency swap mechanism based on the Chiang Mai Initiative was established. The mechanism later evolved into a multilateral one. Moreover, China proposed the creation of an East Asian foreign exchange pool in 2007. To date, ASEAN, China, Japan and South Korea have reached a consensus on the establishment of a $100-billion foreign exchange reserve fund.
It is also notable that Northeast Asia has made progress in regional cooperation. Since 2008, China, Japan and South Korea have held annual summits, independent of the ASEAN+1 and ASEAN+3 meetings. In a sense, they have launched a new cooperation process in Northeast Asia.
Competing interests
A distinctive feature of East Asia is the major differences among nations of the region. These differences are seen in the countries' land areas, population sizes and economic outputs, as well as in their political systems, traditions and cultures.
Such diversity means that, despite regional cooperation, the participating parties retain a high degree of independence. They try to protect their own interests and give full play to their own influence. Therefore, cooperation in East Asia is often strongly competitive.
ASEAN is the initiator and leader of East Asian cooperation. However, its primary goal is to create a favorable environment for the further development of the ASEAN Community. It hopes the East Asian cooperation process will help strengthen ASEAN. From this point of view, the hub-and-spoke structure, with ASEAN at the center, is what best serves its interests.
As a developed country in East Asia, Japan holds great influence in the region. For Japan, the best cooperation process is one where Japan plays a leading role in establishing rules, as well as in management. This is why it proposed an Asian version of the Organization for Economic Cooperation and Development, based on the East Asia Summit.
South Korea can be seen as introducing the concept of an East Asian Community, as it advocated the establishment of the East Asia Vision Group. After that, though, it stopped actively promoting the East Asian cooperation process. Instead, it shifted its attention to establishing free trade areas in large markets beyond East Asia. It first completed free trade negotiations with the United States, and then started negotiations with the EU.
The inclusion of India, Australia and New Zealand enlarged the scale of East Asian cooperation. For the sake of their own interests, the three nations hope ASEAN+6 can make substantial progress and that the East Asia Summit can be established as a major channel of East Asian cooperation. This is in line with Japan's strategy.
China, Japan and South Korea have made progress in their cooperation. But due to differences in economic structures and strategic considerations, it is unlikely that any development will be rapid or in-depth. And it will be extremely difficult for Northeast Asia to play a dominant role in East Asian cooperation.
The existence of multiple parties in East Asian cooperation makes the process more complicated and its outcome difficult to predict.