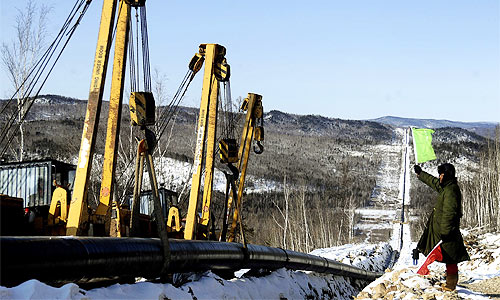 ECONOMIC CONNECTION: A Chinese engineer works on the China-Russia oil pipeline project in the Greater Hinggan Mountains in northeast China on March 7 (ZHAO JIANZHONG)
Recently, Russia's growing willingness to cooperate with China has resulted in a deepening bond. State leaders and those with insight in both countries are devoted to promoting the sustained and stable development of relations between the two countries.
New opportunities
In Russia, the "China threat" theory has gradually given way, as the economic opportunities China presented became more obvious. For some time, due to the negative influence of the "China threat" theory and the lobbying of interest groups and politicians with anti-China biases, debate never stopped as to whether or not cooperation with China should be increased. These contentions hindered the progress of China-Russia cooperation in various fields—especially science, technology, economy, trade, military affairs and natural resources. This was not advantageous for either side economically, and did not correspond with the improving political relations between the two nations.
After years of debate, "China threat" arguments have faded, while voices advocating cooperation are getting louder. This summer, Russian Prime Minister Vladimir Putin said China did not pose a threat to Russia. China and Russia have been neighbors for centuries and know how to respect each other. China has vast natural resource reserves of its own and has no need to occupy the Russian Far East, he added.
When he later inspected the region, he said China and Russia each have their own strengths in scientific, economic and trade fields and there is no competition between the two countries. Russia can sell hi-tech equipment worth millions, and even billions, of dollars to China. In the meantime, it can continue to purchase inexpensive consumer goods from China.
Historically, Russia's national strength and political influence have been greater than China's, so Russia never took China's development seriously. After the global financial crisis dealt a near-fatal blow to the Russian economy, Russia was forced to come to terms with China's development. It gradually accepted the reality that China has become a country with advanced technology.
Russian experts acknowledged that, in the two decades since the disintegration of the Soviet Union, Russian industry has been in a slump and is suffering from a lack of products with high added value and low international competitiveness. Russian President Dmitry Medvedev admitted that for the foreseeable future—maybe even for decades—Russia would continue to exist as a major supplier of oil and natural gas.
Russia began to believe it could boost its economy through opportunities available in the rapidly developing Chinese economy. Since the disintegration of the Soviet Union, Russia has sought to integrate into the West. Its wish did not come true, however, and the cruel reality forced Russia to abandon its suspicions and biases against China, and to shift the focus of its diplomatic strategy and economic cooperation to the East.
Even though Russia wanted to re-launch relations with the United States and get close to the EU, with the purpose of acquiring modern technology from them, these policy adjustments did not affect the development of China-Russia relations. These relations maintained momentum and China's rapid modernization in some areas became increasingly attractive to Russia.
Some forward-looking Russian experts continue to suggest the government use the large Chinese market to its benefit. China's economic potential, if successfully taken advantage of, could aid the Russian economy. Medvedev emphasized on many occasions that China is one of Russia's most important and most economically promising partners. China is a major market for Russian industry and also has a huge amount of capital ready to invest in the Russian economy.
Russia has also changed its passive attitude toward scientific, economic and trade cooperation with China. Despite much talk, Russia was once reluctant to take actions to further cooperation in these fields. Instead, much of its attention was paid to the political and security fields. Russia was worried that expanding cooperation with China would make China stronger, while undermining Russia.
After a long period of deliberation, Russia changed its attitude and adopted a proactive approach, advancing cooperation with China in all fields. China-Russia relations have now entered a phase of rapid development.
All-around progress
Since 2009, when the two countries celebrated the 60th anniversary of diplomatic relations, the China-Russia strategic partnership of cooperation has become even closer. Their cooperation continues to develop in a well-rounded fashion.