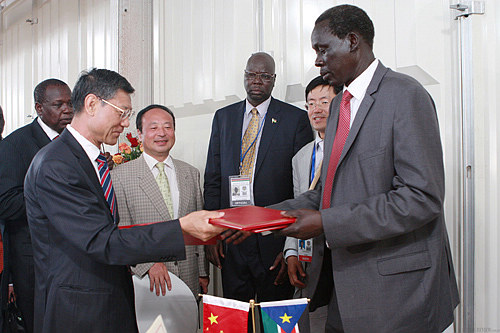 NEW PARTNERSHIP: Jiang Weixin (left), China's Minister of Housing and Urban-Rural Development, exchanges diplomatic documents with South Sudan's Foreign Minister Deng Alor Kol in Juba on July 9 (XINHUA)
The independence of the oil-rich south can be seen as triumph for the United Sates. The loss of the south deprives the traditionally anti-U.S. northern government of 25 percent of its area, 20 percent of its population, and, crucially, 70 percent of its oil reserves.
China's role
China has always made an effort to help resolve tensions and conflicts on the African continent. Since 1990, China has participated in many UN peacekeeping operations in Africa. Of all the five permanent members of the UN Security Council, China has sent the most peacekeeping personnel to Africa. While developing relations with African countries, China insists on the principle of not interfering in their domestic affairs and respecting the choices made by Africans.
China has participated in the UN Mission in Sudan aimed at supervising the implementation of the Comprehensive Peace Agreement. It also supported the referendum on the independence of South Sudan on January 9.
Liu Guijin, Special Representative of the Chinese Government for Africa, paid many visits to Sudan, during which he exchanged views with both northern and southern leaders. True to its policy of fostering peace, the Chinese Government resolutely refused to take sides.
China started official exchanges with the south after the Comprehensive Peace Agreement was signed. In 2005, Kiir, who was then deputy chairman of the Sudan People's Liberation Movement, visited China. In July 2007, Kiir visited again, this time as first vice president of Sudan and president of southern Sudan's autonomous government, and met with Chinese President Hu Jintao. In September 2008, the Chinese Consulate in Juba was officially opened.
When meeting with Bashir in Beijing in June 2011, Hu said China respected the wishes and choices of the Sudanese and it would always support the peace process between the north and the south.
In addition to political support for the Sudanese peace process, China has long provided development and food aid to South Sudan.
After Sudan's first civil war in the 1970s, China sent medical teams to three of the south's major cities—Juba, Wau and Malakal. Chinese agricultural experts taught southern citizens new techniques for planting rice. Since the end of the second Sudanese civil war, China has provided aid worth 60 million yuan (about $9.23 million) to the south. These funds have been used to dig wells, build schools and provide medical training.
Chinese companies and enterprises have begun investing in the south since 2005. Chinese firms have constructed hotels there and major Chinese companies have been contracted to build roads and dams.
China established diplomatic relations with South Sudan on its independence day. The former Chinese Consulate in Juba will now serve as the Embassy of China in South Sudan.
Challenges
South Sudan's independence has brought great joy to its citizens. But it is clear that this new country will face steep challenges if it is to realize its potential and live up to the expectations of its people.
Some key problems remain unresolved. The final demarcation of the north-south border is incomplete, and the issue of the disputed oil-rich border region of Abyei could continue to be a source of hostility between the north and the south. What share of Sudan's external debts should be passed on to the south also remains an open question.
The resolution of these matters will require further negotiations. To manage the birth of the new nation and ensure its stability, the UN will send a 7,000-strong peacekeeping force to the region.
Beyond transnational issues, the ordinary people of South Sudan face problems that independence alone cannot solve. As a result of decades of civil war, the infrastructure in South Sudan remains extremely poor. Public services, such as hospitals, water and electricity, barley exist. According to UN statistics, 90 percent of South Sudanese are living under the international poverty line, and the illiteracy rate stands at above 85 percent. Faced with such problems, it is clear the new nation has a long way to go.
South Sudan's people can be sure China will be making every effort to assist them on their road to peace, development and prosperity. Given its advantages in terms of capital, technology and efficiency, China is expected to play an active role in South Sudan's reconstruction.
The author is a research fellow with the Center for West Asian and African Studies at the Shanghai Institutes for International Studies
The Republic of South Sudan
Area: 600,000 square km
Population: 8.26 million (2008)
Capital: Juba
Official language: English
First President: Salva Kiir Mayardit
(Source: Xinhua News Agency)