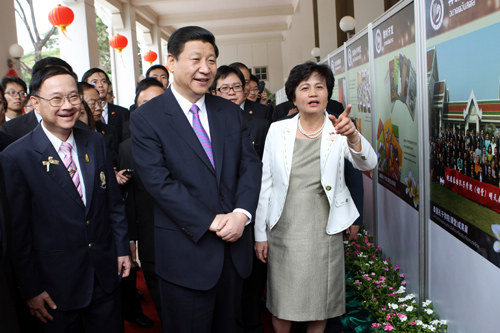 EXCHANGE: Chinese Vice President Xi Jinping visits the Confucius Institute of the Chulalongkorn University in Bangkok on December 24, 2011 (YAO DAWEI)
Chinese Vice President Xi Jinping's official visits to Viet Nam and Thailand in late December concluded Chinese leaders' significant diplomatic trips of the year.
The visits, coupled with State Council Dai Bingguo's attendance of a Greater Mekong Sub-region (GMS) summit in Myanmar, were of great importance to promoting China's strategic partnership with the Association of Southeast Asian Nations (ASEAN), analysts said.
"Choosing to visit ASEAN countries as the grand finale of China's diplomacy of 2011 indicates that China aims to consolidate and develop good neighborly relations with the region," said Tang Qifang, a researcher with the China Institute of International Studies.
As neighbors, China and ASEAN countries have established a strong partnership. But territorial disputes in the South China Sea between China and some ASEAN member countries including Viet Nam often cast a shadow over bilateral relations.
"The older generations of leaders in China and Viet Nam forged a profound friendship for the two neighbors. Though there were conflicts and are still disputes between the two sides, traditional friendship was highlighted during Xi's visit," Tang said.
Xi visited the former residence of Ho Chi Minh (1890-1969) and the Ho Chi Minh Mausoleum, and listened to the life story of the late top Vietnamese leader as well as his exchanges with Mao Zedong (1893-1976), Zhou Enlai (1898-1976) and other members of the first generation of Chinese leaders.
In the meantime, Viet Nam hosted a high-profile reception for Xi, held exhibitions, and aired prime-time documentaries about Sino-Vietnamese traditional friendship on its national TV station. These activities highlighted good relations between the two countries in the past.
Luqiu Luwei, a news editor with the Hong Kong-based Phoenix TV, said the activities were helpful for young Vietnamese to learn about the two countries' traditional ties. Those who were born after the Sino-Vietnamese border conflict in the late 1970s know little about the history of the bilateral relationship before clashes broke out. The exhibitions and documentaries helped improve their knowledge of Viet Nam's relations with China.
Xi visited Viet Nam two months after Nguyen Phu Trong, General Secretary of the Central Committee of the Communist Party of Viet Nam, paid a visit to China.
During of Trong's October visit, China and Viet Nam signed an agreement guiding the settlement of maritime issues between them. The agreement paved the way for both countries to properly handle their disputes and maintain regional stability through friendly consultations.
During his trip to Thailand, Xi not only met Thai Princess Maha Chakri Sirindhorn, Prime Minister Yingluck Shinawatra, Privy Council President Prem Tinsulanonda and House of Representatives Speaker Somsak Kiatsuranont, but also held a meeting with four former prime ministers and three former vice prime ministers.
No matter which party is in power, Thailand always sees China as a friend, said former Thai Prime Minister Chuan Leekpai at the meeting.
Yongyuth Wichaidit, Thailand's Deputy Prime Minister, was quoted by China Daily as saying, "The most important thing is that China and Thailand are not ordinary neighbors; we're related."
While commenting on Washington's increasing assertiveness in the Asia-Pacific region, he said, "The United States is far away. I think having a good neighbor is better than a relative far away."
"There isn't any obstacle in the development of the relations between China and Thailand," said Tang. "Therefore, the two countries have maintained a sound relationship all the time."
Though 13 Chinese sailors were murdered by Thai soldiers on the Mekong River in October 2011, the incident will not affect the two countries' overall relations, she said.
Thai police later arrested nine soldiers suspected of the murder. Following the incident, China, Thailand, Laos and Myanmar started joint patrols to ensure security along the Mekong River.
"China and Thailand are important partners, not only on an official level but also on the nongovernmental level," said Luo Yongkun, a researcher on Asia-Pacific studies with the China Institutes of Contemporary International Relations.
During his trip, Xi visited the Confucius Institute of the Chulalongkorn University in Bangkok. He hailed the university's contributions to the teaching of the Chinese language and culture. Xi also visited a flooded school in Bangkok.