THE TRAVELER: The Xuelong, or Snow Dragon, is the backbone of China's Antarctic missions (XINHUA)
Exactly 17,501.949 km-that's the distance from Beijing to Changcheng (literally meaning the Great Wall) Station, the first little piece of China on the continent of Antarctica.
Twenty-five years ago, when the country was conceiving its first journey to the South Pole, that distance meant nothing to Yang Huigen or most other Chinese. But now, Yang is the chief scientist for China's 25th scientific expedition to the frozen southern land.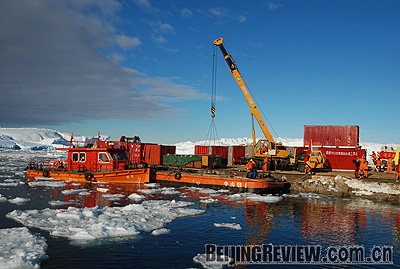 NEW DOCK: Supplies are being unloaded at Zhongshan Station's newly built dock on February 25, 2008 (XINHUA) 
"In the beginning, we didn't even know how to make the expedition, and we had to learn everything from reportage in foreign newspapers," said Guo Kun, 74, who was the first station chief for both Changcheng and Zhongshan, the second research station.
Chinese scientists were talking about the importance of pole-area research as early as 1957, but it was not until the late 1980s when the country began to send its people to study in foreign stations. At that time nearly 20 countries had already built dozens of perennial stations and over 100 summer facilities. But even while being one of the five permanent members of the UN Security Council and the world's most populated country, China had no voice in the field.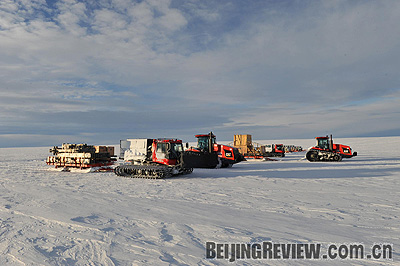 SLICK COMMUTE: A materials assembly venue 68 km away from China's Zhongshan Station in Antarctica (XINHUA)
The country decided it was time to get in the game and established its first national Antarctic expedition committee on May 11, 1981, not long after the "cultural revolution" (1966-76).