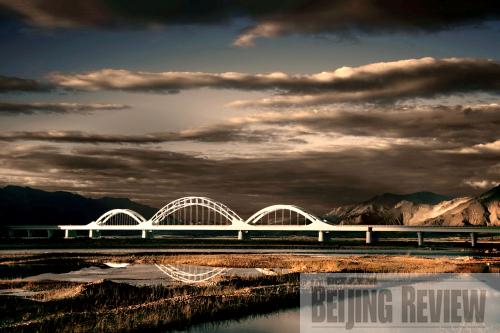 The Qinghai-Tibet Railway's Lhasa Bridge in October 2007 (WANG XIANG)
Beijing resident Li Fuping went to Shanxi Province for the third time on May 1 for a vacation. This day of travel was different from the previous two, and he was excited. For the first time, the trip from Beijing to Taiyuan, the provincial capital, took only three hours-not the nine hours he was used to-on the new high-speed train, which was launched on April 1.
"If you are only interested in visiting scenic spots in the city, one day is more than enough. You can come and go in just one day by taking the CRH," Li said, referring to the new high-speed line's name--China Railway High-Speed. "This was impossible in the past."
A regular Shanxi visitor, Li said the trip used to be exhausting. It would take more than nine hours by train or at least seven hours by bus to get there.
To ease the heavy transportation between Beijing and the province to the west, the Ministry of Railways decided to add six more daily CRH shuttle trains before June 30. Until then, the CRH shuttle trains between Beijing and Taiyuan will be increased to 14 daily.
This April the ministry launched 89 new shuttle routes nationwide, including 41 CRH trains. Inter-city travel time was cut in half as a result of CRH service from Shanghai to Fuzhou, Wuhan to Hefei, Shenyang to Taiyuan, Shanghai to Hankou and Tianjin to Shanghai. The shuttle between Shenyang and Taiyuan saw the biggest change, with the 23 hours it previously took being cut to only eight hours.
Lu Changqing, Secretary-General of the China Railway Society, said government plans dictate that by 2020 the railway network will connect all cities with a population of over 200,000 and that all provincial capitals and big cities with a population of over 500,000 will be connected by CRH railway service by the same year.
Lu said the country's rapid economic growth had spurred railway construction. In the past 60 years, the distance covered by train tracks has increased about four times, while rail travel has grown faster, more convenient and more comfortable. By the end of 2008, a total of 79,000 km of rail lines had crisscrossed China, ranking it third in the world in railway mileage. In the same year Chinese trains transported 1.46 billion passengers, an increase of 11 percent over 2007. Railway passenger volume is growing faster in the country than competitors on air, land and sea.
Besides passengers, Chinese railways also make up 85 percent of the country's timber and oil transport, 60 percent of coal transport and 80 percent of iron and steel movement.