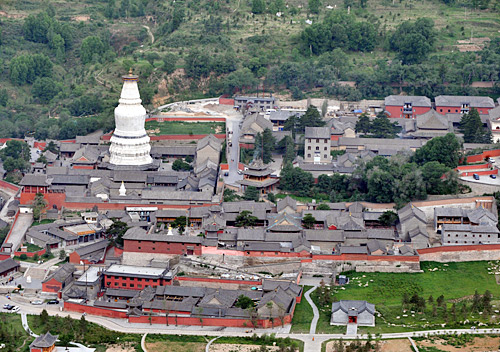 BUDDHIST WORLD: Wutai Mountain is seen as a museum of Buddhist architecture (CFP)
China now has 38 World Heritage Sites, after the holy Wutai Mountain was added to the prestigious list as a world cultural heritage at the 33rd session of the UNESCO World Heritage Committee.
Located in Xinzhou, north China's Shanxi Province, 240 km from the provincial capital of Taiyuan, Wutai Mountain is one of the four sacred Buddhist mountains in China and the third world heritage site in the province.
Experts of the World Heritage Committee agreed that Wutai Mountain, added as a cultural landscape, meets four criteria for world heritage status. They also said the preservation and protection of the heritage site is in good condition.
"The World Heritage Committee defines cultural landscapes as a work of nature and mankind, and Wutai Mountain meets this standard," said Ren Zaigang, a member of the work team in charge of the application of Wutai Mountain for world heritage status during an interview with Shanxi TV Station on July 10.
According to him, the site has well-preserved Buddhist architecture and treasures including statues, sculptures, frescoes, Buddhist scripts and music, a priceless legacy to humanity.
The value of Wutai Mountain listed in the application to the World Heritage Committee includes the Buddhist architecture built from the fourth century to 19th century, a period covering the Northern Wei, the Tang, Song, Yuan, Ming and Qing dynasties, and unique scenery of the sacred Buddhist mountain. These Buddhist buildings reflect the outstanding achievements and characteristics of architectural art and technology in different periods and the long-standing cultural traditions of Buddhism, as well as the harmony between man and nature, Ren said.
Buddhist haven
The Chinese see Wutai Mountain as "a Buddhist holy land." According to the Shanxi Bureau of Ethnic and Religious Affairs, there are around 2,000 Buddhist monks living on the mountain.
The mountain has 53 Buddhist temples, most of which are well attended by pilgrims and tourists daily. Of these temples, the Wanfo Temple, or Ten Thousand Buddha Temple, is the most popular. It is said that the wishes people make in this temple will materialize. According to Abbot Changqing, who became a Buddhist at the age of 7, the temple accepts more than 3,000 visitors every day.