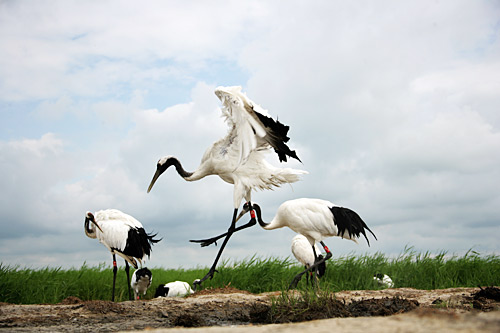 RARE BIRDS: Red-crowned cranes are native inhabitants of Zhalong National Nature Reserve (WANG XIANG)
On a morning not long ago in Zhalong, northeast China's Heilongjiang Province, a farmer named Wang Yuyan found a red-crowned crane standing alone while she worked in her cornfield. She called the police.
Zhalong National Nature Reserve officials contacted by police officers on the scene said the bird was bred at the reserve and had disappeared two days before. The officers escorted the crane back to its home, where breeders were happy to see its return.
Red-crowned cranes are native inhabitants of Zhalong National Nature Reserve. Of the world's 15 species of crane, six live in Zhalong. Their home is a 210,000-hectare wetland about 27 km from the province's second largest city of Qiqihar. Consisting of many small lakes, swamps and vast meadows, the wetland is the most intact, pristine and vast marsh in north China.
The wetland is the ideal habitat for many species and a resting place for many cross-border migrating birds. Some 290 bird species and other wildlife call it home.
The marsh was established as a nature reserve in 1979 and was promoted to a nationally important place in 1987. In 1992 China joined the Convention on Wetlands of International Importance especially as Waterfowl Habitat (the Convention on Wetlands), and Zhalong was listed in its international wetland catalogue.
Red-crowned cranes living in the marsh feed on fish and shrimp, grass roots and other aquatic organisms. They use the reeds as a natural shelter to reproduce. Their long legs, necks and beaks are adapted to a life in shallow water. However, their habitat is facing increasing threats due to human activities.
The breeding problem
Currently, red-crowned cranes can be found only in a few countries like China, Japan, North Korea and Russia. A recent survey of the birds in Zhalong found some 300 wild red-crowned cranes living there.
"It's vital for us to increase the population of wild red-crowned cranes," said Wang Wenfeng, Vice Director of Administration of the Zhalong National Nature Reserve. "The most effective way to increase its population is by artificial breeding and returning bred birds to the wild," he said.
Zhalong is the largest artificial breeding center for red-crowned cranes in the country. Artificial breeding has been going on there since the reserve's establishment in 1979. More than 800 such cranes bred by humans over the past 30 years are living, and their genes are no different from wild birds.