Snow, firecrackers and dumplings are conventional elements for the Spring Festival or China's lunar New Year. But this year's Spring Festival was a bit special for Liu Jinyan, a 60-year-old Harbin native, as she had a family reunion in the southern hemisphere's summer heat.
Accompanied by her daughter and son-in-law, who live in New South Wales, Australia, Liu and her husband attended the National Day parade and a classic car exhibition in downtown Sydney on January 26, 2009, the first day of the Year of the Ox, which also happened to be Australia's National Day.
"It was my first ever overseas trip. The National Day celebration in Australia was just like a big party, and I was excited to see so many classic cars at one time," Liu recalled. "It was interesting and impressive that we had hot dumplings as we had during previous Spring Festivals at home while the outside temperature was more than 30 degrees higher than in Harbin."
Once an educated youth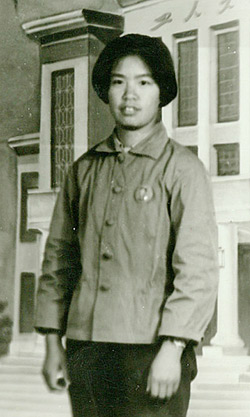 Liu Jinyan in 1972 (COURTESY OF LIU JINYAN) 
Liu never dreamed of going abroad some 40 years ago when she was an educated youth, or zhiqing in Chinese, referring to millions of young people who during the "Cultural Revolution" (1966-1976) volunteered or were forced to work in the countryside under a directive from China's then leader Mao Zedong.
Born in 1949, Liu is the second of four children. She did not enter elementary school until the age of 10, since she had to take care of her sick mother and younger siblings. Her studies came to an abrupt end in 1968, when she was forced to work in Baoquanling Farmland in Hegang City, some 400 km away from Harbin, as an educated youth.
The farmland at the time was rich in natural resources but lacked laborers. Not surprisingly, the daily chores that Liu and her zhiqing peers did ranged from farming and road construction to channel digging, brick making and house building.
The happiest moment every day for Liu was reading in bed after finishing her work--reading had been her hobby since childhood. She shared books with her Beijing peers, who brought many from home. It was reading that opened the first door for her.
"I can't remember its title, but I do remember a compilation of Russian movie scripts, a very old book with blank shabby pages. It took me a long time to finish reading," Liu said. "I might not have understood all the contents, but it opened the door for me to learn about foreign cultures."
Medical books were among Liu's favorites besides foreign literature, since one of her childhood dreams was "becoming a doctor to cure mom."
Peers in the farmland affectionately called Liu "sister," because she was the eldest educated youth and she treated others like her own siblings.
Liu's eagerness to return home became desperate in 1973 when her mother passed away, leaving her sick father at home alone. Good news came in October 1975, and Liu finally reached her sweet home in Harbin "like a bird out of a cage" a month later.
Reviewing her days as an educated youth, Liu said she did not regret devoting her best years to the country's construction. "I often dream of the farmland and the old days there, which were full of bittersweet memories," she said. "You may say it was hard, but I prefer to see it as a precious experience for growing up. I am grateful for it because it taught me to be optimistic, tolerant and brave."
Doors to the future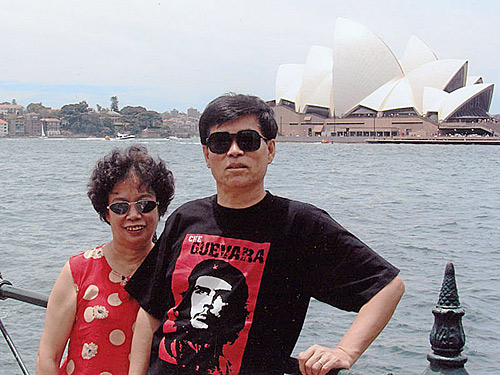 Liu Jintan and her husband pose in front of the Sydney Opera House in January 2009 (COURTESY OF LIU JINYAN)
Liu started work as an elementary school teacher soon after returning to Harbin. She then moved to a postal uniform factory as a tailor, as she could take good care of her baby girl on the one hand and realize her childhood dream of making beautiful clothes on the other hand. In the mid-1980s, she was transferred to the factory's retail sales department as a cashier.
Early retirement came onto Liu's agenda when the reform wave in state-run corporations nationwide became apparent in the mid-1990s.
"I was blessed and felt lucky enough to retire from a state-run corporation, since I returned home from the farmland in my twenties without having finished junior high school," Liu said. "Early retirement met the country's need. I had nothing to complain about. What I did was moving on."
In fact, the immediate consequence that Liu's early retirement brought was a sharp reduction in income--in the toughest times, Liu and her husband were unable to finance their daughter's undergraduate study. Fortunately, their financial problems were solved, thanks to Liu's optimism and fortitude. Moreover, their daughter's academic excellence made Liu and her husband proud.
Every coin has two sides. When Liu began menopause, it opened another door for her to study the energy channels of traditional Chinese medicine.
"I was too sick to leave my bed for a hospital visit," Liu recalled. "One day, a long lost zhiqing peer telephoned me from Shanghai, saying that she missed me a lot. Her words moved me to tears. I made up my mind to cure the pain as soon as possible and led a healthy life thereafter."
Liu's self-study of energy channels--through reading books including the 18-volume Yellow Emperor's Internal Classics, watching TV programs and taking notes--began parallel with her treatment. She marked hand acupuncture points with colorful chalk on a little blackboard to help her memorize them. Soon, her neighbors started asking her for help when they had minor health problems.
"I studied energy channels in my fifties, and regard it as my new direction. It's never too late to learn," Liu said. "The energy channels are invisible. One should not ignore minor pain because it is a precaution signal the body sends.
"Traditional Chinese medicine has changed my mind--it makes me think deeper and see things from different angles, which opened the second door for me," she continued.
Having a family reunion in Sydney at the end of 2008 opened the third door for Liu. Liu used to be reluctant to go abroad, considering it a waste of time and money. Even worse, she dismissed the advantages of coming to Sydney--such as broadening her mind and getting fresh ideas--that her son-in-law had told her about over the phone because "he was brainwashed by the foreigners."
Liu did not agree with her son-in-law until she set foot in Sydney. "We visited the Sydney Opera House, Darling Harbor and Bondi Beach. We went to the market, had barbeque parties with neighbors, enjoyed an open-air concert and had a summer Spring Festival. It was wonderful," Liu said.
"When you live in a place, it's hard to see the changes every day. You can feel them only if you see them from an outsider's perspective," Liu continued. "Harbin is the place where I was born and am living. We now have better living conditions so that purchasing houses and vehicles is a reality. The city is becoming more attractive as more migrant people settle down here. The infrastructure facilities are being updated, as a subway system and the ring roads are now under construction."
"I am the same age as my country. Harbin has a long way to go to catch up with Beijing, but we will make it better in our own ways, and I'm sure that more doors to the future are waiting for me to open," she added.