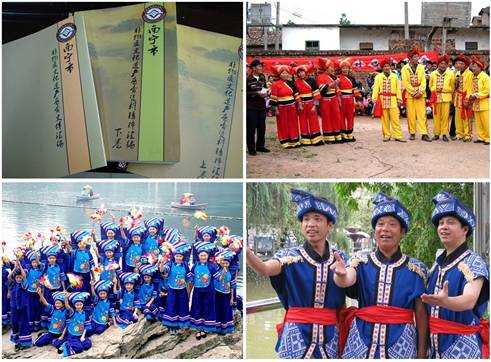 Upper left: A collection of intangible cultural relics of Nanning City; Upper right: Antiphonal singing of the Zhuang ethnic group; Bottom left: Nidani Chorus; Bottom right: Three-voice group of the Zhuang ethnic group in Mashan County 
The 2009 Nanning International Folk Song Festival is slated to begin on October 20, in the city of Nanning, capital of Guangxi Zhuang Autonomous Region in south China.
"Singers will come from more than 30 countries and regions, said Chen Xiaoling, Director of the Bureau of Cultural Affairs of Nanning city. " The previous singing fair, held only in a village or a county, is turning into an international music fair, " Chen said.
Guangxi boasts a sea of songs, all thanks to a girl named Sister Liu, as saying by a legendary tale.
Hundreds of years ago, Sister Liu decided to choose her husband by holding a singing competition, a tradition passed down for generations by the Zhuang ethnic group.
Guangxi is an area where 11 minorities cluster, including the Zhuang, Miao, and Dong, etc. In Nanning City, more than 60 percent of the population comes from the Zhuang ethnic group.
The minorities in Guangxi have their own folk cultures and customs, but one thing they have in common is their love of singing. They sing when they fall in love, when their children are born, when a daughter gets married, and when they welcome guests.
The Zhuang people are the offspring of the ancient Baiyue ethnic group, who loved singing and were good at it.
The Zhuang singing fair is a festival gathering at a specific time and location. It originated from sacrificial activities and evolved into a singing fair centered on the themes of love and good life.
The singing fair is held twice every year in spring and autumn. The spring fair is usually held in March or April, especially on March 3 in the Chinese lunar calendar. Each year, young men and women from neighboring areas gather at the fair and sing songs.
The area the Zhuang people inhabit is acclaimed as the "sea of songs." Its singing tradition can be found in totem songs, epic poems, fairytales, and historical stories. Folk songs about customs, love, moral principles, and production have been passed down for generations, even though no one wrote them down.
"Most of the folk songs are about big events," Chen told Beijing Review. "For instance, in the 1950s, they sang things like, 'I've got a piece of farmland.' But nowadays they sing about their good lives with new cars and new homes. The content of the songs evolves with the times."
Zhuang folk songs not only capture local life and production, but also serve as precious intangible cultural heritage for the whole country.
But folk songs, like other forms of folk culture, have come under challenge as society develops.
"The younger generation pursued fashion and was no longer interested in the traditional folk songs," Chen said.
"After the 1990s, the Central Government strengthened efforts to protect folk culture," Chen said. "It held the first Nanning International Folk Song Festival in 1999, after which more people began to sing folk songs." The older generation sang folk songs as they sat under trees in the shade, while young people sang pop songs in shops on the street.
Chen said the Nanning city government has done three things to carry on and develop folk music in recent years.
First, it has strengthened protection. Over the past three years, the city 's Bureau of Cultural Affairs collected the intangible cultural heritage of Nanning City by way of audio recording, video recording and digital media.
At present, there are almost 12,000 items in the collection, most of which are folk songs. The bureau set up 16 bases for the carrying on of intangible cultural heritage and has appointed members of the Zhuang ethnic group to oversee the process.
The second thing Nanning City encourages is to dig more into folk culture. The Bureau of Cultural Affairs arranges for music composers to visit villages, combine farmers ' songs into medleys and perform them in a way that appeals to young people, Chen said.
Third is the promotion of music creation. "We tap into the vast potential of composers and allow them to create new songs using folk elements," Chen said. For instance, China's well-known composer Xu Peidong wrote a song called Dadi Feige, which was warmly welcomed by listeners both at home and abroad. A singer from Thailand once sang the song at the international folk music fair in Nanning.
The efforts to protect Zhuang folk songs paid off. Music producers reproduce the folk songs in new forms. Against the backdrop of electronic music, Zhuang folk songs are accompanied by the traditional bamboo basket, bronze drum, and the sound of waterfalls. This modern form of singing has brought new life to traditional folk music in Guangxi.
Meanwhile, she said, children are learning about folk music as well. "The Nidani Chorus from Wumin County in Guangxi is well known," Chen said. "In the Zhuang language, the first ni means boy, while the second ni refers to girl. So Nidani Chorus means a chorus made up of boys and girls."
At the 2009 Pan-Beibuwan Bay Economic Forum held this August, the folk songs sung by those children were well received by friends from Southeast Asian countries.
"In the future, we will enhance our protection and promotion of folk songs so that more young people can sing them, " said Chen. "The more the songs are sung, the longer they will remain."