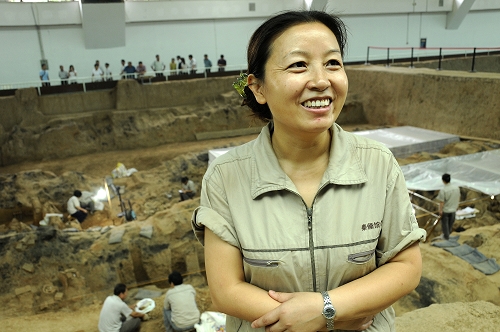 Xu Weihong (SHI GANG) 
The Mausoleum of the First Qin (221 B.C.-206 B.C.) Emperor is known the world over for its magnificent terracotta warriors and horses. Unearthed from the 2,000-square-meter excavated area in Pit 1 are eight wooden chariots; 32 terracotta horses pulling the chariots; 1,087 terracotta warriors; 486 bronze swords, lances, halberds, dagger-axes, hooks, crossbows and other weapons; 280 bundles of bronze arrowheads; 10,895 scattered arrowheads; and a large number of chariot and horse ornaments.
These comprise a formidable army of chariot-equipped infantry designed to guard the mausoleum of the first emperor of a unified China. At this archeologists' Mecca in Lintong near Xi'an in Shaanxi Province, Xu Weihong is leading a group of specialists in digging the pit for the third time.
At 1 p.m. sharp on June 13, Chinese archeologists started their third round of excavation of Pit 1 of the Mausoleum of the First Qin Emperor, aiming to explore an area of about 200 square meters. Three months later, Xu and her team have failed to discover any of the treasures that had been widely anticipated. But she has not lost heart.
Aspiring archeologist
Xu, 43, was born in Beijing, received her education in Gansu and Jilin provinces and graduated from Jilin University in 1989. Inspired by renowned archeologist Xia Nai, she said, she made up her mind to seek a career in archeology.
Xia made headlines when he died in June 1985, when Xu was applying to university. "Not only did Mr. Xia's name sound elegant, but his scholarly career was also attractive to me," Xu said. "I wanted to follow in his footsteps." With this thought, she entered the Department of Archeology at Jilin University.
As a student of archeology, Xu often dreamed of exploring the wilderness and tasting the joy of uncovering ancient mysteries with her small shovel.
After graduation, Xu began to work with the Museum of Terracotta Warriors and Horses in Lintong. At that time, the museum was engaged in a massive expansion program, planning to dig Pit 2 of the Mausoleum of the First Qin Emperor and open it to the public. Xu took part in the excavation under the guidance of veteran archeologists including Yuan Zhongyi, known as the Father of the Terracotta Warriors and Horses for his pioneering efforts.
Xu's career reached a climax when she took charge of the third round of excavation of Pit 1 this year. To her, however, outdoor archeological missions are more appealing.
Fieldwork is more exciting than the routine work at the mausoleum, she said.
"All the artifacts at the Mausoleum of the First Qin Emperor date back to the same period and were used for the same purpose," she explained. "In the field, however, you can discover relics from different periods and of various uses. It is like reliving history."