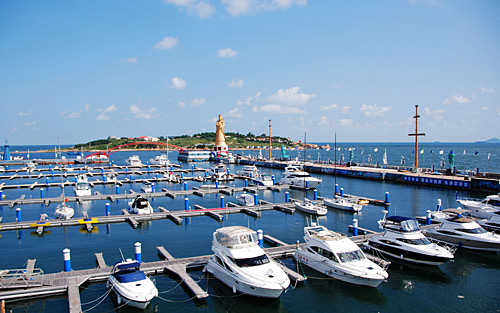 WORLD-CLASS: Qingdao Yinhai International Yacht Club is the first yacht club in China built to meet international standards (CHEN RAN) 
"Good morning and welcome aboard! " On a Friday morning in September, Ju Lan, captain of the St. Valentine's sailboat, extended his greetings on Dock C of Yinhai International Yacht Club in Qingdao, a coastal city in east China's Shandong Province.
Since early 2007, the tan-skinned captain, 51, who serves at a local wedding portrait studio, has repeated the same welcome message almost every week before setting sail on the Yellow Sea, which Qingdao faces. The only two months he has had off were in August and September 2008, paving the way for the Beijing Olympic and Paralympics sailing regattas.
"You guys look gorgeous! All you need to do is relax and follow the photographer's instructions," Ju told a couple as the 29-foot-long boat started to leave the dock.
The Beijing-based couple, originally from Yichun, a forest area in northeast China's Heilongjiang Province, came all the way here for their wedding photos.
"Qingdao is widely known as the Sailing City in China," said Li Yan, 29, the bride. "There is nothing more romantic and exciting than to have our wedding portraits, our once-in-a-lifetime memory, on a sailboat cruise in Qingdao!"
A good start
Sailing is closely associated with Qingdao, which is located on the south-facing coast of the Shandong Peninsula. Its unique blend of sea and mountains makes it a well-known summer resort. In 2009, it was listed among the top 10 most livable cities in China by the Chinese Institute of City Competitiveness.
The first recorded sailing regatta in Chinese history was held here in May 1904. After the founding of the People's Republic of China in 1949, Qingdao soon became the country's hub for sailing sports. The only state-level sailing sports center was launched here in 1953. In 1978 the country began to do the Olympic sailing training, with fewer than 30 athletes. In 1980, the first national sailing regatta was held in Qingdao.
The concept of turning Qingdao into China's Sailing City began to take shape when the Sailing Committee (Qingdao) of Beijing Organizing Committee for the Games of the XXIX Olympiad was established in June 2003. The goal was to develop a sea sports center that combined training, competition, leisure and education, with the Olympic regatta venue as the hub, and professional and amateur-level training as the key programs.
"The traditional low season runs from November to April, but now there is no low season at all and non-local clients are booming, thanks to the Sailing City promotion through world-class regattas," Ju told Beijing Review.
Ju's connection with sailboats began some 30 years ago when he was an apprentice at a local boat factory. Sailing was like a fantasy for Ju's generation when they were young, since material conditions were relatively poor at the time.
"How I envy today's schoolchildren for having access to sailing," Ju said.
Nurturing the young
In fact, the Qingdao Municipal Government is aware of the importance of supporting young sailors and has made efforts to do so. A five-year promotion campaign designed for youth was launched citywide in June 2006 to provide sailing lessons in all local schools--from primary schools to universities, and ensure that one in 10 young people sails frequently.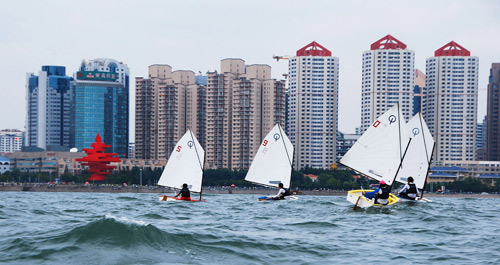 SAILING SCHOOL: Youth sailors train at the Olympic sailing regatta venue in Qingdao, east China's Shandong Province, on September 4 (CHEN RAN)
According to the Qingdao Sports Federation, as of June 2009, a total of 43 primary and middle schools feature sailing education, and 82 sailing clubs for students under 18 have been established citywide. The number of training boats collected through donations has reached 1,000, and 2,600 professional and amateur-level youth talents have emerged through various youth sailing events.
Located a five-minute walk from the beach, Wendeng Road Primary School was one of the first schools to provide sailing lessons. Sailing culture can be seen everywhere, from the sail-shaped classroom and office signs to the sailing-related hand paintings and paper-cuttings hanging in classrooms and corridors.
Zhang Yuan, the headmaster, told Beijing Review that the sailing lessons cover basic maritime and astronomy science, technical sailing skills, confidence building, and common sense coupled with a spirit of self-challenge. For example, the weekly lesson for students under grade four (around 10 years old) focuses on theory, while students above grade four have access to onboard training. Foreign coaches are often invited to give lectures and guidance.
The school's sailing team was set up in 2006, and 20 out of 80 members train firsthand on Optimist sailing dinghies. Jiang Rui, 11, is one of them.
The thin and short tomboy, the youngest on the city's sailing team, laid her sailing foundation in grade two and started to take Optimist classes at age 10. The Olympics helped strengthen her love for sailing when she took a closer look at the regatta by embarking on a coach boat.
"I feel lucky to train at the Olympic venue, which reminds me of the exciting moments I witnessed last year," Jiang said in her wet sailing gear after training.
Almost half of her school time is devoted to training, but Jiang believes "having fun is more important."
"To be honest, I don't really have a goal to achieve," she said. "What I'm trying to do is to enjoy sailing as long as I can."
The local government announced in August 2009 that the goal to promote sailing for 2012 is to "have around 300,000 people frequently use sailboats."
One of the paths to achieving this goal, according to Xu Guanzhong, Dean of the Department of Physical Education at Ocean University of China, is to motivate more college students.
"College students' capabilities of judgment and self-protection are better, since safety tops parents' concerns," Xu told Beijing Review.
Xu also said sailing used to be considered a high-end sport in China like golf and equestrian. With better living conditions and far-reaching Olympic legacies, people in Qingdao now have a better understanding of sailing.
Keeping the momentum
Besides youth sailing education, frequent participation in national and international sailing events will help build up the Sailing City as well, said Zang Aimin, Vice Mayor of Qingdao.
In January 2009, Qingdao welcomed the Volvo Ocean Race's fleets, becoming the first Chinese city to be selected as a stopover in the race's 36-year history. It has been one of the Clipper Round the World stops since 2006, and recently signed another four-year cooperation agreement with event organizers. Moreover, the city will host a series of activities to promote sailing, including the annual Mayor Cup designed for youth, the International Sailing Week every August, the annual Asia-Europe Sailing Competition and the National Sailing Championships.
"The Olympic legacy--from facilities, event operation and media services to volunteers, logistics, city security and understanding of sailing—has played a vital role in organizing international regattas," Zang said. "It is our goal to build the first Sailing City in China in the post-Olympic era, and to narrow the gap with our counterparts in the world."
Wu Chunhui, designer of the Sailing City logo, has an insight on Qingdao's future branding. "Sailing is more than a sport. It stands for culture and lifestyle. It will take time to build the Sailing City, as it is a long-term strategy rather than a slogan that ended with the Olympics," he said.