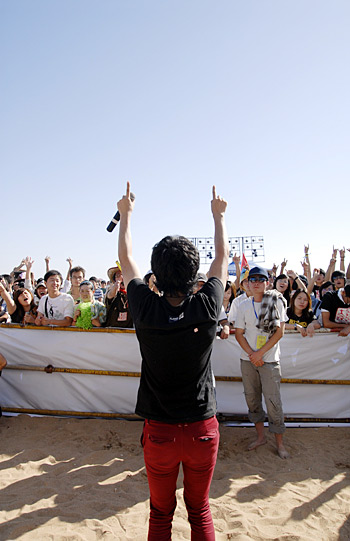 FREE MUSIC GALA: The lead singer of the local rock band the Dama Llamas interacts with the audience at the 2009 Golden Beach Music Festival (JING XIAOLEI)
It was the second day of the three-day Golden Beach Music Festival on Huangdao Peninsula, west of Qingdao, one of China's most renowned coastal tourist cities. Lines of orange beach umbrellas stood out along the coastline against the big blue sea and sunny sky. Brightly colored tents dotted Golden Beach, which is said to be the best beach in China with the longest stretch of untainted silver sand.
With one hour to go before the start of the show on September 13, Liu Siyuan, one of the festival's chief promoters, was sitting alone at the sound-mixing station with his head buried in a box lunch. His cellphone, which was close at hand, kept ringing from time to time and Liu picked it up to answer all kinds of questions and give orders on everything from booking train tickets to disposing of trash.
"I'm so busy these days, since I have to arrange everything for the festival. How would I know how to deal with the garbage on the beach?" he said.
But that didn't matter a bit to festival goers. On the first day, more than 1,000 music fans, local residents and tourists gathered at Golden Beach to enjoy dynamic music mixed with local beer, sea breeze and sunshine.
"This is the most unforgettable music festival I've ever attended," said Mu Er, a music fan and magazine editor who came all the way from Shanghai especially for the beach festival. Mu has been to many other domestic music festivals, including those held on grassland and in city parks.
"Nothing can compare to the beach music experience, which is so extraordinary, relaxing and so much fun," she said, while wandering around a market where vendors sold postcards, CDs, hats, masks, rock-themed T-shirts and other small handmade products.
Festival goers turned the beach into a giant playground—playing football, swimming, riding motorcycles, flying kites, or just simply sitting on the beach and drinking beer. "(The beach is) damn awesome!" said Joe, a musician from Wales who plays bass with a local five-piece rock band called The Dama Llamas, as he was about to go on stage.
As night fell on the festival for the first time, the band Shanren (meaning "mountainous men") from southwestern Yunnan Province performed their unique blend of pop, rock and folk music, creating a romantic atmosphere by the seaside under the clear starry sky, below which a young couple snuggled on the beach.
Brave idealists
Unlike other music festivals in China, the Golden Beach one is free and open to all, which is good news for music fans across the country.
Last year, Liu Siyuan met Wang Yong via their common friend Fu Tong. Both Liu and Wang were born in Huangdao. Liu went to Beijing to pursue his music dream several years ago, and is now the lead singer for the band Sixian Fangge. Wang is a successful businessman who also has a personal interest in music. The three of them came up with the idea to start a culture company and organize a big music festival.
ROCK SHOW: Local rock band the Dama Llamas shakes the stage at the 2009 Golden Beach Music Festival (JING XIAOLEI)
Meanwhile, the local government holds a cultural and tourist event annually to boost tourism. But every year it costs millions to stage a grand opening ceremony and pay super pop stars to perform, meaning ordinary fans can't afford the high ticket prices.
"There's little sense of participation in such cultural and tourist events for average persons, and we think our music festival may change that," Liu said. They brought their festival plan to the local government. It was finally approved and the local government gave them a 100,000 yuan ($14,705) grant to start the festival.
Liu and his partners decided to make their festival free of charge to encourage broader participation among the locals, who seldom have a chance to experience live music festivals, and attract more music fans from outside the peninsula.
"I have to say that most rock music fans are not rich; they love to hear good live music but have to give certain consideration to the costs," Liu said. He told Beijing Review that he himself once avoided high ticket prices by climbing over a wall to watch the Midi Festival, one of China's largest rock festivals. "Anyway, the 1969 Woodstock Festival was free, wasn't it?" he said.
The money from the government was far from enough to hold such a festival and Liu estimated the cost would reach 600,000 yuan ($88,235), which had to be covered by his company since they didn't have enough time to attract sponsorship.
Ma Li, a local music show and events planner, said that for organizers, a free music festival is like a "slow-motion suicide." But for the Golden Beach event's organizers, as Liu put it, the bottom line is that as long as they don't lose money, the festival is worth continuing in the future.
To sow the seeds
"This is the Chinese music festival that's closest to the spirit of Woodstock!" Kang Mao, an indie female rock star and lead singer for the band Subs, yelled in a loud voice to the audience during intermission on the first day of the festival.
The free spirit of the festival has won trust and support from members of China's indie music community, many of whom came to play at the festival out of friendship and moral support. Of all the 40 some bands and artists that performed at the festival, more than half of them were unpaid.
"We paid a dozen bands under the domestic record labels 13 Month and Maybe Mars and some other foreign bands," Liu said. "For the rest of the performers, they are all my friends and they came to play for free."
Experienced festival goers have found one obvious difference between the Golden Beach festival and similar festivals: There are no walls or security guards.
"It's really disturbing for me to see security guards lining up against the audience as if the latter were some kind of rioters," said Tan Boer, a freelancer from Beijing, adding that an excessive security presence adds to the intensity of the atmosphere and causes a sense of unease among the audience.
Liu has always dreamed of holding an open, free, equal and loving music festival like the legendary Woodstock Festival in the summer of 1969. "China's Midi Festival had the Woodstock spirit in the beginning, but together with other, newer festivals, they are becoming more and more commercial and money-focused," he said. "What we are doing with our festival is reversing the direction. We want to go back to the good start."
The relationship between music festival organizers and music fans should be equal and closer, in Liu's opinion. "The two sides are not like the schoolmaster and the students," he said. "Actually, they should maintain a friend-like relationship that's equal and more intimate." On the Internet forum for the festival, Liu answers every question from inquirers.
Liu has a simple ideal picture for the music festival in his mind: The performers play their best in the facilities provided and the audience feels free and has fun.
"I wish more people could come to the rock music festival, to experience it, to enjoy it and further love it," he said. As a 28-year-old band singer and guitarist, Liu has found that many people have preconceived ideas about rock music: noisy, violent and rebellious. Liu was glad to see many locals, old and young, stay and watch all the performances late into the night. "Our music festival gives an open and non-threshold opportunity for them to understand what rock music is really like," he said.
On the first night of the festival, Liu's girlfriend overheard one tourist tell her friend on the phone how much she was enjoying the festival. "The live music was so cool, even cooler than Michael Jackson!" she said.
The lead singer for The Dama Llamas, who is nicknamed Weak, said the festival also helps local bands sharpen their skills and gain exposure.
The organizers confessed that the dining and toilet facilities were not fully adequate because of their lack of experience. "But the biggest difficulty for us is that we don't have a professional and efficient team to execute," Liu said. With this year's experience and a stronger team, this young music idealist is confident that he will achieve his Woodstock dream.