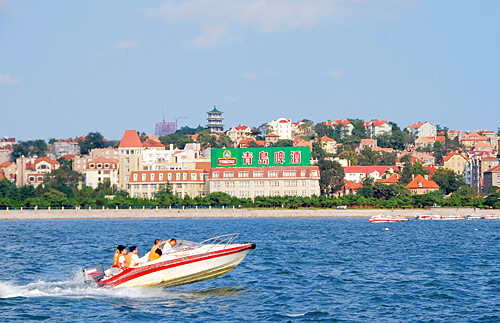 SUMMER STYLE: A ride on a speedboat is considered by Qingdao locals to be a great way to play in the summer (CHEN RAN)
Qingdao, or Tsingtao, a major port city in eastern Shandong Province, has been known as the host city of the Olympic sailing competitions, hometown of international beer brand Tsingtao Beer and the only Chinese city with a unique combination of German and Chinese architecture. The city's new ambition is to build a blue economic zone by striking a balance between its marine development and ecological conservation, as proposed by Chinese President Hu Jintao.
During his visit to Shandong this April, Hu said that a blue economic zone based on the development of its marine resources and cultivation of its marine-related industries should be set up on the Shandong Peninsula.
Speaking at a press conference on August 26, Qingdao Vice Mayor Zhang Hui said, "Compared with a traditional ocean economy, the blue economy is a new model with richer content, encompassing the comprehensive use of various marine resources, nourishing the core competitiveness of the ocean economy, cultivating some marine-related industries, protecting the ocean's ecological environment and conserving energy."
Zhang also highlighted Qingdao's natural advantages in developing such an economy from the perspective of its geological location, research and development tradition in marine sciences and quick rise as an important maritime and air traffic hub.
Boasting a 730-km coastline, 69 islands and 49 bays, Qingdao is rich in marine organisms, oil and natural gas. The city also has nationally recognized clean seawater and has built national-level ocean nature reserves.
Qingdao is also an important base for marine sciences in China, with a large number of institutions of higher learning and national labs in this field. Five revolutions over the past five decades in China's marine farming industry all started from Qingdao.
As a major logistics center in China, the port of Qingdao has received cargo ships from more than 150 countries and regions. The city's airport has opened 94 air routes, linking Qingdao with 50 Chinese cities and eight foreign cities.

AIR BRIDGE: Qingdao Liuting International Airport links the city to 50 domestic locations and eight foreign destinations (WEI YAO)
The ocean economy, which is highlighted in the city's development plan, comprises ship repairing, shipbuilding, ocean engineering, marine food supplement, marine new materials, marine biology and medicine industries, and accounts for 12 percent of the city's total gross domestic product.
Qingdao is also home to many influential festivals, including the International Beer Festival and the ocean festival. Taking advantage of its fame from hosting the Olympic sailing competition in 2008, the city has embarked on building itself into China's "sailing capital" by offering various facilities for leisure sailing, training and competitions.
Zhang said during the next stage of Qingdao's development, the city will further increase its advantages in its five pillar marine industries of shipbuilding, marine engineering, marine chemistry, seawater use and marine pharmaceuticals. By 2015, the city is expected to develop an annual shipbuilding capacity of 6 million deadweight tonnes and a daily seawater desalination capacity of 250,000 tons.
In terms of ocean tourism, the city intends to become an internationally renowned coastal resort by developing tourism related to its Olympic heritage, cruise liners and vacationing.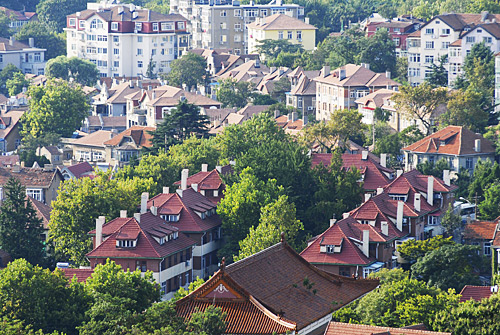 EAST MEETS WEST: The mix of Chinese and German architecture on mountains facing the sea front in Xiaoyushan Park is one of Qingdao's popular tourist destinations (WEI YAO) 
The city will seek marine science breakthroughs in core technologies and fundamental sciences in coastal erosion, extraction of useful substances from marine organisms, seawater desalination and underwater welding. The local government will offer incentives to companies in these industries, grant scientific awards and honors and encourage research staff to apply for patents.
The city is also aiming to become a major center of seafood processing and exports by further improving the quality of its living resources and enlarging the scale of sea farming.
To realize sustainable development, Qingdao will renew its efforts to protect its coastal ecological environment and ocean species diversity by setting up more nature reserves and special protection zones. Meanwhile, Qingdao will also establish warning and prevention mechanisms against red tides, green algae and windstorm tides. The city will further develop its ocean renewable energies, including ocean wind, biomass and tidal power.
Facts About Qingdao
Administrating seven districts and five cities, Qingdao covers a total area of 10,654 square km, and is home to a permanent population of 8.46 million.
Qingdao ranked ninth among all Chinese cities in terms of gross domestic product and ranked seventh in a 2009 report on Chinese cities' competitiveness compiled by the Chinese Academy of Social Sciences.
Qingdao was one of the five largest ports on the Chinese mainland and the seventh largest port in the world in terms of cargo-handling capacity in 2008.
Qingdao is home to many renowned brands, including Tsingtao Beer and home appliances giant Haier.
As a popular tourism destination, Qingdao welcomed 34 million tourists in 2008, of whom 800,000 were foreigners.
As a major base of marine sciences in China, Qingdao has one third of China's marine sciences institutions.