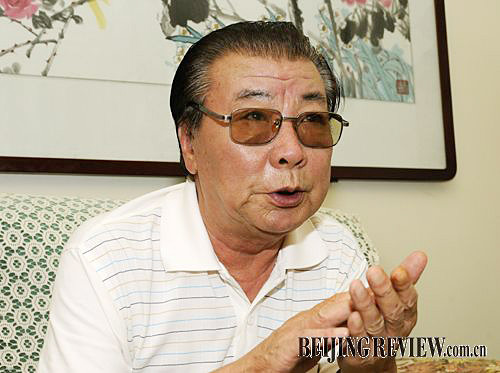 Senior Qinqiang performer Yun Zonghan (SHI GANG)
Yun Zonghan, who is about to celebrate his 70th birthday in a few months, has had a love affair with Qinqiang Opera for more than 60 years. Literally meaning "the tone of Qin," the folk opera originated in the northwest province of Shaanxi, where it was called Qin thousands of years ago. The opera took shape during the Qin Dynasty (221-207 B.C.) and has a history of 2,000 years.
Born in Xianyang of Shaanxi, where the world-renowned Terracotta Warriors of the Qin Dynasty were unearthed, Yun said he was destined to be a Qinqiang performer.
Yun fell in love with Qinqiang at the age of 5. When he was a teenager, he would seek every opportunity to watch a Qinqiang performance. Since his family was too poor to buy him tickets, Yun would follow adults into the theater and pretend to be their child.
After Yun graduated from primary school in 1952, his father wanted him to find a job to make a living. But Yun refused all opportunities. When his father asked him what he wanted to do with his life, the 12-year-old said firmly, "I want to be nothing but a Qinqiang performer."
At Yun's interview to be a student in a Qinqiang troupe in Xi'an, capital city of Shaanxi Province, he chose one of the most difficult arias in Qinqiang, which won the teachers' immediate praise. After being admitted by this troupe, Yun trained very hard in the courtyard, enduring summer heat and winter cold, which laid a solid foundation for his performance in the future. Indeed, Yun was able to make his debut after only six months of training.
At the age of 16, Yun became a lead actor in a Qinqiang troupe in Baishui County in Shaanxi. The county was so poor back then that some local people had no access to sufficient drinking water and the county had only a one-lane road.
But the poverty-stricken people's enthusiasm in watching Qinqiang performances was overwhelming. Remembering the cultural activities back then, Yun said, "Watching movies and Qinqiang performances were their only forms of entertainment."
The makeshift stage for Qinqiang didn't have power or microphones and used gas lamps for lighting, Yun recalled. Sometimes when Yun and his colleagues traveled to towns that were very far from the county's headquarters, they had to take cow-drawn carts with their bedding in their backpacks.
Audience didn't have to buy tickets, nor did they have proper seats, using bricks instead. Some people walked over 10 km to watch one performance and had to walk back. Nonetheless, everyone felt so excited after watching the performance that happy conversations and laughter would accompany these loyal Qinqiang fans all the way home.
At the age of 20, Yun took part in a major competition for young performers in Xi'an where he made his name by winning the highest possible review for a young performer. "Yun has mastered both the vocal and kungfu skills of Qinqiang, which is very rare for one performer," said one critic. Later in his career, Yun developed a new branch of vocal skills, which stands out for its emotional richness.
Although he has retired as a performer, Yun still teaches dozens of students. He never thinks about retiring from his Qinqiang career completely since it is such an important part of his life.