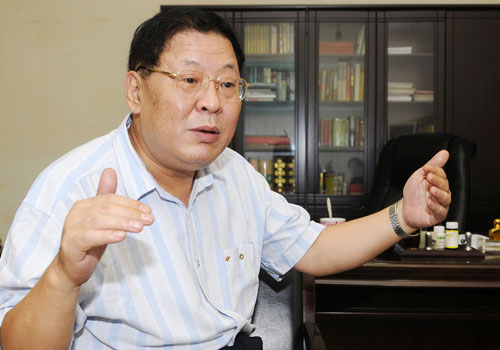 Sun Yawei (SHI GANG) 
As the capital city of China's northwest Shaanxi Province, Xi'an is one of the oldest cities in China with an uninterrupted history of more than 3,100 years. Xi'an has been the capital, under various names, of 21 different dynasties in Chinese history, including the Zhou (1046-256 B.C.), Qin (221-206 B.C.), Han (206 B.C.-220 A.D.) and Tang (618-907) dynasties. Xi'an is at the eastern end of the famous Silk Road, a network of trade routes across the Asian continent that formed more than 2,000 years ago.
On the eve of the 60th anniversary of the founding of the People's Republic of China (PRC), Sun Yawei, the director of Xi'an's local history office, sat down with Beijing Review reporter Lu Ling on the changes this ancient city has experienced over the last six decades.
Beijing Review: As a history recorder, how is your perspective in viewing the city's development different from that of ordinary people?
Sun Yawei: It is an ancient tradition for local governments to compile a local history that embraces all types of information concerning the historical, geographical, economic, administrative, etc., aspects of a locality in China. Throughout different dynasties, governments have all promulgated standards on how history should be recorded. The Central Government included the cause of recording local history in the national compendium of philosophy and social sciences development. That cause was interrupted during the "Cultural Revolution" (1966-1976), but has started up again since reform and opening up began in the late 1970s.
One function of the local history office is to record the ups and downs of local industries and summarize the reasons for these changes. The work of local history recorders differs from articles written by ordinary people observing changes around them because of its comprehensiveness and objectivity.
What were Xi'an's economic and social development levels before the founding of the PRC? Since then, what measures has the Central Government taken to develop the economy and what achievements have been made?
Compared with big cities in other areas of China, Xi'an's economic development has been backward with poor industrial facilities, traffic infrastructure, public facilities, cultural facilities and education quality.