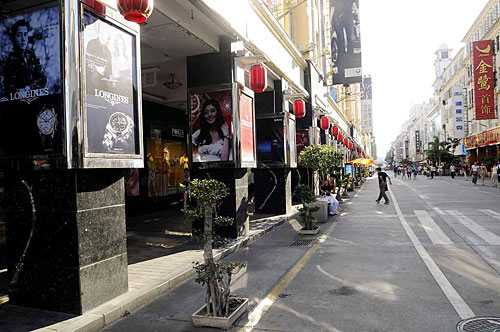 Zhongshan Road (SHI GANG) 
Taking a walk on Zhongshan Road in Xiamen, southeast China's Fujian Province, one can easily feel a combination of profound culture, high popularity and a strong business atmosphere. Only one street away from the ferry to Gulangyu Island, a tourist spot off the coast of Xiamen, Zhongshan Road has a history of more than 100 years.
A cultural symbol
Xiamen became an important trade port along the southeast coast of the Qing Dynasty (1644-1911) after the First Opium War (1840-1842). Businessmen from various areas assembled on Zhongshan Road since it was adjacent to the pier. Diverse cultures fused on the street as well, manifesting its prosperity.
Starting from Lujiang Road in the west to Park South Road in the east, today Zhongshan Road is 1,202 meters long and 15 meters wide. It is the country's only business street linked directly to the sea as well as one of the 10 most famous streets in China. In 2008, Xiamen Evening News listed it first among the 30 top landmarks in Xiamen.
In local seniors' eyes, Zhongshan Road and the surrounding area are the birthplace of Xiamen's temperament. Numerous celebrities used to live here. Their former residence merged foreign culture and Chinese traditions to develop Xiamen's unique identity. The Xinjie Church, China's oldest Protestant church, is also located here. Built in 1848, it is a symbol of the cultural exchanges between China and the West.
A dilemma
Business development on Zhongshan Road reflects the overall development of Xiamen to some extent. The first-round renovation project started soon after Xiamen's city planning commenced in 1920. Lots of overseas Chinese were attracted to the city's industry, commerce and education opportunities. Vehicles were allowed to pass through Zhongshan Road in 1929, opening a new chapter in Xiamen's transportation development. It gradually lost its glamour when Xiamen was occupied during the War of Resistance Against Japanese Aggression (1937-1945). After the founding of the People's Republic of China in 1949, Zhongshan Road was built into the first asphalt road in Xiamen in 1956. In the 1990s, it found renewed prosperity and became the commercial center of Xiamen.
Unfortunately, the road fell into recession in the late 1990s. According to statistics from the city's industry and commercial bureau, in 1998, most of the 282 registered corporations and individual entrepreneurs on Zhongshan Road lost money. One reason was the new business areas emerging--Zhongshan Road was not the first and only choice for shopping and hanging out. Instead, it faded into an old suburban street. Given the outdated facilities and traffic concerns, residents on Zhongshan Road gradually moved out to new business districts.
A reconstruction project
The idea of "Rejuvenating Zhongshan Road" was widely shared among people from all walks of life. As a scenic avenue appreciated by visitors from home and abroad, as well as a cultural street with a long history beloved by locals, Zhongshan Road was always in the spotlight.
One suggestion was to turn Zhongshan Road into a pedestrian street. Taking traffic and visitors' convenience into consideration, officials approved that proposal, completing the project in November 2004. Unfortunately, the outcome was far from satisfying--driveways were crowded with vehicles, and potted plants for decoration disappeared all the time.
In 2005, the city installed lights along Zhongshan Road so that pedestrians could use it at night as well. The 750-meter-long lighting project opened for the first time in the fall of that year, during the annual China International Fair for Investment and Trade (CIFIT). On January 24, 2006, the Zhongshan Road night pedestrian street officially opened to the public. Twelve shops were set up to sell drinks, local snacks and souvenirs, with traditional handicraft presentations along both sides of the street. Various kinds of folk art performances were displayed weekly as well.
Rocky road ahead
Locals have various opinions on Zhongshan Road's future. Some believe it should be left alone, some believe it should continue to receive support, while others propose reshaping it into an "old-fashioned street."
But they all agree on one thing: Zhongshan Road should not compete with other business districts, but rather focus on developing its cultural and historical advantages.
Wu Feng, a bartender who works in a coffee shop on Gulangyu Island, said that Zhongshan Road is "so fast-paced that it is not suitable for leisure and too 'business' over there."
It is a pity to see so many cultural relics and historical heritage sites buried under reconstruction. Like other old streets, Zhongshan Road faces a dilemma between development and protection. It seems as if it is too hard for Zhongshan Road to return to its heyday, but it will never stop pursuing it.