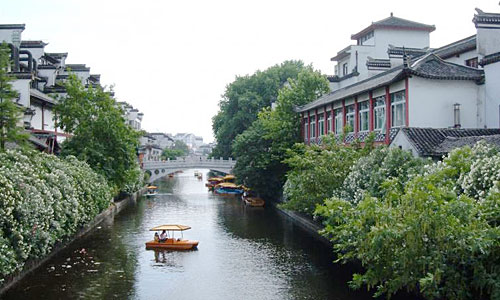 Qinhuai River (IZY.CN)
Qinhuai River is regarded as the mother river of Nanjing, capital city of east China's Jiangsu Province. Flowing across southern parts of Nanjing, the 110-km-long river splits into two streams outside the Tongji Gate. One is called the Inner Qinhuai River, which runs into the city from East Sluice to West Sluice, passing through the Confucius Temple and the Zhenhuai Bridge; the other is called the Outer Qinhuai River, which functioned as a moat surrounding Nanjing during the Ming Dynasty (1368-1644), flowing around the eastern, western, and southern parts of Nanjing. It joins the Inner Qinhuai River near the Shuixi Gate area, and then continues into the Yangtze River.
The primitive tribes and towns in the Nanjing area emerged along the Qinhuai River banks as early as in the Neolithic Age (about 7000 B.C.-2000 B.C.). The area then prospered and declined several times before entering the first millennium.
Nanjing has been selected as the capital city 11 times in history. The poem "Decorated boats floated continuously / Flute and drums played consistently" describes the prosperity of the Qinhuai River in ancient time.
Unfortunately, the river's prestige gradually faded away as land route communications expanded starting in the 19th century. Even worse, its ecological environment was destroyed as more residents moved in and dumped garbage that clogged the river. To some extent, the Qinhuai River became an obstacle for Nanjing's development.
Decay of a river
The transformation in the Qinhuai River over the past five decades is vividly depicted in a local tongue twister: "Vegetables and rice were cleaned (in the river) in the 1950s; clothes were cleaned and irrigation was done in the 1960s; the water quality deteriorated in the 1970s; fish and shrimp vanished in the 1980s; and people's health was finally threatened (by the river) in the 1990s."
Chen Hua, 50, a Nanjing native, was an eyewitness to the changes. "The water was clear in my childhood," Chen told Beijing Review. "My classmates and I would go swimming in the river during summer vacations. But the water quality has gotten worse since the 1970s. My daughter and I have to walk past it as quickly as possible to avoid the smell."
Large-scale industrialization was the first priority after the founding of the People's Republic of China in 1949. Consequently, a batch of enterprises without advanced technologies in environmental protection moved into Nanjing. According to statistics from the Nanjing Government, more than 220 enterprises, big and small, opened alongside the 5-km-long Inner Qinhuai River, and more than 70 occupied the Outer Qinhuai River area in 1983. Their polluted water poured directly into the river, causing serious problems.
"It's a pity that the blind pursuit of industrialization at the time caused pollution and environmental problems," said Zhou Xiaohong, a professor from the School of Social and Behavioral Sciences at Nanjing University.