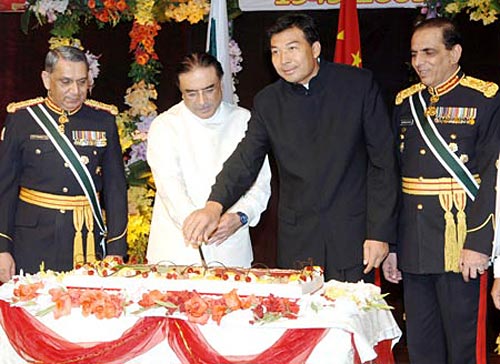 Pakistani President Asif Ali Zardari (second from left) cuts a cake with Chinese Ambassador to Pakistan Luo Zhaohui during a reception held by Chinese Embassy to celebrate the 60th anniversary of the founding of the People's Republic of China, in Islamabad, capital of Pakistan, on October 2 (XINHUA) 
Pakistani President Asif Ali Zardari said here Friday that he is proud of Pakistan's brotherly relationship with China and wishes the Chinese around the world well.
Zardari was the chief guest at the National Day reception hosted by Chinese Ambassador Luo Zhaohui at the Chinese embassy.
Replying a question by Xinhua on his arrival, Zardari said, "For the Chinese around the world, I wish them well. I wish them their independence and I applaud the success."
He also said, "I'm proud of the friendship which we have with China. And I'm proud of our brotherly relationship. And I'm with them in this moment of happiness. The people of Pakistan share the moments of happiness with the people of China."
Chairman Joint Chiefs of Staff Committee General Tariq Majid, Chief of Army Staff General Ashfaq Parvez Kayani, Chief of Naval Staff Admiral Noman Bashir, Chief of Air Staff, Air Chief Marshal Rao Qamar Suleman, government officials and senior diplomats from other embassies based in Islamabad were present at the reception.
The guests watched dances, songs and acrobatics performed by Chinese troops. At the end of the performance, chief guests and the Chinese ambassador went on the stage to greet the performers and had a group photo with them.
(Xinhua News Agency October 3, 2009)