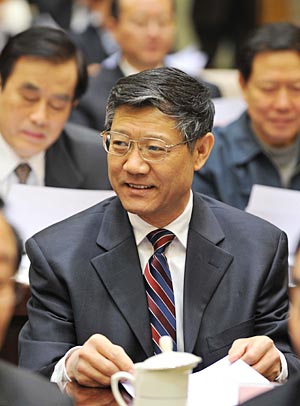 Minister of Housing and Urban-Rural Development Jiang Weixin (FAN RUJUN)
Minister of Housing and Urban-Rural Development Jiang Weixin said he was proud of China's achievements in rapidly improving and urbanizing housing over the last 30 years. He said he would work hard to improve living conditions for everyone.
Jiang became the Ministry of Housing and Urban-Rural Development's first leader when it was formally launched in March 2008 to replace the Ministry of Construction.
Jiang said adding the word "housing" into the ministry's name reflected the Central Government's stress on improving people's living conditions as well as the government's changed perception on how it should satisfy people's housing needs in a market economy. The government needs to strike a balance between regulating and promoting the real estate market while building more affordable and low-rent housing for the low-income population, he said.
Between 1949 and the early 1980s, housing was not a commodity in China because apartment buildings were constructed and owned by governments and allotted to government branches and factories, which distributed apartments to their employees according to rank and seniority. Residents did not own their apartments, instead paying a monthly rent that amounted to the building's maintenance fees. Housing was part of urban employees' welfare benefits.
During this period, urban residents in China faced an acute shortage of housing due to the slowdown in government investment in new construction. As a result, it was often a case for married couples to live separately in dormitories for singles, where two or three people shared one room.
In the three decades before 1978, government investment in residential construction totaled 37.4 billion yuan ($5.5 billion), which equaled an annual per-capita investment of less than 10 yuan ($1.47), according to government statistics.
Jiang said he had to share a room with a male colleague in a singles dormitory when he graduated from university and became a civil servant in Beijing in 1974. He said the arrangement was considered very spacious according to the standards of the time. When one colleague got married, he recalled, the person's roommate had to squeeze into another room so that the couple could have some privacy.
"The urban population's living conditions have taken a great step forward in the last 30 years, with per-capita housing floor space jumping from 6.7 square meters to nearly 30 square meters," he said.
In 1980, housing reform was launched when urban residents were encouraged to purchase housing stock through non-government capital. The same year, China's first commercial property development project started in the southern city of Shenzhen and the country's first property development company opened in Beijing. In 1991, the State Council decided to promote housing reform nationwide and issued a policy in 1994 to ensure that middle- and low-income families were granted subsidies to buy apartments at cost. The allotting of government-built housing was halted in 1998.
"Since housing reform started in the 1980s, China's real estate market has taken shape rapidly and housing conditions have improved dramatically in terms of per-capita area, construction quality and community environment," said Jiang.
Beginning in 2003, the State Council issued a series of policies to curb real estate speculation that resulted in housing price spikes in many cities. In August 2007, it issued a document that solved the housing difficulty of low-income urban families, a milestone in the government's efforts to build affordable homes for disadvantaged groups.
"The primary task of our ministry is to build government-subsidized housing in cities," he said. He explained that the real estate market alone cannot meet Chinese housing demands and the government must offer aid to the disadvantaged groups to guarantee them shelter. Jiang said the government is still exploring the best ways to distribute government-subsidized housing.
According to government statistics, 2.5 million households had moved into government-subsidized housing by the end of 2008 and 2.3 million households had received rent subsidies. In May, the Ministry of Housing and Urban-Rural Development released a three-year plan to provide affordable housing for 7.5 million low-income urban households.
"In three or four years, 8 percent of urban households will be able to receive government housing aid," said Jiang.
He said that under his ministry's plan, new government-subsidized housing projects are aimed at increasing housing for low-income residents to more than 10 square meters per person, equipping their residences with faucet water, plumbing systems, heating, piped natural gas and improving the community environment in the next three to five years.
Jiang said another major responsibility of his ministry is to upgrade the infrastructure, including roads and power facilities, in China's rural areas, so that the urban-rural gap can be narrowed.