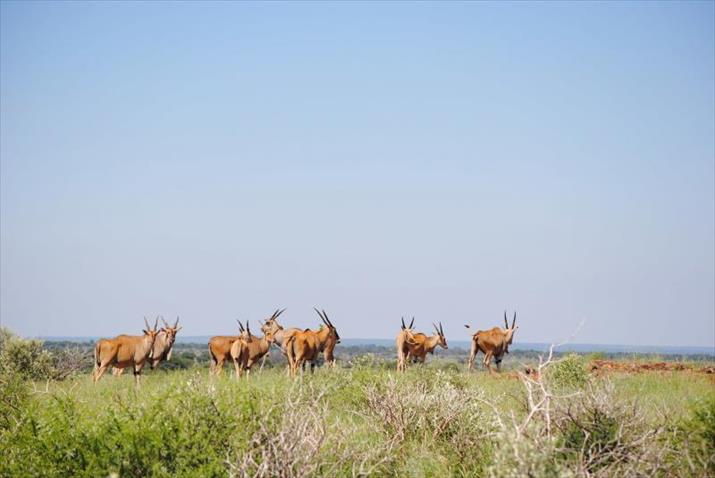 Eland herd (Photographs by Cornel van Rensburg and Jo Kromberg)
Adrenaline surges through my entire body like the sluices being opened on the Three Gorges Dam. I have a hard time managing my weak knees as I try to put one foot in front of the other on the walk across the tarmac to the small helicopter.
The vermillion sun peeks over the horizon spreading its soft morning glow across the African bush, verdant with recent rain.
I find myself at Mattanu Private Game Reserve, about 40 minutes' drive from Kimberley in the vast, semi-arid Northern Cape Province of South Africa.
At 6 in the morning the heat is already making its insidious way across the land and we have to do this thing relatively quickly before it gets too hot.
"This thing" being the darting of buffalo from the helicopter, as one does on a Monday morning of course. We are the guests of famous wildlife veterinarian Johan Kriek and his family, who own and operate the lodge and this rare game breeding farm.
"Don't go near the back rotors, it will take your face off," says Kriek's pilot son Johan Jnr, nonchalantly, as I strap myself in the backseat—sans door. "Also, leave anything behind you don't need. If any type of small item or paper flies out and gets stuck in the blades, we're going down and we die. Now, are you ready?" he adds with a beaming smile. I nod silently, not able to speak.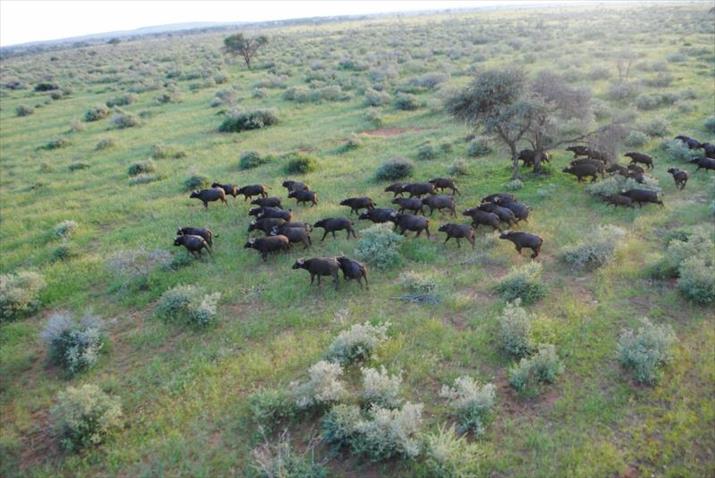 Buffalo from the air
Dart and tag
Initial abject terror turns quickly into utter fascination as the helicopter lifts into the rising sun and we begin our search for the buffalo herd of more than 50. Then lo and behold! We spot them and Johan Kriek shouts instructions to Johan Jnr. We descend quickly to within what seems like a hair's breadth above their gleaming, sweating hides while Johan Jnr negotiates the trees. Then he shoots. The dart sticks and we fly off. We (well, not me) dart and tag four more buffalo that morning.A ground crew of about eight men rush to the sight of the drugged animals and they have to move very quickly to get these young beasts, weighing half a ton each, onto a flatbed trailer and drive them to an enclosed camp. Kriek then examines and measures the sedated animals, checking for ticks and disease before vaccinating them if necessary. Then they are "woken up" with another quick injection and after a surly, vacant look in our direction they drunkenly trot off. It's a big job and it's one they do every day. The operation is slick and seamless but it can be dangerous since there is a chance the buffalo can charge.
Mattanu is a Hebrew phrase meaning, "gift from above"—of course—and this 4,800 hectare Game Reserve, owned by the Kriek family, came into being in 1991. Kriek, originally from Zimbabwe, imported 95 endangered Roan antelope and 65 rare Sable antelope species into South Africa from Malawi.
This is widely regarded by many as the most successful game capturing and importation operation ever. Kriek is also regarded by many as the pioneer of the breeding of endangered antelope industry in southern Africa. Since that time more than 300 Roan, Sable and disease-free buffalo have been bred at Mattanu. The profits from the Malawi operation were used to purchase Mattanu Private Game Reserve, which was then a cattle farm in 1990 and to date many millions have been spent in the development of the infrastructure and the reintroduction of numerous species. To date there are over 36 different animal species and approximately 1,000 animals on Mattanu."The Northern Cape is a very dry province and therefore not many diseases exist in this province. This is one of the main reasons why most of the animals breed so well and why the conservation of all our species is so positive," explains Kriek as we drive back to the lodge for brunch and I slowly get back a reasonable facsimile of a normal heart rate. I have experienced many strange and unique adventures in the course of my career but never, ever anything that comes close to this blow-your-head-off experience.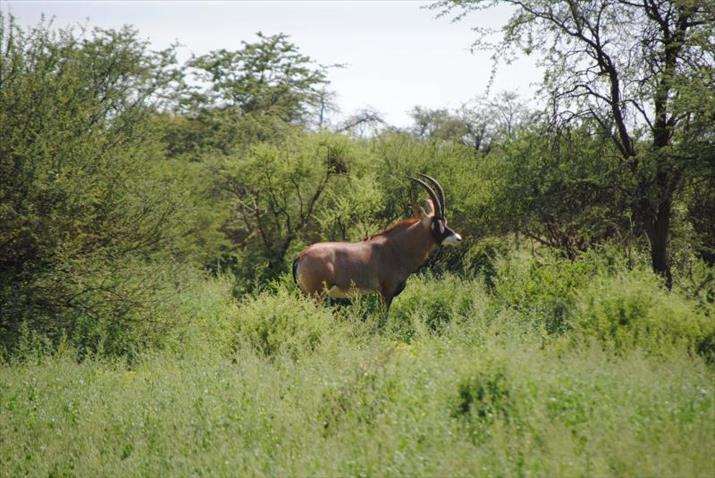 Sable bred at the reserve
Family affair
The previous day we had the good fortune to have the family's other son, Jacques Kriek, as field guide on a fascinating game drive.
Herds of kudu, eland, zebra, giraffe, a very rare golden wildebeest and black impala, oryx and springbok roam the vast open plains as Jacques painstakingly explains the raison d'être of Mattanu. Conservation is part and parcel of this Reserve and they sell some of their game on auction to other conservation game reserves.
Quite frankly, it is the most unique and interesting wild life safari drive I can remember. This is not a Big-Five lodge. For that you can go to anyone of hundreds of lodges in Africa. But there is only one Mattanu.
The cuisine and lodge is just as special and unique as their activities, under the expert direction of Kriek's lovely and charming wife Daleen. No menus, no fuss, just honest to goodness earthy cooking and hospitality. In fact, the food is nothing to write home about, since you feel you are already home! The most delicious home-made venison sausage, steak, Karoo lamb and other mouth-watering options await you at Mattanu—all distinctly South Africa with an excellent wine list as well, featuring award-winning local wines.
The Kriek family is personally involved in the reserve and with all tourists and visitors to Mattanu so guests can be assured of great service and hospitality through their personal attention to your every need.
The lodge itself is beautiful and luxurious without being opulent or ostentatious. The décor reflects the bush environment and the high ceilings and open, expansive living and dining area make you feel as though you can breathe again. The main area includes a bar, an underground wine cellar and state-of-the-art conference facility. There is also a wooden deck walkway to the center of their new island center swimming pool area, which features a natural rock waterfall feature.
Nestled in the shade of indigenous Camel thorn trees, pathways lead you from the lodge to the luxury tented accommodation. Mattanu's five luxury tents offer accommodation for family, friends, or small groups. Exuding warmth and effortless hospitality that characterizes Mattanu Private Game Reserve, the luxury tents offer unparalleled intimacy and seclusion.
The tents, each with a private viewing deck overlooking a waterhole, are decorated in African designs, complete with luxury sleeper wood furnishings, full bathroom en-suite, indoor showers, mini-bars, jet-spa baths (yes!) and air-conditioning with under floor heating. We stay at the luxury double-story thatched roof suite, which is massive, with two bedrooms and a lovely wooden deck upstairs from where we admire the sunset over the bush and spot a graceful giraffe or two. The clouds are juxtaposed against the cobalt blue sky, changing color from yellow to pink to grey...
In terms of activities, you will definitely want to be sky-bound here. Mattanu's private helicopter is also used for their very popular bushveld dinner fly-inns, helicopter fly-fishing trips, helicopter game viewing of course and the transportation of numerous guests. In addition to the new lodge development, Mattanu also upgraded from their R22, 2-seater helicopter and invested in a new R44, four-seater helicopter.
On our last evening in this slice of paradise the stars come out en masse and as we sit by the pool watching the firmament reflected in the water, counting the shooting stars, I think to myself what a fitting description for such a miraculous place—gift from above...
Contact:
Getting there:
Air China outbound flights to Johannesburg in South Africa operate on Tuesdays, Thursdays and Sundays, with return services from Johannesburg offered on Mondays, Wednesdays and Fridays. Flights will departs from Beijing at 23:15 Beijing time, and arrive in Johannesburg at 7:35 local time on the following day. The inbound flight departs from Johannesburg at 11:50 local time and arrives in Beijing at 7:30 Beijing time. From Johannesburg there are daily flights to Kimberly with Airlink, apart from on weekends. Airlink, the Regional Feeder Airline, offers a wide network of regional and domestic flights within southern Africa and operates as a franchisee to SAA
Route Information:
Direct scheduled flights between Johannesburg and Cape Town to Kimberley.
Connectivity:
Through their alliance with SAA, travelers can connect conveniently with SAA, their partner airlines and other carriers throughout Southern Africa and the world.
Frequent Flyer Program:
Airlink is a member of South African Airways (SAA) Loyalty program-Voyager.
Website:
Flight Bookings
Online, booking agent or SAA Central Reservations +27 11 978 1111.