Rodrigues - Mauritius
As we descend through the light clouds, Rodrigues reveals itself - a floating green planet, with its surrounding coral reef tenderly hugging it like its own atmosphere; the color the lucid blue of a blond child's eyes.
Rodrigues is an autonomous outer island of Mauritius, richly imbued with tropical flora and marvelous beaches - both milky white and volcanic black.
It lies about 560 km east of Mauritius and is mountainous with verdant valleys plunging to the 300 square km lagoon on towards its 80-km coastline.
From my private terrace at the lovely four-star Mourouk Ebony Hotel with its Creole style bungalows I have an uninterrupted view of the ocean. Rates start at about $145 per person per night. And did I mention it's a diver's paradise? Then I'm off the see the giant tortoises brought back from the brink of extinction. A visit by boat to Ile aux Cocos, an island bird sanctuary with an astonishing 45,000 birds follows. As the white and grey clouds play on the water, the iridescent surface of the sea changes color between molten mercury and the sheerest of tourmaline. I spend my last morning absorbing the wonderful sights, sounds, colors and aromas of the weekly Saturday market. Rodrigues is truly the art de vivre…
Contact:
http://www.tourismrodrigues.mu/
Getting there:
Fly to Mauritius direct with a number of international airlines. There are daily flights to Rodrigues with Air Mauritius.
Malawi - Mumbo Island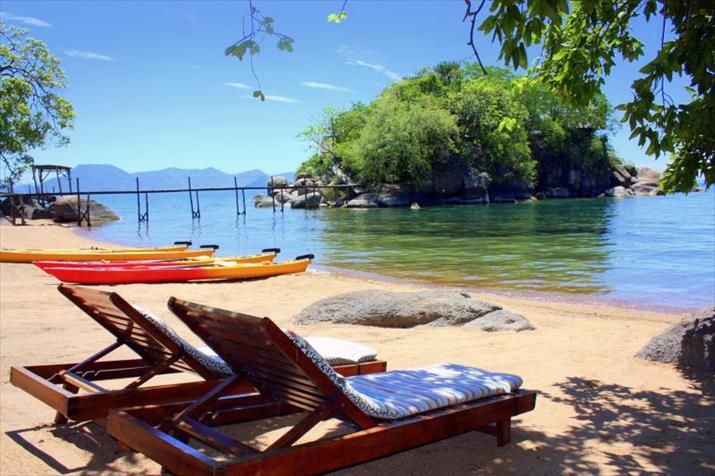 Mumbo Island beach
There is no place like Mumbo, an uninhabited tropical island floating on the vast waters of the Lake Malawi Marine Reserve in Malawi. It is only 1 km long and the lake is 600 km long, 80 km wide and over 700 meters deep. Mumbo has been given global awards for being eco-friendly in every respect. Ever heard of a rainbow skink? You will here. The view of the lake resembles a crystal clear, sleepy ocean. Plus, there are so many shooting stars at night you might just run out of wishes! Mumbo has five double furnished tents and reed chalets and one family unit tastefully furnished with hot bucket showers and "eco-loos;" also decks with hammocks overlooking the lake. Prices start at $230 per person per night. Lake Malawi supports a greater variety of fish than any other lake and is considered the finest fresh water diving spot on the planet. Mumbo is also Professional Association of Diving Instructors (PADI) registered. Later small waves lap the tiny beach with butterfly kisses as we kayak on the crystal blue lake. Nature trails weave their way through granite boulders but lying in my hammock with a book, THAT view and a cocktail is my preferred activity here...
Contact:
Getting there:
Several international airlines fly to Lilongwe with one stop or more. Road transfers will take around three and a half hours to Cape Maclear. Then fly Air Malawi to Monkey Bay.
Mozambique - Medjumbe Island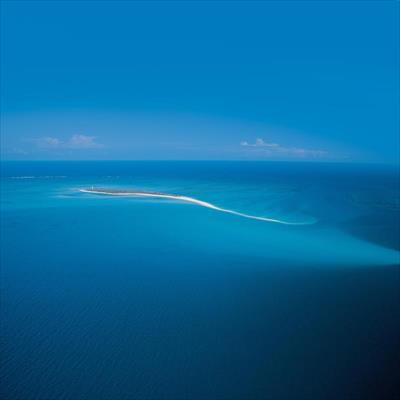 Medjumbe Island from the air
The flight over the Quirimbas islands en route to Medjumbe Island in Mozambique will leave you breathless. The sea resembles a surrealist painting, incorporating about sixteen shades of indigo. The Quirimbas Archipelago is a 250 km long string of tropical islands - a pristine marine wonderland - and its 27 islands are surrounded by dazzling coral reefs. The 1,500 square km Quirimbas National Park houses sea turtles, dolphins, whales and tropical fish. Diving In these crystal clear tropical waters of about 27°C, we discover magical marine life.
Set like a jewel within the Archipelago, Medjumbe Island is only 1 km long and 500 meters wide. The Anantara Medjumbe Island Resort & Spa is a hedonist's haven where 12 chalets (with splash pools) blend into the natural environment, meters from the translucent sea. Rates are about $600 per person per night, all-inclusive.
The resort also offers diving courses. That evening we gather for bubbly on the upper deck as the sun fades and dusk seeps into night - utter bliss...
Contact:
http://medjumbe.anantara.com/ medjumbe@anantara.com
Email:
Getting there:
Fly to Pemba from Johannesburg, Maputo or Dar es Salaam with LAM (Mozambique) or Airlink (South Africa).
A 45-minute light aircraft transfer from Pemba Airport to Medjumbe Island follows.
Tanzania - Thanda Island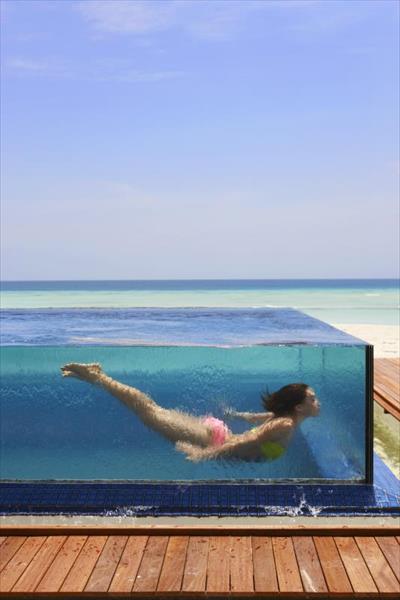 Pool time at Thanda Island
For divers seeking elbowroom, marine wonders, and even historical ruins beneath the waves, Thanda Island is a private island adventure bar none. Located in the Shungimbili Island Marine Reserve of southern Tanzania, Thanda Island offers all things aquatic for groups on a sole-use basis, including guest-only access to a private marine reserve. Thanda Island is next-level private luxury yet off-grid, solar-powered and environmentally sensitive. The island experience plays out in total seclusion across 20 acres, with almost a mile of pristine white beach. It is surrounded by its own coral reef so snorkel with your own professional aquatic guide or go sailing, paddle-boarding or kayaking. A must is the sunsets cruise in a James-Bond-style 49-feet mahogany speedboat! Conservation is a priority here. Depending on the season, guests may see turtles nesting and their eggs hatching and possibly swim with gentle whale sharks. Thanda Island's five-bedroom villa offers accommodation for 10 adults and additional children in air-conditioned suites styled with handpicked designer furniture and artwork. A unique indoor aquarium provides a glimpse of the sea life here, while the white-sand beach and an impressive glass rim-flow swimming pool overlooking the sea are destinations all their own. And all this for $10,000 for the entire place, everything included.
Contact:
Email: info@thandaisland.com
Getting there:
By boat from Mafia Island or helicopter directly from Dar es Salaam International Airport.
The scheduled flight from Dar es Salaam to Mafia Island takes 30 minutes. The boat transfer is between 15-45 minutes depending on the departure point on Mafia Island. Helicopter flights from Dar es Salaam to Thanda Island take approximately 45 minutes.
Madagascar - Miavana on Nosy Ankao
Time + Tide's Miavana, Madagascar's first ultra five-star lodge, opens in April 2017 and will offer the luxury of time and space in a truly unique setting. All 14 villas on your own island have direct beach access. Walk along the white beaches and spot four different species of turtles laying eggs or hatching, snorkel straight off the beach at the front of your villa or take a short boat ride to the mainland and find endemic lemur species. The objective is to also create a sanctuary for threatened species and provide a sustainable way of living for the local community. The island is located on the northeast coast of Madagascar on a completely "greenfield" site. The villas consist of one, two or three bedrooms starting at 450 square meters.
Rates are an eye-watering $2,500 per person per night but Miavana promises to be up there among the world's most unique bucket-list experiences.
CONTACT
Email travel@timeandtideafrica.com
GETTING THERE
Fly weekly from Johannesburg to Nosy Be and take a one-hour scenic helicopter flight to Miavana OR fly daily into Antananarivo with South African Airways via Johannesburg, then to Diego Suarez, and take a 30-minute helicopter flight to Miavana
All quoted rates correct at time of print