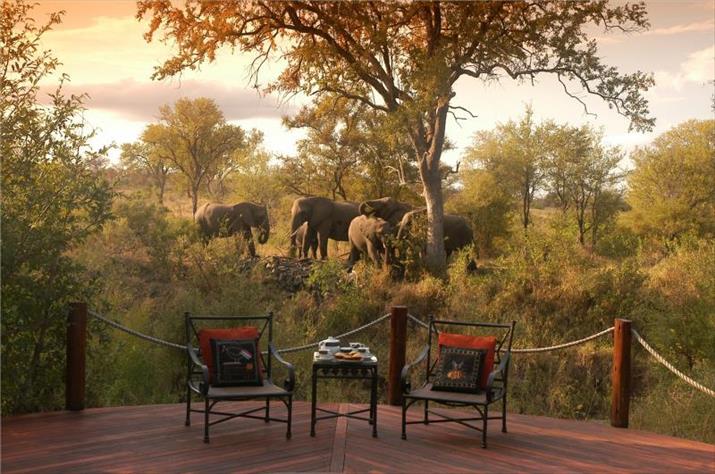 Hoyo Hoyo view from main deck
It is about 4:00 in the afternoon as we make our way deeper and deeper into the bush - more specifically the Kruger National Park in the Limpopo Province of South Africa.
As the twists and turns continue, we lose a few things - cell phone reception, GPS coordinates and a bit of patience.
Luckily all this is offset by the wonderful verdant jungle around us as result of the recent rain as well as the splendid sight of a herd of elephant passing right in front of us with their babies, waterbuck, impala, zebra and giraffe, all luxuriating in an abundance of food. It is a beautiful sight after the scorching drought which made the wildlife suffer for so long.
Finally, as the sun plunges towards the horizon and the shadows become longer, we turn a corner and before us looms Hoyo Hoyo Safari Lodge.
The Lodge is set on the banks of the Mluwati River in the Kruger National Park and I'm immediately struck by warm glow of the bright vermilion walls through the Leadwood trees. An earthy traditional Tsonga styled lodge, it's located on an ancient elephant migration route and offers only six beautifully furnished and uniquely styled thatched suites for ultimate privacy and seclusion.
Warm Hoyo welcome
"Hoyo hoyo!" Not just the name of this tiny bush hide-away but also apparently the welcome from wide-grinning staff around here, dressed in bright traditional attire. Manager Julius welcomes us with ice cold beers and a very tasty late lunch. The place has tons of personality with bright orange cushions everywhere and a view of the river. Our waiter Mooi brings us menus for dinner options to choose from - vegetable soup, tiger prawns with tagliatelli or ostrich steak "cooked to perfection" or Shepard's pie. All wholesome and mouth-watering options. Julius tells us that we have the choice of either having dinner at the lodge or at their nearby sister lodge, Imbali.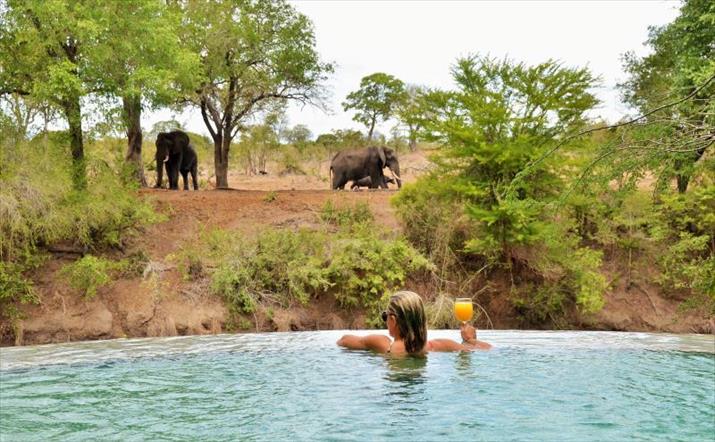 Imbali game viewing from pool
We are shown to our room which continues the architectural and design style of rest of the Lodge. A brief history lesson may be useful here in understanding the origin of the lodge: the Tsonga people lived in the central and southern areas of Mozambique during the early 16th century - then in the 19th century they settled in the Mpumalanga Province near the present-day Kruger National Park and made a living by hunting and fishing. The Tsonga people are one of the largest tribes who still live in the Kruger National Park area.
The result is an effortless and mesmerising blend of the two cultures juxtaposed. Traditionally, a typical Tsonga homestead unit or "muti" was circular and cylindrical in structure with earth colored walls and a tapering thatched reed roof. Hoyo Hoyo Safari Lodge took its design inspiration from this traditional "muti" style of the Tsonga people with its luxury "bee-hive" suites.
All fabrics, décor and art were sourced from the local Tsonga community and give the lodge a proud tribal identity. As far as creature comforts are concerned, your hut boasts an en-suite bathroom with outdoor shower, large oval stone bath, air-conditioning and your very own private viewing deck, inviting you to sit back and enjoy a chilled glass of bubbly while gazing over the Mluwati riverbed as well as the savannah beyond, including accommodation, meals, selected local beverages and safaris (gate fees excluded) it is not a bad price at all.
Big-Five game viewing
The other guests have left to go on their game drive and we opt to enjoy the solitude and peace of having the lodge all to ourselves - we have just had a game drive experience after all! I laze about in the lovely pool overlooking the bush and just bask in the blessedness of being in the heart of this great, untouched, uncrowded (by people!) wilderness.
Two game drives are offered daily, which are conducted in open 4 x 4 vehicles with experienced and informative rangers - alternatively you can take a guided walk. Some of the drives will be on the lodge's own 10,000 hectare concession, where your guide will have the opportunity to drive off road to get you very close to the wildlife and others may be in the Kruger Park itself where your ranger will be restricted to remaining on the road network at all times. As part of the world-renowned Kruger Park, the concession offers one of the most diverse game viewing experiences in South Africa and is home to lion, elephant,
Hoyo Hoyo hut luxurious interior
buffalo, leopard and rhino (black and white) not to mention a host of smaller game. The Lodge lies in the same concession as its two sister lodges, Imbali Safari lodge as well as the renowned Hamilton's Tented Camp. Activities at Hoyo Hoyo Safari Lodge are much the same as its sister lodges where you can expect to enjoy bush picnics, bush walks, champagne breakfasts and spa treatments all with a local Shangaan theme.
I opt for a late afternoon power nap but get a rude awakening from a bang on the glass door leading to the patio. I open the curtain only to be confronted by a massive male baboon. So a word of caution - keep your doors closed!
Imbali
We decide to follow Julius's advice and we are driven the 10 minutes or so to nearby Imabli Lodge for dinner under the stars in the "boma."
The fresh air, black silk sky with its hundreds of thousands of twinkling stars, soft lantern light and relaxed guests chatting and laughing set the scene for an unforgettable evening.
We have a buffet "braai" or barbeque and the chef introduces himself before telling us about the delectable morsels up for grabs - a variety of salads, home-made bread, lamb chops, venison, sausage, chicken and delicious chocolate pudding.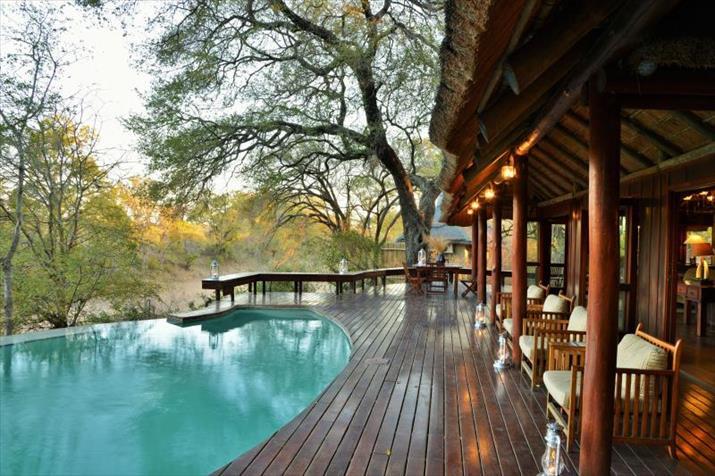 Imbali pool deck
Imbali manager Leon regales us with some of his experiences in the bush and much later, back at Hoyo Hoyo, we have a night cap under the stars, listening to the sounds of nature.
We're up early since we have to drive the six hours or so back to Johannesburg and we leave at 6:30 to meet Leon at Imbali for a quick coffee (and the beast croissant I have ever had in my life!) and tour of Imbali. What an enchanting lodge!
Much bigger than Hoyo Hoyo, it is also a tad more on the high-end scale and a bit more expensive.
We leave Hoyo Hoyo Safari Lodge and the Kruger Park with sad hearts. This place, with its unique combination of the bush, traditional cuisine, the warmth of the hospitality together with the opportunity to witness the lifestyle and culture of the Shangaan people, guarantees an unforgettable safari experience.
Contact:
http://extraordinary.co.za/contact-us/
Johannesburg Office:
Tel: +27 11 516 4367 Fax: +27 11 516 4367 Email:
Getting there:
Air China outbound flights to Johannesburg in South Africa operate on Tuesdays, Thursdays and Sundays, with return services from Johannesburg offered on Mondays, Wednesdays and Fridays.
Flights will departs from Beijing at 23:15 Beijing time, and arrive in Johannesburg at 7:35 local time on the following day. The inbound flight departs from Johannesburg at 11:50 local time and arrives in Beijing at 7:30 Beijing time.
Go to:
http://www.airchina.com.cn/en/
From Johannesburg Hoyo Hoyo will be happy to arrange transfers for you to the Kruger National Park (at extra cost) or you can hire a car at the airport to enjoy the road trip yourself.