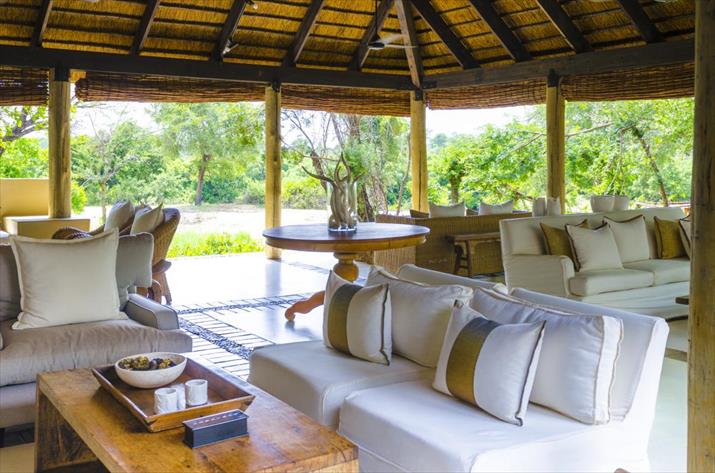 Relax at Lion Sands River Lodge (Photos by Louise Donald)
Addiction takes many forms. Some go the old-fashioned drug, gambling and booze route. But I am spared all that by having dreams fall from the clouds every time I take my next "hit" via temporary inhabitation of the African bush.
Today - a hot day in December - marks my "who-cares how many days I've been sober" umpteenth trip to the glorious surrounds of the wild and all it has to offer in the form of The Lion Sands River Lodge in the Sabi Sands Reserve. This 65,000-hectare reserve borders the world-famous Kruger National Park in the Limpopo and Mpumalanga province of South Africa. After a brief tête-à-tête with the blasted GPS taking us to the wrong gate, we arrive at River Lodge just shy of 4:00 p.m. We're welcomed by the lovely Charmaine but we are too late for the afternoon game drive so we luxuriate instead in the welcoming cool air-conditioned cocoon of our room, sheltered from the 42 degrees heat outside.
The 20 rooms are thatched and wide and spacious, decorated in white and nude colors with unbeatable views of the river and a huge bath with same. Of course it is bedecked with all the usual five-star amenities but I especially like the unique and thoughtful gesture of having a blackboard where you can write your personal butler little messages should you desire something particular.
There are also two sets of dressing gowns per person - one summer and one winter, a very nice touch.
Lion Sands River Lodge
The Lion Sands River Lodge consists of 20 sumptuous dwellings in total: twelve luxury rooms and six superior luxury rooms and two River Suites, all with their own private wooden viewing deck looking out over the Sabi River. You may not need to leave the privacy of your room to see wildlife roaming around River Lodge. The Sabi Sands, and especially the surroundings of the Sabi River, is famous for its record number of leopard sightings. The time in between safari activities can be used for a range of other activities: relax at the pool, read a book on your own viewing deck or get yourself pampered at the Lalamuka Spa.
We delight in the delicious high-tea morsels and luxuriate in the deep cushions of the veranda couches as black clouds gather and rolling thunder echo across the bush. Lightening starts dancing reflected in the river and big drops start plopping on the earth. This is nature at her spectacular best and we have front row seats...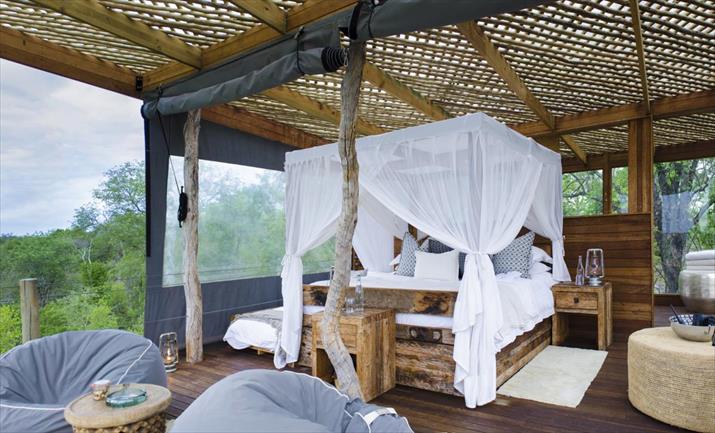 Kingston Tree House bedroom
After a luxurious bath we walk the approximate three meters to the dining room. It is dangerous to walk alone at night so you always have to have a guard accompany you, even from our chalet which is closest to the main area. We meet Thovi, our safari guide for the next day. Dinner is a lovely affair with the dining room bathed in soft lantern light. Our waiter is friendliness personified. The staff at River lodge are to a man (or woman) outstanding and exceptionally well trained. We start with the vegetable soup which is creamy and rich and delicious. This is followed by impala tartar with the main course being braised duck with butternut fondant and red wine jus. Utterly divine.
Laughter rings out from tables around us by the warm glow of candlelight and lanterns and the bush is intermittently lit up by flashes of lightning. The night is sublime. The next morning the weather has cleared up somewhat and as we have breakfast under the mighty trees, a warm wind blows the clouds around.
Thovi takes us on a safari game drive and stops at a tree to explain how and why the elephants strip the bark from the trees. "Elephants are the ecologists of the bush. If they didn't kill some trees, a forest will develop and the entire eco-system will change," she says. We also see a hippo skull and majestic giraffes and every time Thovi is a treasure trove of information as she knowledgably reveals some of the secrets of the African bush and its inhabitants.
Kingston Trees House
Then we are dropped off in the middle of nothing at Kingston Tree house, where we are due to spend the night. We make our way through rows of magnificent white boulders and across a small drawbridge, and there we find Africa unfolding in front of us. What is left of my mind is now blown. Set amid the pure and untouched wild, we are completely isolated and surrounded by the wild. Kingston is equipped with full bathroom and shower facilities, and Africology products to complete this sensory experience.
The most striking feature of the Kingston Tree house experience is without a doubt its construction, employing large sheets of glass, combined with wood, to a spectacular effect. The contemporary décor inside seduces with understated greys and whites. A massive double bed occupies the top half with the lower deck functioning as a lounge/dining/outlook area. It is surrounded by natural boulders, with a unique window to enjoy the ever-changing views. And no matter what the weather has in store, guests will always have a safe and luxurious setting with a unique window to enjoy the ever-changing views.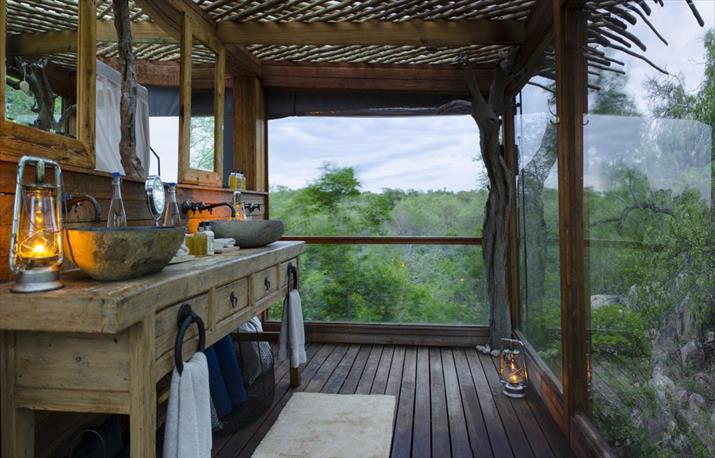 Kingston Tree House looks out on the treeline
The tree house towers above the treeline and far below roam all things wild. The staff chuckle at our amazed expressions and then wave goodbye as they pull up the draw bridge.
Then we are utterly alone. There is no electricity of course and no cell phone reception but we are left with a walkie talkie in case of emergency but you are actually perfectly safe. Between giddy gasps of wonder we take photographs.
As the day fades to night, we light the lanterns and then settle down to dinner as 1,000 birds serenade us. We have our own "picnic basket" consisting of a feast of smoked turkey baguettes, biltong and feta pate, salads and cheeses for desert a marshmallow and chocolate fondue! This is all accompanied by some excellent South African wines.
In the distance we hear lions roar. Later a shy moon appears from the clouds high above us among a million stars and all is right with the world. This is easily the most romantic spot in the entire world. Together with the slight wind, the feeling of aloneness comes and goes like an ancient echo, like the excitement that comes with the unknown.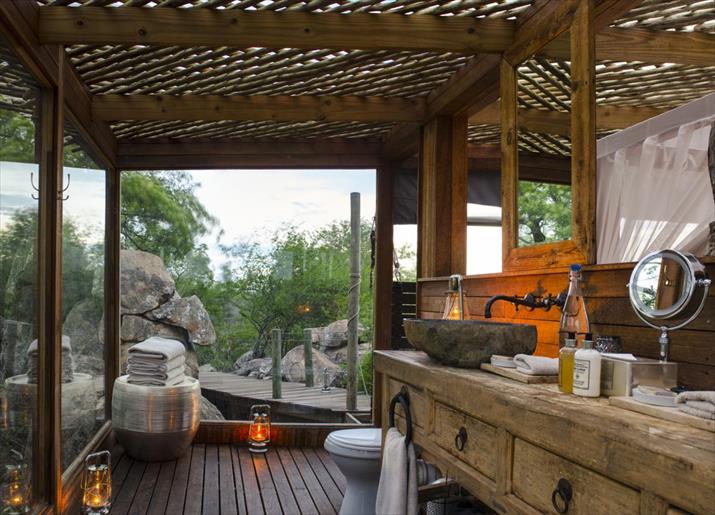 Bathroom with a view at Lion Sands River Lodge
We chat late into the night, speculating about what could be the cause of each night sound or rumble in the jungle we hear all around and beneath us.
At one point Louise turns to me and says; "What now?" Well, now nothing. And that is the purpose of this, one of the most special spots in all the world - to do nothing apart from enjoy a glass of wine by lantern light and allowing the sights and sounds of Africa to simply engulf you. The feeling is visceral, like experiencing a trace or remnant of something that is disappearing or no longer exists.
I sleep somewhat fitfully what with being in a tree house surrounded by the Big-Five and all but the bed is humungous and I'm snug as can be.
As we are enjoying our breakfast the next morning, we have visitors. An impudent and brave mother monkey with baby holding on for dear life beneath her appears out of nowhere and frightens the bejesus out of us. We collapse in fits of laughter at our own silliness and allow her to run off with a couple of bananas.
We are collected at about mid-morning and driven back to the lodge form where we depart. I go through the perfunctory motions but I feel as though I am sleep-walking, still in a state of animated bliss, my mind and soul held hostage by the once-in-a-lifetime experience I just had.
Just like an addict, you too will not want to but NEED to go back for more.
Rates:
River Lodge luxury suite will cost you approximately $760 per person per night (pppn) fully inclusive.
Kingston tree house will cost you the same plus approximately $300 pppn on top of that rate and it's worth every penny! (Prices correct at time of going to print).
Contact:
http://www.lionsands.com/our-lodges/river-lodge-sabi-sand/
Getting there:
Air China outbound flights to Johannesburg in South Africa operate on Tuesdays, Thursdays and Sundays, with return services from Johannesburg offered on Mondays, Wednesdays and Fridays.
Flights will departs from Beijing at 23:15 Beijing time, and arrive in Johannesburg at 7:35 local time on the following day. The inbound flight departs from Johannesburg at 11:50 local time and arrives in Beijing at 7:30 Beijing time. Go to http://www.airchina.com.cn/en/ .
From there you can fly Airlink to Skukuza in the Kruger National Park, an easy 50-minute flight. Airlink is the regional feeder airline and offers a wide network of regional and domestic flights within southern Africa and operates as a franchisee to South African Airways (SAA).
Route Specific Information: Direct scheduled flights between Johannesburg and Cape Town to Skukuza Airport, Kruger National Park.
Connectivity: Through their alliance with SAA, travelers can connect conveniently with SAA, their partner airlines and other carriers throughout southern Africa and the world.
Frequent Flyer Program: Airlink is a member of South African Airways (SAA) Loyalty program -Voyager.
Website: www.flyairlink.com
Flight Bookings: online, booking agent or SAA Central Reservations +27 11 978 1111.