So here I am, apparently adding to my cornucopia of curiouser and curiouser travel experiences by having a full English breakfast at 3.30 am. At 30 000 feet above the ground. Served by a lovely, smiling air hostess who looks as fresh as a daisy.
I have a short nap on our roughly 4-hour Rwandair flight from Johannesburg which lands smoothly at Kigali in Rwanda at 7 am.
It's cold, foggy and wet as we exit the airport to explore this beautifully verdant capital of one of the most interesting and progressive countries in Africa. Our guide Robert gives us a brief rundown of the history of the city and answers all our questions patiently and knowledgably.
Hi-tech capital
Kigali is now arguably considered the most fashionable "go-to" capital for tech, diplomatic and general business conventions from all over the world. It has great infrastructure and is the cleanest and one of the safest cities in Africa. It has played host to the Transform Africa Summit on two occasions; in July 2016 the Kigali Convention Centre was host to Africa's largest and most high-profile event, the AU Summit. As a first time host, Rwanda received 35 heads of states and more than 3500 delegates from the continent. Over the 6-day summit, the new conference complex revealed its many facets and multipurpose halls, pulling off an impeccable event worthy of the accolades from the dignitaries in attendance.
But Kigali is so much more than a business destination. As we drive along the leafy suburbs, the first thing one notices is the impeccable cleanliness of the city. This is as result of one of the many pioneering initiatives the current president Paul Kagame has put in place to uplift the people here. The last Saturday of the month is a compulsory cleaning day that everyone takes part in, including the President. This promotes teamwork and gives everyone a personal stake in the beauty, progress and success of their city.
Also, in my opinion Rwanda stands head and shoulders above all countries in the world in terms of its remarkable and relatively quick recovery from its dark past.
Remembering the genocide
The Kigali Memorial Centre is sad testament to this history. We stop here for a visit on this rainy day. The Centre contains a permanent exhibition of the Rwandan genocide and is built on a site where over 250,000 people are buried.
My mind still cannot compute the gargantuan atrocities that took place here while the world did nothing. Starting in the early hours of 17 April 1994, about a million people were savagely slaughtered in Rwanda over just a three month period.
I have been here before and I do not choose to relive the horror that was this underbelly of humanity.
But the conclusion of the story in the museum is the most profound. It reads simply on a plaque at the end of the tour: "This is about our past and our future. Our nightmares and dreams, our fear and our hope. Which is why begin where we end... With the country we love."
And love the country and each other, they do. How otherwise would they have become such a thriving, united nation? When these people say never again, they mean never again.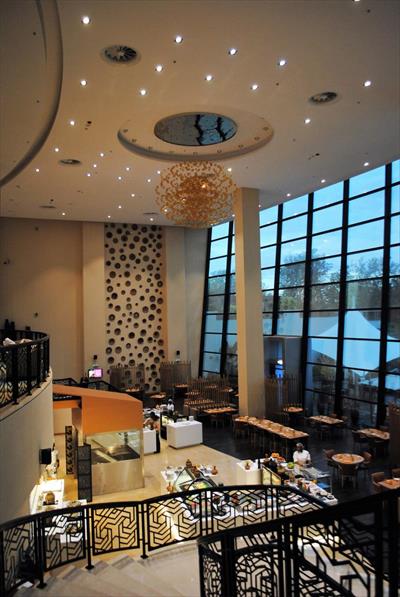 Inside the luxurious Marriott Kigali
In modern Rwanda there is no signs at all of any underlying resentment or anger among the population. The minibus with the others having experienced it for the first time is quiet on the way to lunch at the famous "Hotel Rwanda" or rather the Hôtel des Mille Collines. It became famous after 1,268 people took refuge inside the building during the genocide. The story of the hotel and its manager at that time, Paul Rusesabagina, was used as the basis of the film Hotel Rwanda.
Lunch is a lovely buffet selection of meat, chicken and fish, with accompanying vegetable, potato and salad sides with delicious desserts and it occurs to me that I have yet to have a bad meal in Rwanda. After a spot of shopping at the local craft market we make our way to the brand new, shining Marriott hotel.
The Marriott Kigali is only eight months old and makes no bones about being a purely corporate 5-star establishment. This hotel means business and they have corporate hosting staff, function and meeting facilities and cutting-edge technology to compete with the best business hotels in the world. The rooms are ultra-modern and huge and done in monochrome colours. My room has a stunning view of the hills and city from the 5th floor. But we have limited time to enjoy these luxury surrounds since we have a flight to catch. After an outstanding Italian dinner where we're treated like royalty, we make our way back to the airport to board our midnight flight to Dubai aboard Rwandair.
Hello Dubai
The royal treatment continues as we are upgraded to premium economy class aboard one of their brand new Airbusses. This "little" airline is making seriously impressive inroads in Africa and the world and people are noticing. The exclusive cabin features seven seats in a 2x3x2 layout with seating at 38 inches, significantly higher compared to the normal economy seat which is between 31 and 32 inches. Also, the seats stretch almost all the way back so I would love to tell you about the superb service and great food but alas I fall asleep minutes after a friendly air steward offers me sparkling wine and I stay so for the entire 6-hour duration of the flight.
We land in Dubai at 8.30 am local time and the heat is apparent from the outset.
Our guide Melwyn from Incentive Connections collects us promptly. I had never been to Dubai City before and stare fixated at this new milieu as we drive the half an hour or so to our abode for the night, the 5-star Lapita Dubai Parks & Resorts.
The glass and chrome buildings rise higher and higher into the white-hot sky in their self-assured, modern splendour as we traverse the city on its 6-lane highways. I crane my neck and squint up into the blinding sunlight to observe this phenomenal artifice that is Dubai City.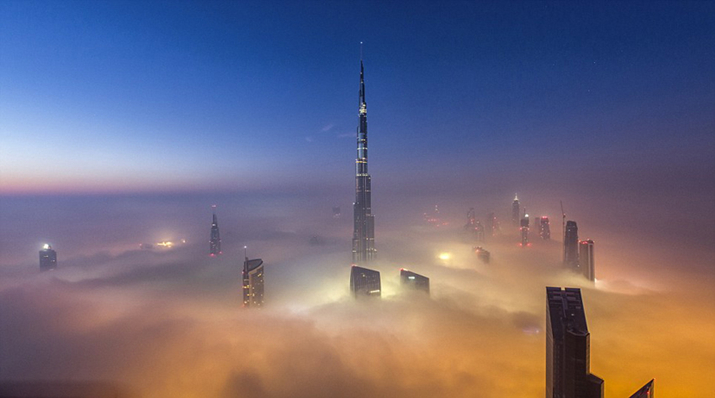 Dubai tall buildings
We see the Mall of Emirates with its massive ski dome as we hurtle down the highway. We travel past the new city of Dubai which is only about seven years old. Still more statuesque buildings rise like phoenixes from the vast, flat desert. Row after row after row after row of skyscrapers shaped like sails or palm trees or space ships...
I get the fleeting impression that the buildings and hotels are a series of hundreds of enormously tall, Kafkaesque, shiny pillars holding up some imagined platform in the troposphere. And yet the end is not nearly nigh. Melwyn tells us that there are currently almost 100 hotels under construction. Big hotels. Once completed, these hotels will boost the country's supply by another staggering 28,898 rooms. Especially if you consider that the entire population of Dubai is only 2.75 million people...
A 200-room hotel here would probably be euphemistically termed "intimate, small boutique" or some such thing. Most people employed in the private sector are ex-patriots, says Melwyn. And no wonder. Salaries are good and tax free. Dubai sees most of its income from tourism with the city hosting about 15 million visitors per annum. It is also the second safest city in the world, we are told.
Lapita Hotel
We finally arrive at the first place in two days where a full night's sleep in an actual bed will be a reality. Dubai Parks and Resorts is a new concept in Dubai (yeah, like anything here is old...) and still has some phases to go to completion. Being the only hotel located within Dubai Parks and Resorts, the Lapita hotel provides convenient access to the rides and attractions within the theme parks. It has a distinctive Polynesian theme, luxurious guest rooms and a selection of premium facilities including a signature spa and a fully equipped health and fitness centre. Lapita showcases a variety of exceptional on-site restaurant options, two heated outdoor pools and a lazy river as well as a host of fun children's activities at the Luna & Nova Kids and Teens Club. The hotel offers close to 20,000 square feet of versatile indoor and outdoor event space. As part of the Autograph Collection, it classifies itself as more than a luxury hotel; it's a one-of-a-kind destination for a family - read lots and lots of children - adventure. Indeed. If isolated intimacy and tranquillity is what you are after, abandon all hope ye who enter here...
View from Marriott Kigali
After a quick buffet breakfast with a humungous variety of foods catering to tastes as diverse as Chinese and India, I'm shown to my lovely room with its wood panelling and welcoming sophisticated island feel. The bed makes me feel small due to its enormity. A refreshing swim in one of the three pools follows and then some work, using the convenient and fast free wifi. A much needed afternoon nap is followed by an excellent dinner by the pool. Then early to bed and early go rise as an entire day of adventure awaits in Dubai. This time another guide from Incentive Connections, Hanosh, picks us up and I might just add here that each one of our women-only group fell just a little in love with him in the course of the next couple of days. A nicer, funnier, smarter and more charming guide one will go very far in this world to find.
Scaling new heights
We start with breakfast at the magnificent Habtoor Grand Resort, one of the most sophisticated hotels in all of Dubai. A tall order indeed, no pun intended.
Then it's time to get really high.
Standing at just under 830 metres tall, the Burj Khalifa is not only the tallest building in Dubai, but the tallest on the planet - and we are going up it. The rocket ship-like design makes this striking skyscraper look as if it's going to take off any minute. Exactly like my stomach. But the experience is remarkably smooth with the elevator gliding up in less than a minute. Like an injection, you hardly feel it. The air up there is a white haze in the mid-day sun so visibility is slightly disappointing (sunset is the best time to go I'm told) but even so the view is simply staggering. Forget the shopping - do this thing!
A boat ride in the "old" city to the traditional spice markets follows. The heat, the hustle and bustle, the chaos and noise, the aromas of the myriad variety of spices really make the middle-east come alive for me here.
Lunch is again an adventure, taking place at the Al Dawaar, the only rooftop revolving restaurant in Dubai. Situated atop the Hyatt hotel, it offers spectacular views of the blue Gulf waters, the Creek and the city. This contemporary restaurant boasts an international lavish buffet featuring dishes from European, Middle Eastern, Asian and Japanese cuisines.
Live stations, feature sushi, salads and cold seafood, with a carving station for meats and seafood with classic garnishes and a large dessert station. Utterly delectable...
But wait, there's more! Next month we explore the tallest hotel in the world, get spoilt rotten at the most elegant spa I have ever been to and do a spot of dune bashing in the desert. So be sure not to miss the next exciting instalment of our unforgettable Dubai adventure.
Contact:
Marriott Kigali:
http://www.marriott.com/hotels/travel/kglmc-kigali-marriott-hotel/
Lapita Dubai Parks & Resorts:
http://www.marriott.com/hotels/travel/dxbak-lapita-dubai-parks-and-resorts-autograph-collection/
Preferred ground handler in Dubai:
http://www.incentiveconnections.com/ These guys will take very good care of you! Highly recommended.
Getting there:
Rwandair does not currently operate a direct route from China but plans are in place for a direct flight between Guangzhou and Kigali within the year. Watch this space. From Kigali there are daily flights to both Johannesburg and Dubai. From Johannesburg, Rwandair offers the most cost-effective flights to Kigali and from there all over Africa and also to Mumbai and Gatwick.
Go to https://www.rwandair.com/