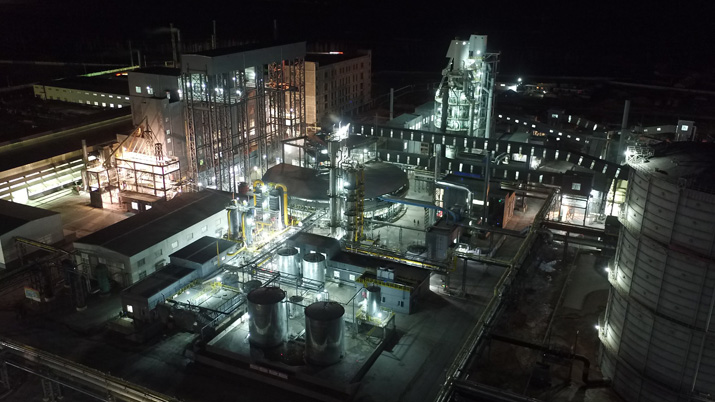 The 420,000-ton calcium carbide project of Shenwu Environmental Technology Co. Ltd. is put into operation in Ulanqab, north China's Inner Mongolia Autonomous Region
Roughly 125,000 years ago, primitive human beings radically altered the course of history and made their first step toward civilization by taming fire. Jumping forward to about 3,000 years ago, Chinese people were among the first to have found and used coal in cooking, heating and metallurgy.
Then in 1925, two German scientists—Franz Fischer and Hans Tropsch—invented a process which converted a mixture of hydrogen and carbon monoxide extracted from coal into liquid hydrocarbons. This revolutionized the use of energy sources, as it was the stepping stone to creating the modern fuel industry.
"Coal has played a significant role for much of human history," said Wu Daohong, President of Shenwu Environmental Technology Co. Ltd., a Shenzhen-listed company based in Beijing, who also admitted that the energy source has caused a series of problems threatening the environment.
China is responsible for more than half of the world's total consumption of coal. The country's electricity grid is almost totally dependent on coal-fired power plants.
"The major culprit behind the increase of hazy days in recent years is coal burning," confirmed Qin Dahe, an academician from the Chinese Academy of Sciences, who said despite that, coal will continue to dominate China's energy system for decades to come.
In China, coal accounts for roughly 94 percent of the nation's total fossil fuel and resource reserves, with its price equaling one 10th of petroleum's and one third of that of natural gas. Since coal is an important material for industrial usage, it still shows potential for development, according to Wang Xianzheng, President of the China National Coal Association.
"According to the current national energy development strategy, in 2020, coal will contribute 62 percent of the nation's primary energy consumption structure," said Wang. "Therefore, China will maintain the energy development guideline of mainly depending on coal and trying to diversify its energy mix in the 13th Five-Year Plan (2016-20) period."
As Premier Li Keqiang's 2016 Report on the Work of the Government stated, during the 13th Five-Year Plan period, efforts will be made to reduce energy consumption per unit of GDP by 3.4 percent and further cut emissions from major pollutants. To this end, the government will release policies to support the manufacturing and promotion of advanced energy-saving and environmental protection equipment.
"According to past experiences, the more energy input there is, the faster the economy grows. In the current context of cutting emissions and constraining energy input, to maintain a high growth rate, China needs to elevate the efficiency of its coal use," said Wu.
As the coal industry in China has been undergoing a decade of tumultuous redevelopment and exploration, it is now mired in a quagmire of excess production capacity and huge real estate inventory. As market demand continues to slow down, coal prices look unlikely to bounce back, and the oversupply of coal will not be reversed in the short term, Wang claimed.
"Coal will become a golden energy source in the future through the use of radical coal chemical technologies," Wu predicted.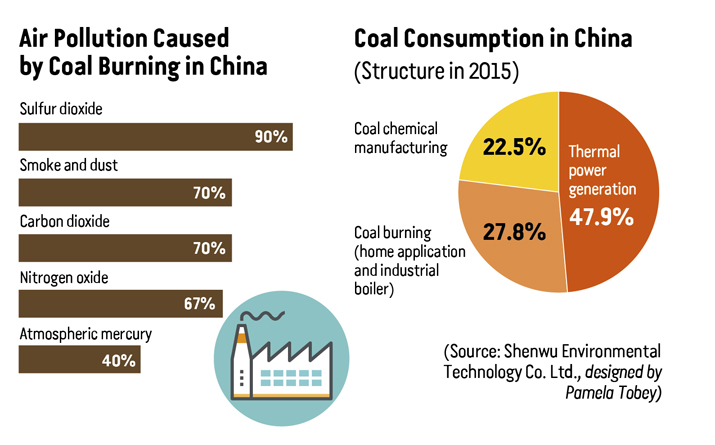 Technological strength
"Coal itself is not a pollutant—its inefficient use is what causes pollution. Its extensive application is not scientific. What is urgently needed is the transformation of the coal industry," said Zhang Yuzhuo, President of Shenhua Group Corp. Ltd., China's largest coal producer.
To explore the potential of coal chemical processing, Shenwu recently unveiled a new technique which can significantly lower the fossil fuel's costs and emissions compared to conventional coal gasification.
Coal is comprised of volatile elements and a fixed carbon component, which are removed when coal is heated to over 600 degree Celsius. The new technique first separates the volatile matter from the fixed carbon content in coal, and then turns it into natural gas, petroleum and synthesis gas. Next, the fixed carbon content is transformed into calcium carbide and carbon monoxide, and then the calcium carbide will react with water to produce acetylene, which is a necessary ingredient for the creation of many chemical products.
In contrast, conventional coal gasification methods bypass the first processing procedure and heats coal with water vapor to produce carbon monoxide and hydrogen, or synthesis gas, which can be made into various chemical products. That method is now widely used in coal industries around the world.
In addition, the new technique developed by Shenwu takes low- and medium-class coal as raw material, while the conventional coal gasification method requires more expensive high-class coal and semi-coke to support its production.
Producing 1 million tons of olefin hydrocarbons—a basic ingredient for a wide range of chemical products—requires an investment of 28 billion yuan ($4.32 billion) through coal gasification. On the other hand, the new technology only needs 20 billion yuan ($3.09 billion) to produce the same amount. The water consumption of Shenwhu's technique is 51 percent lower than that of coal gasification. Its carbon dioxide emissions and production costs are also 37 percent and 18 percent lower, respectively, than conventional production methods, according to data provided by Shenwu.
For years, China's coal-chemical industry has been plagued by inefficiency and high water consumption. The new process has managed to surmount these barriers and has brought the industry closer to sustainable development, said Wu. He also believed that it will facilitate the cleaner use of coal and shift its role from being predominantly used as a fuel source to that of a raw material.
In early March, a 420,000-ton calcium carbide project operated by Shenwu came into production in Ulanqab, north China's Inner Mongolia Autonomous Region. Touting an investment of 160 million yuan ($24.71 million), Shenwu applied its new technique to transform traditional furnaces in order to save energy and reduce costs. The project has been selected as one of the top 10 energy efficiency improvement demonstration projects by China and the United States, and is expected to generate 75 million yuan ($11.58 million) in energy-saving benefits.
Necessary and imperative
At a press conference held during the annual NPC & CPPCC sessions in March, Chen Jining, Minister of Environmental Protection, suggested that coal burning should be blamed for the nation's air pollution. Chen also stated that the Chinese Government is pushing forward the renovation and transformation of coal-fired power plants.
In 2014, energy consumption per capita in China stood at 3.1 metric tons of standard coal. According to Wu, that was lower than half of the levels recorded in developed economies. "Higher living standards always come with correlating per-capita energy use," said Wu, noting that in 2020, per-capita energy consumption in a moderately well-off society will register more than 4 tons of standard coal.
Conventional coal gasification is characterized by large investments, low efficiency, high water consumption and poor profitability. The recent plunge of petroleum prices has put further pressure on the coal-chemical industry.
What sets apart Shenwu's new technology is its ability to reduce those economic pressures. "Before being burned to generate electricity, natural gas, petroleum and synthesis gas will be first separated from the coal," Wu said. "Aside from that, the efficiency of furnaces will be substantially elevated by applying another technique of Shenwu—integrating energy saving and denitration processes."
In addition, coal-to-olefin and coal-to-glycol productions are used up by a large proportion of chemical products in China, and the nation has had to import a great deal of those hydrocarbons each year to fulfill demand.
Furthermore, the use of the traditional coal gasification method makes it difficult for most domestic producers to stay under the limit for water consumption set by the National Development and Reform Commission.
"The new technique allows Chinese manufacturers to gain an edge not only in water consumption reduction, but also in input, efficiency and profitability," said Wu.
So far, the energy-saving solution provider has launched projects in Inner Mongolia and Xinjiang Uygur autonomous regions.
According to the Energy Development Strategy Action Plan (2014-20) released by the State Council, China's dependency on imported petroleum and natural gas stood respectively at 60.6 percent and 32.7 percent in 2015. As the economy expands further and more Chinese people seek to purchase cars in the future, the ratios are likely to continue growing.
"Taking energy security and cost efficiency into consideration, coal is reliable and economical," Wu said.
Copyedited by Bryan Michael Galvan
Comments to dengyaqing@bjreview.com