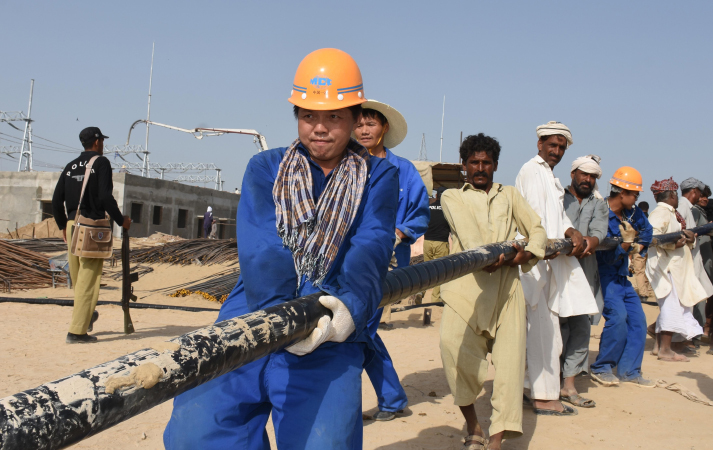 Chinese and Pakistani workers work on the construction of a solar power station in Punjab, Pakistan (COURTESY OF MCC)
With European nations collectively plagued by economic slowdown and the United States resorting to protectionism in an attempt to preserve domestic jobs, global economic patterns are now in the midst of a reshuffle, and it increasingly looks to be Asia that will emerge from this rearrangement on top.
A platform for high-level dialogue between government officials, business elites and industry experts, the Boao Forum for Asia (BFA) Annual Conference 2018, a four-day event scheduled from April 8 to 11 in Boao in China's southernmost island province of Hainan, is set to focus on the theme of An Open and Innovative Asia for a World of Greater Prosperity.
Innovation and opening up, concepts fancied by this year's BFA conference, also chime with China's tune for future economic development. As Premier Li Keqiang put it in the Report on the Work of the Government at the annual session of the 13th National People's Congress, China's top legislature, in March, efforts should be made to make China a country of innovators and create a new landscape in all-around opening up.
"We will advance international cooperation under the Belt and Road Initiative. We are committed to achieving shared growth through discussion and collaboration, and will act on the outcomes of the Belt and Road Forum for International Cooperation. We will work toward building major international corridors and deepen cooperation on streamlining customs clearance along the routes of the Belt and Road Initiative," Li said.
The Belt and Road Initiative, first proposed by Chinese President Xi Jinping in 2013, consists of the Silk Road Economic Belt and the 21st-Century Maritime Silk Road. It aims to build a trade and infrastructure network connecting Asia with Europe and Africa along and beyond the trade routes of the ancient Silk Road. More than 60 countries and regions have participated in the initiative so far.
Most of the countries along the routes of the Belt and Road Initiative are in Asia. According to the World Economic Outlook released by the International Monetary Fund in January, the emerging and developing economies in Asia are displaying surprising vitality and are predicted to experience an average growth of 6.5 percent in 2018.
This auspicious trend among Asian economies is attributable to a strengthening of economic reform and other changes, such as infrastructure programs brought about by the Belt and Road Initiative, which have not only reinvigorated the economies along the Belt and Road routes by enhancing interconnectivity but have also raised productivity to sustain economic growth in the long term.
In this regard, China's centrally administered state-owned enterprises (SOEs) have been playing an indispensable role.
"The Belt and Road Initiative has unlocked many new opportunities for these enterprises to go abroad. On the flip side, numerous jobs and economic opportunities have been created and generated in countries along the routes," said Xiao Yaqing, Chairman of the State-Owned Assets Supervision and Administration Commission of the State Council (SASAC), at a recent press conference, clarifying that China's state firms are willing to embrace opening up and cooperation.
In recent years, China's centrally administered SOEs have seen their overseas investment rise by 15 percent year on year, while the annual growth of their overseas sales revenue has stood still at 4.5 percent on average. Along the Belt and Road routes, a total of 47 centrally administered SOEs have participated in 1,676 infrastructure construction programs to date, encompassing roads, railways, ports and telecommunication networks, according to Liu Yuan, an official from SASAC's General Bureau, at a press conference held on January 25.
Better infrastructure
In Southeast Asia and Africa in particular, China's centrally administered SOEs have undertaken a large number of water conservation, electricity generation, petroleum exploration, and traffic and transportation projects, according to the 2017 Research Report on Corporate Social Responsibility of Central Enterprises jointly published by SASAC's General Bureau and the Research Center for Corporate Social Responsibility of the Chinese Academy of Social Sciences. Chinese companies have also helped countries in those regions to build their own energy production and heavy chemical industries.
Located in Ca Mau, Viet Nam, is the country's largest and most advanced nitrogenous fertilizer plant, which was jointly built by two Chinese SOEs—Wuhuan Engineering Co. Ltd., a wholly-owned subsidiary of the China National Chemical Engineering Group Corp. (CNCEC), and the China National Machinery Import & Export Corp.
After three and a half years of construction, the project was put into operation in 2012. Its excellent quality and timely completion have made the plant a template for similar projects throughout the country, according to Wang Duo, Manager of CNCEC Viet Nam.
In addition to the Ca Mau project, the same two enterprises have successfully expanded the production capacity of a similar plant in Bac Giang to 2.4 million tons, allowing Viet Nam to realize self-sufficiency in the production of nitrogenous fertilizer.
The expressway connecting the Sri Lankan capital of Colombo with the Katunayake International Airport is the first expressway in the country. Following its initiation in 2009, the Metallurgical Corp. of China Ltd. (MCC) sent a crew of Chinese construction workers with an average age of less than 31 years to the country which was then recovering from a civil war. Four years later, a modern expressway built to Chinese standards was put into use, deemed "a bridge leading toward a better future" by former Sri Lankan President Mahinda Rajapaksa.
Permanent power
In Punjab, Pakistan, a region that has long been hampered by a shortage of power, the first phase of a 300-MW photovoltaic power station was completed in a mere 90 days by the MCC. Coming into operation in June 2016, it can satisfy the daily electricity use of roughly 200,000 local households and has created more than 3,000 jobs.
Pakistani workers employed by the MCC have received comprehensive training courses which enable them to hone their trades, providing them with skills for life.
"Even though the construction of the solar power station has concluded, local employees could work another 25 years here on operation and maintenance work. For most of us, the solar power station built by MCC will provide a lifelong career," said Qasim, a 26-year-old Pakistani who works as an engineer at the station.
Chinese enterprises bring jobs and high-quality infrastructure facilities to Pakistan while also producing batches of trained technicians for the country's future, said Chen Feng, manager of the MCC solar project, who believes this is the best way to show respect to a host nation.
Inamullah Han, a middle-aged Pakistani who has worked for the MCC in Pakistan for eight years, came to Bahawalpur to do maintenance work at the solar power station two years ago, living with his wife and two children in an apartment nearby.
"When we were just settling down here, power outages lasted for at least 12 hours a day. Since the 300-MW project began generating power, the duration of these interruptions has been reduced by four hours," said Inamullah. "My Chinese colleagues and I have successfully alleviated power shortages in Pakistan. As more and more power supply projects are put in place in the future, I believe that one day, Pakistan will have power available around the clock."
Copyedited by Laurence Coulton
Comments to dengyaqing@bjreview.com