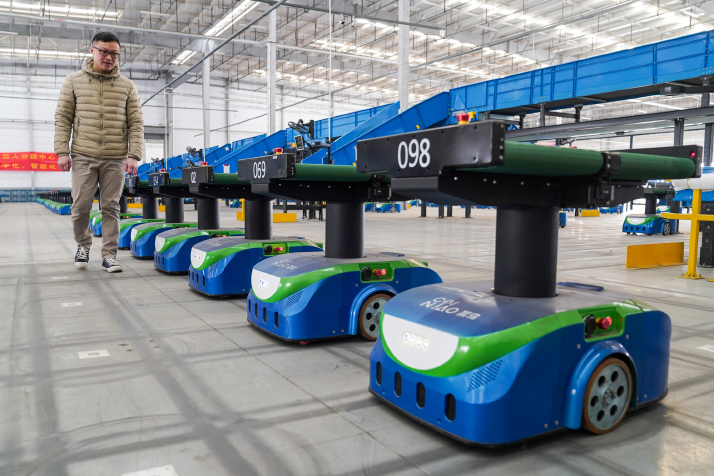 A staff member examines robots at an Internet of Things package distribution center developed by Cainiao, Alibaba's logistics arm, in Nanjing, east China's Jiangsu Province, on January 22(XINHUA)
A parcel delivered from Wugong, northwest China's Shaanxi Province, to Beijing on December 28, 2018 became the 50 billionth parcel handled by China's express delivery sector that year, said Feng Lihu, spokesperson of the State Post Bureau (SPB). According to SPB figures, throughout 2018, the sector handled 50.5 billion parcels, an increase of 25.8 percent. In 2019, the sector is expected to handle 60 billion parcels, an increase of 20 percent compared to 2018.
Feng said China's express delivery sector has maintained high-speed growth of 10 billion parcels a year since 2016. Seven firms have gone public, with one of them achieving annual sales revenue of over 100 billion yuan ($14.73 billion) and as many as five gaining over 50 billion yuan ($7.36 billion) annually. China's express delivery industry has topped global leaderboards for five consecutive years with regards to items handled, which surpassed the combined total of the United States, Japan and the European Union.
"To date, 92.4 percent of the towns in China are covered by express delivery services, and 21 provinces, autonomous regions and municipalities have realized full coverage of express delivery outlets in all their towns," said Feng. Every year, the express delivery sector supports e-commerce sales of 6.9 trillion yuan ($1.02 trillion), accounting for 19 percent of the country's retail sales of consumer goods. The sector has also established three cargo airlines with a combined fleet of 113 planes.
This fast-growing industry is becoming a key new growth driver for China. Handling about 160 million parcels every day, the industry is also facing a rapid change as innovation-based transformation looms.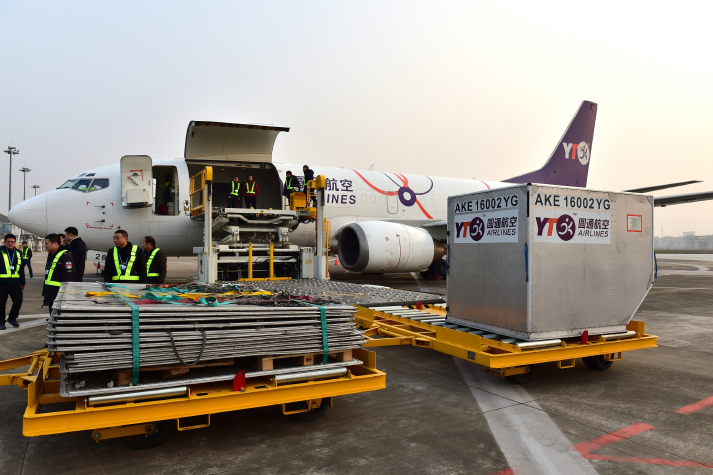 Staff unload goods from a cargo plane of YTO Express, which arrived in Yiwu, east China's Zhejiang Province, from Seoul, the Republic of Korea, on January 22 (XINHUA)
Cutting-edge technologies
It is impossible for China's express delivery industry to realize continued high-speed growth relying exclusively on manpower. Science and technology must be applied to fuel growth.
The application of automatic sorting, unmanned warehousing and other cutting-edge technologies has helped improve the efficiency of express delivery, and more such technologies will be applied in 2019.
At a logistics industrial park in Wuxi, east China's Jiangsu Province, cameras installed inside the warehouse are not only used for recording videos but, through continual scanning, they also help automatically track the levels of stock and provide information to the dispatching system. This has improved operational efficiency by 20 percent compared with traditional logistics parks, said a report of Economic Information Daily.
"Information technology is now widely adopted in China's express delivery industry, but the industry is not yet digitized enough. Through the use of the Internet of Things, artificial intelligence and other technologies, the traditional logistics industry will be transformed with digitization," said Gu Xuemei, Chief Technology Officer of Cainiao Network Technology Co. Ltd., which is engaged in building an intelligent logistics network.
At a conference on postal services held on January 3, the SPB vowed to guide enterprises in the application of technologies such as the Internet of Things, big data and the BeiDou Navigation Satellite System in order to provide services such as real-time ordering, electronic customs declarations and cargo tracking in an innovative way.
One such success story is the intelligent voice assistant technology developed by Cainiao, which helps couriers make phone calls automatically to customers. Another example is the robot distribution center jointly established in Hangzhou, east China's Zhejiang Province, by Cainiao and Shanghai YTO Express (Logistics) Co. Ltd., where 500,000 parcels can be sorted every day, cutting manpower by two thirds, according to figures from Cainiao.
"With the emergence of various innovative technologies for intelligent logistics, a large number of intelligent supply-chain platforms will be set up, and the development of intelligent logistics will enter a new and higher-level phase," said Wang Xifu, Dean of the Department of Logistics Engineering of Beijing Jiaotong University.
Cross-border logistics
In July 2018, YTO signed an investment agreement with Jiaxing City, Zhejiang Province, to build the company's global aviation logistics hub. According to YTO's plan, the hub will be put into operation by 2021, aiming at better serving the Belt and Road Initiative and facilitating the development of the Yangtze River Delta.
To upgrade its route network, Guangdong-based SF Express has established a fleet of 50 planes for its cargo airline, and its logistics hub located in Ezhou, central China's Hubei Province, is also under construction.
By buying cargo planes and building logistics hubs, Chinese companies aim to expand into the cross-border delivery services market.
The SPB has called on express delivery firms to build overseas warehouses in key regions in order to improve the capability of providing cross-border services. It has underlined the need to accelerate the development of cross-border delivery services, improve the efficiency of customs clearances and build more cross-border express delivery service platforms.
The delivery industry and the e-commerce sector must develop in synergy. According to its plan, Cainiao will cooperate with its partners to deliver international parcels in 72 hours.
In December 2018, the National Development and Reform Commission and the Ministry of Transport jointly released a plan for the construction of national logistics hubs. According to the plan, the country will build around 30 national logistics hubs by 2020, and the number will grow to 150 by 2025. A national logistics hub network suited to the modern economic system will be completed by 2035, said the plan.
"In the middle and long term, Chinese foreign trade will maintain steady growth, which will help the international logistics industry to continue growing. Cross-border e-commerce logistics, in particular, will develop faster," said Wei Jigang, a research fellow with the Research Department of Industrial Economy under the Development Research Center of the State Council.
Copyedited by Craig Crowther
Comments to wangjun@bjreview.com