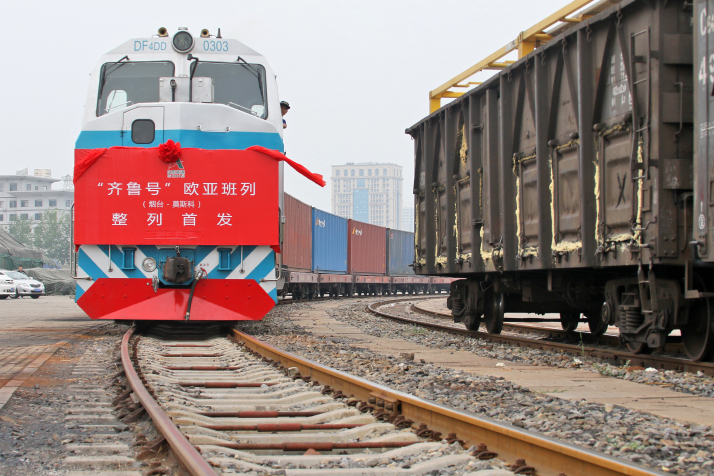 A freight train departs from Yantai, east China's Shandong Province, for Moscow, Russia, on June 28 (XINHUA)
For people living in Yantai, a coastal city in Shandong Province in east China, catching an international flight to the Republic of Korea (ROK) takes just about an hour due to the short distance. That is one of the reasons Yantai was chosen to build the China-ROK Industrial Park in 1984, attracting major ROK enterprises such as electronic giant LG and construction machinery maker Doosan Group.
Now due to the ROK link and its strong industrial foundation, Shandong has been chosen along with five other provincial-level regions to launch six new pilot free trade zones (FTZs), a first for border areas.
The other new pilots are located in Jiangsu, Hebei, Yunnan and Heilongjiang provinces as well as Guangxi Zhuang Autonomous Region, taking the total number of FTZs in the country to 18.
According to Nie Pingxiang, a researcher with the Chinese Academy of International Trade and Economic Cooperation, the new zones will connect as clusters and lift regional growth. "The move aims to expand cooperation with other countries as well as cope with the domestic downward pressure caused by China's economic restructuring," she said.
Since the launch of China's first pilot FTZ in Shanghai in 2013, 11 more came up in both coastal and inland regions by 2018. In the first half of this year, together they attracted nearly 70 billion yuan ($10 billion) in foreign investment, or 14 percent of the national total, Wang Shouwen, Vice Minister of Commerce, told a recent press conference.
The FTZs have explored different modes of development based on local edges. For example, the Guangdong FTZ in south China and the Tianjin FTZ in the north focus on opportunities brought about by the development of the Guangdong-Hong Kong-Macao Greater Bay Area and the Beijing-Tianjin-Hebei integration, respectively. The Liaoning FTZ is functioning as a demonstration zone to facilitate the transformation and upgrading of economic development in northeast China, promoting overall competitiveness of old industrial bases in the region.
Supporting policies and an improved business environment are making the FTZs more attractive for foreign investment. According to Wang, the six new FTZs will enjoy more autonomy in making policies on trade and investment facilitation, financial services for the real economy, management of talents as well as innovation of systems and rules.
"It is the first time that pilot FTZs have been set up in border areas, a move that will promote economic and trade cooperation with neighboring countries," he said.
Different roles
The new FTZs will have differentiated tasks like the veterans. The Shandong FTZ comprises three parts—Jinan, the provincial capital, and Qingdao and Yantai, two coastal cities. To develop new growth drivers, it will develop the marine economy and explore China-Japan-ROK economic cooperation.
"The Shandong FTZ is set to promote high-standard trade and investment facilitation and develop sound financial services," Ren Airong, Vice Governor of the province, said at a press conference on August 30.
The Guangxi FTZ in south China will focus on the digital economy, new-energy vehicle components and cross-border tourism, improving cooperation with Southeast Asian nations. The Yunnan FTZ in the southwest will also dedicate itself to cross-border economic cooperation.
The Heilongjiang FTZ in the northeast will upgrade heavy industries and seek more cooperation with Russia and other Northeast Asian countries.
The Jiangsu FTZ in east China will support innovation and development of the manufacturing industry, giving priority to independent innovation, international transportation and cooperation with other countries participating in the Belt and Road Initiative.
"Since Jiangsu has a strong manufacturing foundation, it will see fast growth in innovation-related industries," Nie said.
The Hebei FTZ consists of four segments. Of these, the Xiongan area will focus on hi-tech industries such as biotechnology as well as digital commerce. It will support international trade in commodities and open up biomedicine- and healthcare-related industries. Located about 100 km southwest of Beijing, Xiongan New Area is being developed to divert functions nonessential to Beijing's role as the capital and has seen a stream of relocations by research institutions, schools and markets.
The new FTZs can provide useful references for other domestic regions, which can be promoted across the country and promote opening up, Bai Ming, Deputy Director of the International Market Research Institute at the Ministry of Commerce, said.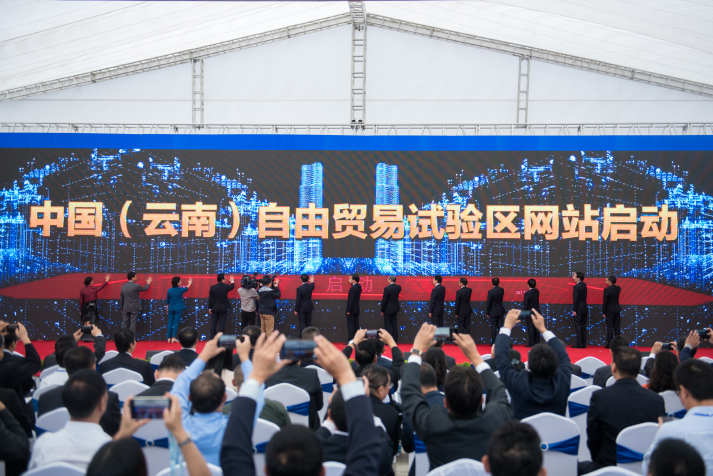 The official portal of the China (Yunnan) Pilot Free Trade Zone goes online at the launch of the zone in Kunming, capital of Yunnan Province in southwest China, on August 30 (XINHUA)
Key contributions
According to Huo Jianguo, a senior researcher with the China Society for World Trade Organization Studies, the FTZs have made key contributions to widening China's opening up, attracting foreign direct investment and stabilizing domestic economic growth.
Data from the Ministry of Commerce showed that the 12 older pilot FTZs saw foreign direct investment up 14.6 percent year on year during the January-July period this year, accounting for 14.2 percent of the national total.
Their business environment has improved steadily along with upgraded services, tax and fee cuts, widening market access and streamlined administrative procedures. Goodrich Aerostructures Service (China) Co., which specializes in aero components maintenance and repair, has seen remarkable changes in the customs clearance time since it opened in the Tianjin FTZ in 2014.
Previously, the procedure often needed three days. But with accelerated customs clearance and hi-tech systems, repaired components can be delivered to clients in less than half an hour, which has helped the company stand out in market competition. The fast-track clearance is drawing more aero component enterprises from home and abroad.
The Shanghai FTZ announced its expansion on August 20 with the Lin-gang area that is the hub of key industries like integrated circuits, artificial intelligence, biomedicine and civil aviation. The area is also home to U.S. electric carmaker Tesla's giga factory, the first wholly foreign-owned new-energy vehicle manufacturing plant in China.
The FTZs have the support of the Foreign Investment Law adopted in March, which provides institutional guarantee for foreign investment. The Chinese Government has also shortened the negative list which outlines sectors off-limit to overseas investors, easing restrictions in sectors such as service and manufacturing.
Opening the door wider
As China opens wider to the outside world, the U.S. is trying to close down more global trade channels. U.S. President Donald Trump recently announced that Chinese imports worth $300 billion, the only part of Chinese imports that had not been taxed by his administration, would be taxed at 10 percent on September 1 and then threatened to hike it to 15 percent. About $250 billion of Chinese goods that are already being taxed would see the tariff hiked from 25 percent to 30 percent on October 1.
Despite the trade tension, China is steadily opening its markets wider and the new FTZs are a channel to explore more cross-border economic cooperation, Nie said.
China will continue to expand the FTZs and focus on developing free trade ports, especially the Hainan Free Trade Port in the south, Yu Miaojie, a professor at Peking University, said.
Nie said the FTZs need to further open up the service sector along with upgrading the manufacturing industry. Market access to industries such as medical care, elderly care and education can also be further eased.
"For higher-level opening up, efforts are needed to improve services for enterprises and further facilitate trade and investment, especially by removing institutional barriers," she said.
Copyedited by Sudeshna Sarkar
Comments to lixiaoyang@bjreview.com