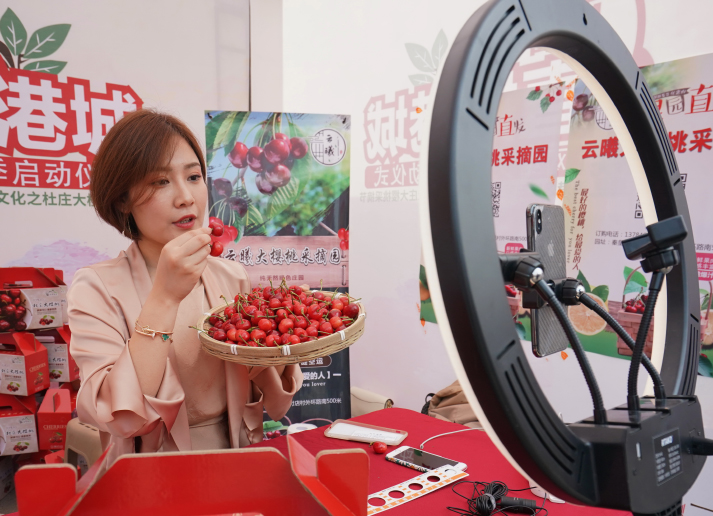 An anchor markets cherries through live-streaming during a local fruit picking festival in Qinhuangdao, Hebei Province in north China on May 30 (XINHUA)
On January 28, the fourth day of the Chinese New Year holiday, Jiang Xueying, owner of a children's clothing and accessories store, became a vlogger, live-streaming her products on Kuaishou, a leading short video-sharing app that has evolved into a popular live-streaming platform. Within a month, she had 118,000 followers and her store's transactions on Kuaishou had reached 430,000 yuan ($60,309), Jiemian.com reported.
With the coronavirus outbreak making online transactions rocket, live-streaming has become an important marketing tool to advertise products, reach out to a widening circle of potential buyers and sell online. There have been reports of sellers in remote villages becoming celebrities and top sellers, thanks to the power of live-streaming, showbiz stars being roped in to boost live-streaming, and even government officials in some provinces helping villagers to demonstrate their products by live-streaming.
To cash in on this new trend with enormous potential but much lower costs, e-commerce giant JD.com and Kuaishou signed a strategic partnership on May 27 to establish an ecosystem of live-streaming sales through cooperation in retail sale supply chains, brand marketing and data capacity building. Under the partnership, Kuaishou users will be able to buy select JD.com products directly on the video app.
Established in 2011, Kuaishou launched its live streaming e-commerce platform in April 2018 and then held a number of shopping festivals to promote it.
According to the agreement, JD.com will provide select first-party products while Kuaishou's celebrity vloggers will sell them via live-streaming. The express delivery and after-sales service will be provided by JD.com.
Kuaishou's association with JD.com dates back to June 2019, when its users could buy select JD.com products on the app. The new partnership upgrades the e-commerce cooperation.
Complementary cooperation
"Since this year, live-streaming-based e-commerce has been growing rapidly as a new form of the e-commerce industry," Kuaishou CEO Su Hua said at the signing ceremony on May 27.
Kuaishou has over 300 million daily active users. "The cooperation between us is a powerful combination of our respective advantages in users, products and platforms, and will bring a better shopping experience to both our users," Su said, adding the wider range of products provided by JD.com will provide shoppers with more options, and the express delivery and after-sales service will improve their shopping experience.
"The two companies will make our respective advantages complementary," said Xu Lei, CEO of JD Retail.
He said with Kuaishou's high user loyalty and high efficiency in turning viewers into buyers, it is one of the best live-streaming e-commerce platforms in the market. The partnership will give JD.com more power to reach the platform's users and create a new live-streaming e-commerce scenario.
A new ecosystem
The gross merchandise volume of Kuaishou now tops 100 million yuan ($14 million) every day, second only to the live-streaming platform of Taobao, China's largest e-commerce firm, according to a report by China Merchants Securities.
As of March, the Taobao app had 255 million daily active users, while Kuaishou's e-commerce platform has above 100 million, according to a report compiled by big data service provider Aurora.
However, while Kuaishou has been successful in content-providing, e-commerce will not be so easy, experts say. To build its own e-commerce ecosystem, Kuaishou needs to accumulate a large number of service providers, logistics providers and other partners, a process that requires not only time but also finance.
In the cooperation between a content provider with an advantage of users and an e-commerce firm with an advantage in the supply chain, usually the former will prevail, but an e-commerce giant will never surrender its supply chain resources, making the cooperation difficult, Li Yongjian, an expert on Internet economy with the National Academy of Economic Strategy under the Chinese Academy of Social Sciences, told Beijing Business Today.
According to an online survey on consumer satisfaction with live-streaming sale by the China Consumers Association in March, the major consumer concerns are product quality and after-sales service.
Wang Jian, a professor with the School of International Trade and Economics of the University of International Business and Economics in Beijing, said in such an alliance, the e-commerce platform will aim to acquire more users while the short video platform will seek more revenue. The cooperation will achieve good short-time results but "this will only be a supplement to the operation of the e-commerce platform, and not suitable for long-term cooperation," Wang told Beijing Business Today.
Workers load express parcels in a JD transfer station in Xi'an, Shaanxi Province in northwest China, on March 7 (XINHUA)
Hurdles ahead
According to him, as Kuaishou viewers become JD.com shoppers, they will soon start comparing the two and finally choose to buy from only one of them. "The longer the cooperation continues, the more difficulties and questions will rise, which may finally separate the two partners," he said.
Despite this, Wang thinks the partnership is still a well-timed handshake. E-commerce platforms are now trying to break through traditional transaction models and reach consumers through various services, while short video sharing and live-streaming platforms are attracting more and more audiences with their entertainment contents.
However, he added that there should be a limit to mixing business with entertainment. Business relations and entertainment should be divided; an excessive combination of the two might lead to fatigue in inter-personal relations and entertainment, and damage users' trust in the product.
(Print Edition Title: A New Online Ecosystem)
Copyedited by Sudeshna Sarkar
Comments to wangjun@bjreview.com