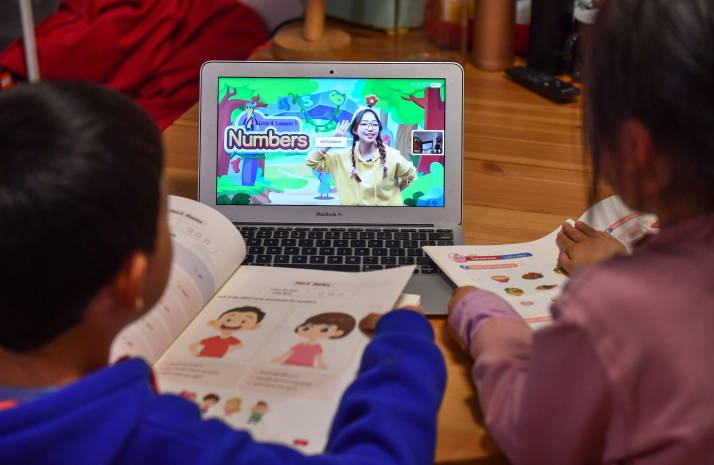 Children attend a class by Xueersi online school at their home in Beijing on March 30 (WEI YAO)
At 51Talk, an educational company that specializes in online classes, artificial intelligence (AI) plays a key role, especially for young students.
According to Zhang Xingjian, a marketing staff, the company has introduced AI cartoons through which youngsters learning Chinese are given their preliminary instructions, making learning fun. Students interact through speech recognition and speech technology.
Since classrooms switched online due to COVID-19 last year, technology has become an integral part of education and would continue to be so though offline schooling has resumed with containment measures.
According to a plan issued by the National Development and Reform Commission and other government departments in March, efforts will be furthered to develop new types of consumption, including online education. The authorities will promote the use of intelligent technologies and encourage the participation of private companies to make education resources more accessible.
Sharing resources
According to a report by the China Internet Network Information Center (CNNIC) in February, the number of online education users in China had reached 342 million by the end of 2020, accounting for 34.6 percent of the Internet population. Digital teaching systems of traditional schools and online tutoring platforms both saw notable growth last year.
The report said 99.7 percent of primary and middle schools had gained access to the Internet by the end of 2020. Online platforms such as Massive Online Open Courses, free online courses open to everyone, also offer courses on different subjects by college teachers.
"Online courses enable students to learn with experienced teachers from the top schools, which promotes the sharing of high-quality education resources," Li Yushun, an associate professor of education at Beijing Normal University, told Beijing Review.
The Ministry of Education said in February that by 2025, the country will have well-developed online platforms and courses covering all subjects to make teaching resources more accessible to primary and middle school students.
The online tutoring market, a recent phenomenon, has expanded rapidly. A report by the Chinese Academy of Sciences (CAS) said the financing volume of the sector reached 53.9 billion yuan ($8.3 billion) last year, up more than 260 percent year on year.
From January to October 2020, 82,000 new online education firms sprang up. The sector saw investment totaling 38.8 billion yuan ($6 billion) in the first 11 months last year, a year-on-year increase of 256.8 percent, according to CNNIC data.
A recent survey by China Youth Daily also found that more than 87 percent of Chinese parents have signed their children up for online tutoring sessions to supplement their education.
For domestic education technology (EdTech) companies that integrate technology with traditional teaching to enhance the learning experience, sectors including English and coding learning have seen great demand and high returns and therefore, fierce competition as well. Online English-tutoring platforms are hiring teachers from English-speaking countries, creating jobs globally.
Since the market in large cities has become saturated, many EdTech firms have started exploring smaller cities that lack teachers. Another trend is large platforms seeking further expansion with frequent mergers and acquisitions of online education companies reported in 2020, the CAS report said.
According to market research firm iResearch, the online tutoring market, valued at around 250 billion yuan ($38.4 billion) in 2020, can reach about 300 billion yuan ($46 billion) this year and approach 500 billion yuan ($76.8 billion) by 2024.
Addressing challenges
For both traditional schools and EdTech companies, there is still much room for growth vis-à-vis online education. Students in many remote regions without access to high-speed Internet find it hard to follow online courses.
So during the annual sessions of the 13th National People's Congress, the top legislature, and the 13th National Committee of the Chinese People's Political Consultative Conference, the top political advisory body, in March, the lawmakers and advisors proposed that schools in rural areas be equipped with Internet-based teaching systems. They also called for enhancing the capacities of teachers to use digital education tools through diversified training programs.
"While online learning can promote the sharing of high-quality courses, the digital gap in education between different regions may also widen. Since many schools lack planning in building their own systems, county-level online teaching platforms should be established to avoid replication of efforts," Zhang Zhiyong, acting Dean of Faculty of Education, Beijing Normal University, told Global Times.
Li stressed that the integration of online courses and offline teaching should be furthered. "To promote online education, teachers need to go beyond simple adoption of Internet technologies to fully utilize online resources and try new teaching modes such as flipped classroom for students to improve self-learning abilities," he said.
In the flipped classroom strategy, students finish their reading at home and solve problems in class to increase their engagement.
However, the mushrooming of online tutoring platforms also means fierce competition. Many firms have been squeezed out. Xuebajun, a one-on-one video-tutoring platform, was recently reported to be on the verge of bankruptcy.
There are other problems such as the low quality or homogeneity of some courses, and incompetence of some teachers. Many new platforms do not have an operating license. In the days to come, stricter regulation is expected to resolve these issues.
According to the CAS report, many online tutoring platforms' number of active users has declined with the resumption of offline schooling. Many EdTech companies face difficulties in attracting new users and making a profit as parents worry about their children's eyesight due to the protracted time spent on computers. There are also complaints about difficulties in getting refunds if someone decides to drop out of an online course.
The related departments need to enhance regulation on the quality of online courses, teachers' qualification and false advertising. Detailed standards on tuition fees should also be introduced to protect users, the CAS report said.
As the epidemic becomes a memory, the online tutoring market will consolidate around a few giants. So to survive and thrive, small and medium-sized companies need to make more efforts to develop distinctive modes and explore niche markets, iResearch said. BR
(Print Edition Title: Survival of the Fittest)
Copyedited by Sudeshna Sarkar
Comments to lixiaoyang@bjreview.com