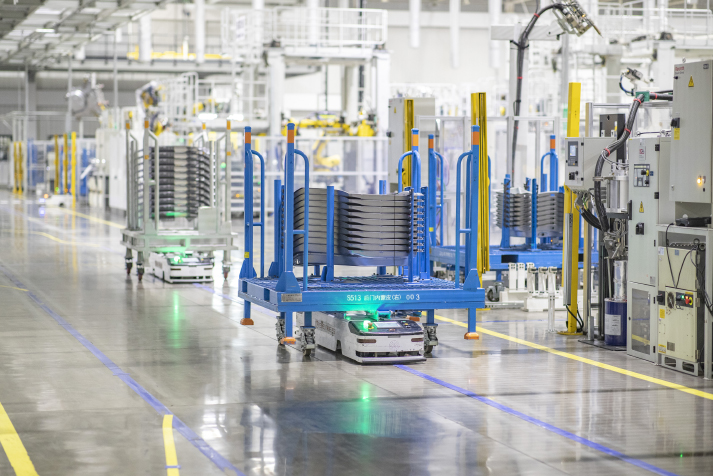 Automatic guided vehicles in a workshop of a smart spring manufacturer in Chongqing on April 3 (XINHUA)
Recovering from the lows caused by COVID-19 last year, China's economy grew 18.3 percent year on year to 24.93 trillion yuan ($3.82 trillion) in the first quarter (Q1) of 2021. According to data released by the National Bureau of Statistics (NBS) on April 16, the average yearly growth during Q1 of 2020 and 2021 was 5 percent, when measured against 2019 levels.
Last year, China's GDP contracted 6.8 percent in Q1. It resumed positive year-on-year growth in the following quarter and has since managed to maintain an uptrend under effective pandemic containment measures. Throughout 2020, the GDP grew 2.3 percent from 2019.
NBS spokesperson Liu Aihua told a press conference that the economy continued steady recovery in Q1, with expanding consumption and investment, improving industrial restructuring and growing vitality of market players. Tax and fee cuts and other preferential policies have improved market expectations, leading to an increase in new enterprises.
With a complete industrial system, resuming market demands as well as booming hi-tech industries and new business modes, China is expected to maintain stable economic growth this year, Liu said. The government has set the GDP growth target at over 6 percent.
However, Liu cautioned that uncertainties at home and abroad remain as COVID-19 continues to spread globally and the foundation for the domestic economic recovery has not yet consolidated. The growth of some firms in the service sector and small and micro enterprises is still slow, according to her.
"More efforts are needed to boost domestic demand, improve support for enterprises and stabilize employment. Curbing imported inflation caused by soaring commodity prices on the international market, and maintaining the stability of the yuan are also essential to coping with internal and external risks," Wen Bin, chief analyst at China Minsheng Bank, told Beijing Review.
Back to boom
The troika of economic growth—consumption, investment and foreign trade—saw notable recovery as demands at home and abroad resumed steadily.
In Q1, the average two-year growth in retail sales of consumer goods stood at 4.2 percent, with that of online retail sales reaching 13.5 percent.
The postal sector regained vitality as online consumption continued to expand. In January-March, business revenue of the sector totaled 297.07 billion yuan ($45.5 billion), up 35.5 percent year on year. Data from the State Post Bureau showed domestic express delivery firms handled 21.93 billion parcels in the period, surging 75 percent from the previous year.
Resuming market expectations and supporting policies for boosting consumption aided the recovery of the hardest-hit catering, tourism and film industries. Notably, the catering industry already resumed its pre-pandemic performance, with its sales in March exceeding those in the corresponding period in 2019, Liu said.
During the Qingming Festival (Tomb-Sweeping Festival) holiday on April 3-5, more than 100 million domestic trips were made, recovering to over 90 percent of the 2019 level. During the holiday, the box office revenue reached a record high, exceeding 800 million yuan ($123 million).
NBS data also showed that total imports and exports grew by nearly 10 percent per annum over the past two years. The General Administration of Customs of China (GACC) said total imports and exports of goods surged 29.2 percent year on year to 8.47 trillion yuan ($1.3 trillion) in Q1. General trade, which can reflect manufacturing strength, reported a 32-percent growth over a year ago.
"The year-on-year growth of exports in March reached 20.7 percent while that of imports coming to 27.7 percent. The yearly growth rate of imports exceeded that of exports for the first time this year, suggesting steady recovery of domestic demand," Liu said.
Private enterprises' imports and exports expanded 42.7 percent year on year to 3.95 trillion yuan ($608 billion) in Q1.
Thanks to the expansion of opening up, foreign trade in bonded zones and pilot free trade zones (FTZs) increased 41.1 percent and 28.4 percent year on year in Q1, respectively. China's trade with countries along the Belt and Road routes and members of the Regional Comprehensive Economic Partnership both increased in the first three months.
Although foreign trade has maintained positive year-on-year growth for three consecutive quarters since July last year, the epidemic has continued to pose challenges. Further efforts are needed to improve prevention and control at ports, facilitate customs clearance, enhance cross-border trade and support FTZs, GACC spokesperson Li Kuiwen said on April 13.
The two-year average growth of fixed assets investment stood at 2.9 percent in Q1. Investment in hi-tech manufacturing and service industries grew 10.7 percent and 8.2 percent, respectively.
According to Wen, the resumption of construction projects and issuance of special bonds will make investment in infrastructure increase even further.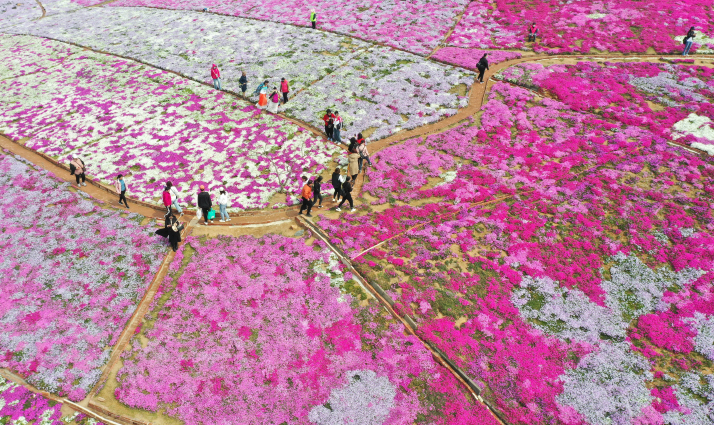 Tourists in Sunjiayu Village, Qianxi County in Hebei Province, on April 18 (XINHUA)
Overall recovery
Other major economic indicators also showed marked recoveries in Q1, after beginning from a low base. The average two-year growth of the agricultural sector was 3.4 percent. Value-added industrial output, a key indicator of economic vitality, climbed 6.8 percent, the NBS said.
The resumption of production and business can be seen in the buoyancy of the power use. Electricity consumption, which measures economic activity, jumped 21.2 percent in Q1. Energy consumption per 10,000 yuan ($1,540) of GDP dropped by 3.1 percent in January-March as a result of wider application of green and low-carbon technologies.
According to Liu, the resumption of production activities was accompanied by further industrial restructuring. The average two-year output growth of hi-tech manufacturing industries reached 12.3 percent and that of equipment manufacturing came in at 9.7 percent. The output of new-energy cars, industrial robots and computing equipment all registered double-digit growth.
The service sector picked up steadily as consumption continued to recover, contributing to 50.9 percent of the national GDP growth in Q1. Besides postal, transportation, retail and hotel sectors, businesses within the information technology and financial service industries also warmed up. Over the past two years, output of information transmission, software and information technology service industries rose 17.1 percent on average.
The real estate sector improved 6.8 percent on average over the past two years. "Investment in the property market and housing sales in Q1 rose by a large margin from the low level last year. The government will continue to reign in the housing market and regulate the rental sector," Liu said.
The resumption of business activities further stabilized employment. In the first three months, 2.97 million urban jobs were created. The surveyed urban unemployment rate stood at 5.3 percent in March, 0.6 percentage point lower than in the corresponding period last year. The two-year average growth of per-capita disposable income nationwide stood at 4.5 percent, with the growth rate of rural residents' income higher than that of urban dwellers.
After industrial and supply chains were restored, commodity prices driven high by the epidemic shifted to moderate growth. The consumer price index (CPI), a main gauge of inflation, rose 0.4 percent year on year in March, compared with the 0.2-percent drop in February. CPI remained flat on a yearly basis in Q1, while food prices went up 0.2 percent year on year. The producer price index, which measure costs for goods at the factory gate, rose 2.1 percent year on year in January-March.
According to Liu, the slight rise of CPI in March can be attributed to the increase of petroleum and diesel prices. The moderate growth of food prices, largely a result of resumed grain and pork supplies, suggests that the CPI growth will remain stable.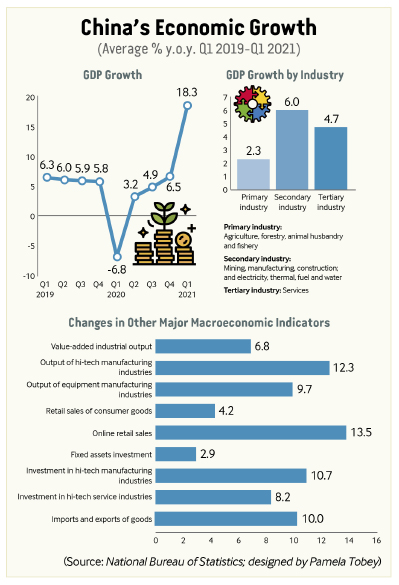 Long way to go
As a growing number of indicators show better performance, expectations on the Chinese economy have become increasingly upbeat. The International Monetary Fund projected in early April that it would grow 8.4 percent in 2021, 0.3 percentage point higher than the forecast in January.
However, lingering impacts of the pandemic still present major hurdles. According to Guo Liyan, a researcher with the Academy of Macroeconomic Research, gaps between different countries on economic resumption remain, posing challenges to foreign trade enterprises. Small and micro enterprises and individual firms also face great pressure brought by high costs and funding shortages. In the first three months, the increase in global commodity prices led to rising costs for many Chinese companies.
"The government needs to boost market players by making business environment more favorable, regulating monopolies and easing market access," Guo said in an interview with China Reform Daily.
The employment of migrant workers from the countryside has not resumed to pre-pandemic levels, as small and medium-sized enterprises saw difficulties in business operations. In March, the surveyed unemployment rate of people aged 16-24 reached 13.6 percent. Meanwhile, many industrial and foreign trade enterprises found it hard to find skilled employees, Liu said.
According to the National Development and Reform Commission, the government will continue to lend its support to enterprises and implement targeted tax cuts to alleviate cost pressure. Policies aimed at stabilizing employment will also be improved.
Although the manufacturing industry has not resumed to pre-epidemic levels, booming consumption is expected to serve as a driving force. "As traditional consumption sees accelerated resumption, Internet-based new consumption has also emerged. To meet upgrading domestic demands, the manufacturing industry will move into the fast lane of development," Guo said. BR
(Print Edition Title: A Strong Start)
Copyedited by G. P. Wilson
Comments to lixiaoyang@bjreview.com