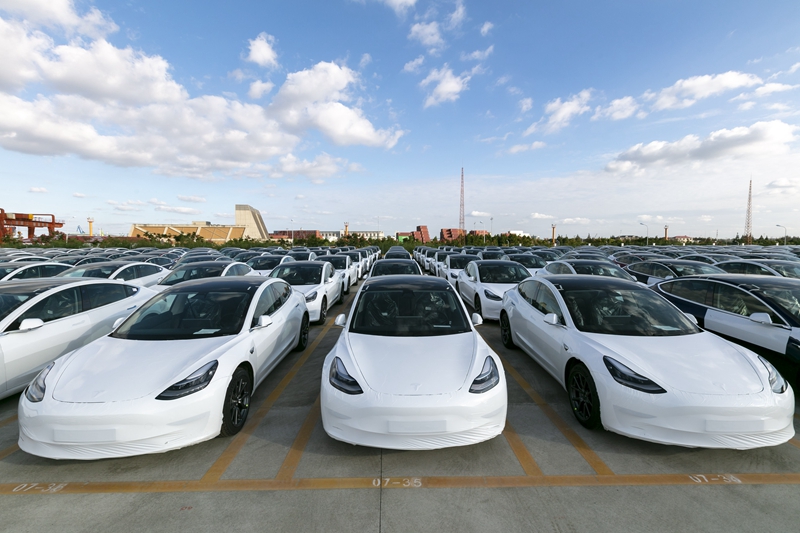 Made-in-China Tesla Model 3 vehicles in Shanghai on November 19, 2020 (XINHUA)
While it tops the list of global electric car brands in terms of sales, U.S. electric vehicle (EV) manufacturer Tesla recently triggered quality concerns among consumers in China. A viral video on Chinese social media showed a woman climbing on top of a Tesla Model 3 car during an auto show in Shanghai on April 19. She reportedly performed the stunt in order to draw attention to her concerns regarding the brake malfunction of her own Tesla vehicle.
The company later issued an apology on China's Twitter-like platform Weibo. After first claiming that it would not bow down to unreasonable demands, Tesla then gave way to public anger, pledging that it would improve services for and respect customers, abide by China's laws and regulations, and cooperate with all government investigations. On April 22, the company turned over data relating to the woman's car without the consumer's consent, which, however, sparked criticism regarding the protection of consumer privacy.
Founded in 2003, Tesla has grown into one of the world's largest EV makers, delivering 499,550 sedans globally in 2020, up 36 percent year on year. The company has continuously explored the Chinese market, becoming the first foreign carmaker to establish a wholly owned subsidiary in the country. Its total revenue in China reached more than $6.66 billion last year, up 123.6 percent compared with the previous year.
Nevertheless, the emergence of domestic auto brands and increasingly demanding Chinese consumers have placed tougher requirements on foreign players in the market. For Tesla, retaining its market share is no longer a given.
According to Liu Wenting, a researcher with Beijing-based CCID Consulting, China has become the world's second largest market for Tesla cars. As Teslas are among the most widely sold EVs globally, their quality issues are likely to affect not only public safety, but also consumer confidence in the development of the entire industry.
Business in China
Tesla broke ground for a gigafactory in Shanghai in January 2019, its first overseas plant. It took less than 10 months to build the factory, which manufactured more than 140,000 of the Tesla vehicles sold in China last year.
Despite the impact of the COVID-19 pandemic and a current shortage of automobile chips, in the first quarter (Q1) of the year, the company's operations in China delivered a record-breaking 184,800 vehicles, all versions of its two low-cost models—Model 3 and Model Y.
According to the company, the second phase of its Shanghai Gigafactory is about to be completed ahead of schedule this year, lifting its annual production capacity to 550,000 vehicles.
To further entice consumers and to improve its after-sales services, Tesla has made efforts to expand the coverage of its charging points throughout China. It unveiled a plan to invest 42 million yuan ($6.4 million) in building a supercharger manufacturing plant in Shanghai last year. Manufacturing in the plant began in February, with an initial planned annual production capacity of 10,000 superchargers.
In addition, the company said in April that it had built and opened more than 780 supercharging stations with over 6,200 superchargers across China.
As Tesla continues to introduce more low-cost models, competition in China's EV market is mounting. The company's competitors include both domestic startups such as Nio, Lixiang, and Xpeng, and multinationals such as Volkswagen.
Though the sales of the Chinese startups still fall far behind those of Tesla, Cui Dongshu, Secretary General of the China Passenger Car Association, said, "EV startups in China have produced vehicles that can meet diversified and personalized demands, which have improved their competitiveness."
Quality trap
Although Tesla has been improving its output and sales in China, unresolved quality issues have resulted in complaints regarding battery fires, brake failures and unexpected accelerations. In its responses, Tesla has mostly attributed these safety issues to collision damage to the vehicles' high-voltage lithium batteries, or to inappropriate driving behavior. Nevertheless, its arguments have stirred controversy among users and media. Worse still, the company has been discovered to have downgraded components used in some of its vehicles by using older-version chips.
Last October, Tesla recalled 48,442 vehicles in China due to safety problems. In February, it further recalled 36,126 imported Model S and Model X vehicles due to problems with their touch-screen control panels.
After the recent protest by the female consumer in Shanghai, there have been growing calls for Tesla to improve the quality of its products and protect the legitimate rights and interests of consumers in accordance with the law.
The State Administration for Market Regulation said on April 21 that it had urged local market regulators to safeguard consumers' legitimate rights when addressing Tesla-related quality disputes. The administration also demanded companies fulfill their responsibilities to ensure the quality and safety of their products and services.
As EVs entered the global market only recently and EV technology is still in the nascent stages of its development, it's not surprising that Tesla is not the only EV brand to have reported malfunctions, failures and accidents.
Data from Yilanzhong, a new-energy and smart vehicle market research consultancy in Shenzhen, Guangdong Province, showed that the more than 60 electric car battery fires in China in 2020 involved various brands. The consultancy stressed that EV safety issues can pose higher risks compared with gasoline-powered vehicles, as problems in electrical systems can cause fires that are harder to extinguish.
According to Liu, the safety of lithium batteries is still a major hurdle in the development of EVs, as they are vulnerable to overcharging, overdischarging, heat, shocks, and other external damage. Compared with traditional car manufacturers, EV makers focus on shorter cycles of technological innovation, seeking profits while lacking experience in manufacturing components and developing effective internal management systems.
"To promote the sound development of the EV sector, manufacturers need to enhance quality control, improve maintenance services, and increase investment in safety-related research and development. Related government departments also need to improve supervision, develop industrial standards and tighten penalties for enterprises that violate rules and laws," she said. BR
(Print Edition Title: The PR Crisis of A Darling Brand)
Copyedited by G. P. Wilson
Comments to lixiaoyang@bjreview.com