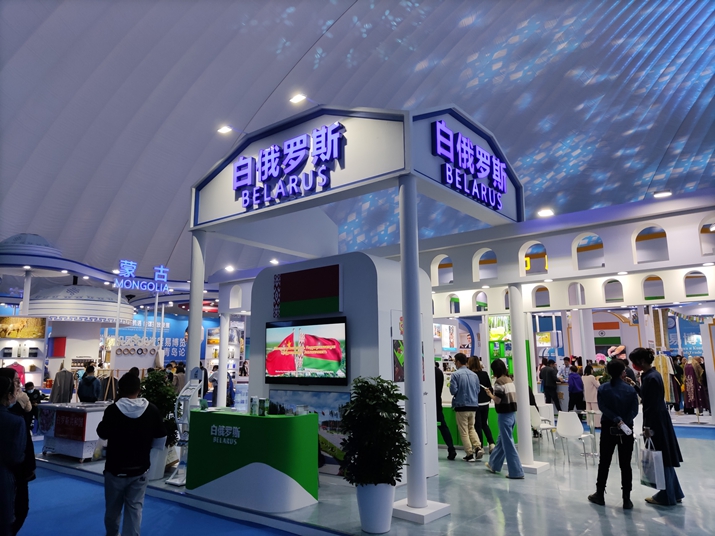 People visit the SCO International Investment and Trade Expo in Qingdao on April 27 (TAO XING)
April 27 was the first day the Shanghai Cooperation Organization (SCO) International Investment and Trade Expo in Qingdao, Shandong Province, opened its doors to individual visitors. Hours later, several vendors in the Belarusian national pavilion had nearly sold out their products. "It surprised us," a Belarusian staff told Beijing Review. "We have to retain some on exhibit for purchasers in case they are interested in and want to pursue further business cooperation." Products presented inside the pavilion included beer, birch juice, milk, chocolates and candies, and meat.
The Afghanistan pavilion seemed sufficiently prepared as they provided visitors with a consistent stream of jewelry and saffron products.
Ren Jiayu, a business woman from Tianjin, made her way around all national pavilions to discover new business opportunities. "I am interested in Belarusian birch juice, Azerbaijani pomegranate wine and Indian basmati rice. China has an enormous population, which creates a huge market for high-quality agricultural products," Ren told Beijing Review.
The three-day expo, which opened on April 26, attracted exhibitors from more than 30 countries and regions, with more than 1,400 companies participating on site and online. Some 300 professional purchasers made deals amounting to 300 million yuan ($46.4 million) and signed letters of intent worth close to 2 billion yuan ($310 million). Furthermore, on-site consumption of the over 100,000 visitors exceeded 10 million yuan ($1.54 million).
During the opening ceremony, the China-SCO Local Economic and Trade Cooperation Demonstration Area in Qingdao and partners from 17 countries signed memorandums of understanding on 20 major projects. These projects, with a combined investment of 66.8 billion yuan ($10.3 billion), cover trade and logistics, new energy, high-end manufacturing, culture and tourism, and biomedicine.
On the sidelines of the expo, Qingdao hosted several other economic and trade meetings and dialogues.
During an investment promotion event on April 27, diplomats, leaders from business associations and exhibitors of the participating countries had one-on-one negotiations with representatives of more than 300 companies from 20 countries. The firms came from a wide range of sectors including agriculture, food and beverage, textile and clothing, handicraft, home building materials, smart home appliances, and tourism. They were recommended by the organizers in line with the requirements of the exhibitors.
Ren said she met with four exhibitors. "I talked to the manager of a logistic company, learning more about the China-Europe freight train service, such as the volume and types of exported products it transports from Belarus and other countries," she said.
According to Ma Lei, a representative of Beijing Mercury, a foreign food importer, the products from other SCO countries have huge market potential in China. "Even residents of Qingdao, a city famous for its century-old beer brand Tsingtao, are interested in overseas beers. This shows Chinese consumers' growing enthusiasm for imported goods," he said.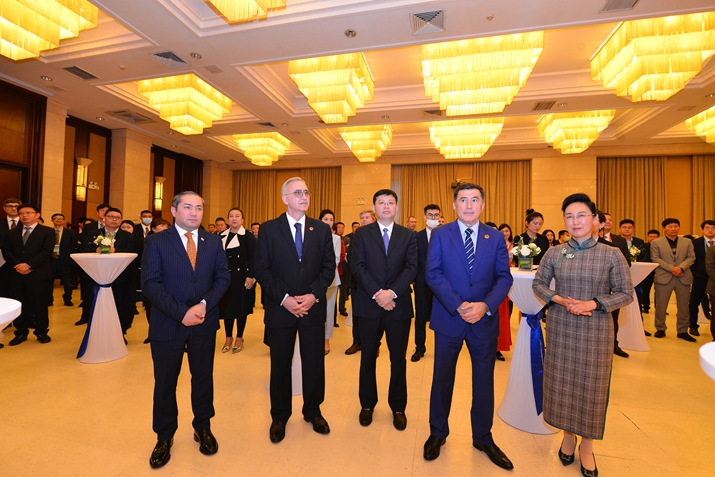 (Above) Vladimir Norov (second right), Secretary General of the Shanghai Cooperation Organization, meets with local business people in Qingdao, Shandong Province, on April 26 (COURTESY PHOTO)
Cooperation prospects
Established in 2001, the SCO originally comprised China, Kazakhstan, Kyrgyzstan, Russia, Tajikistan and Uzbekistan. After India and Pakistan joined in June 2017, it became the largest regional organization in the world in terms of geographical coverage and population. Currently, it also has four observer states and six dialogue partners.
In the past decade, the SCO fully discharged its responsibilities regarding the protection of regional stability and, even, that of European countries, Vladimir Norov, Secretary General of the SCO, told Beijing Review. For example, up to 40 percent of all opioids have been seized throughout Eurasia via a renewed SCO anti-drug strategy, preventing their flow to Europe, according to Norov.
After 20 years of development, the SCO not only protects regional security, but also carries opportunities for economic cooperation, Norov said when he met with local business people in Qingdao on April 26.
The inclusiveness and vitality of the bloc were embodied in the products on display at the expo. They hailed from all 18 countries under the SCO framework, including Afghanistan, a country still in the process of rebuilding peace. "This demonstrates the attractiveness of the SCO," Norov said.
According to him, the economic cooperation potential within the SCO has not yet been fully tapped, given that the total import and export volume of its member states with other countries reached $6 trillion in 2020, while trade among them came to just over $300 billion. "[By now] it is undertaking more active trade and economic cooperation," Norov elaborated.
The SCO covers almost half of the world's population and represents a huge consumer market with rich natural resources, advanced production facilities and technologies. According to World Bank, the combined GDP of its member states reached $19.5 trillion in 2019, accounting for 22.5 percent of the global total.
The SCO is expected to become a center of international economic development, Norov added.
China is a major driver of intra-SCO trade and investment cooperation. The China Trade Index for SCO Member States, released during the expo, showed that trade between China and other SCO member states increased from $17.14 billion in 2001 to $244.85 billion in 2020, with an average annual growth rate of 15 percent.
According to customs statistics, in the first quarter of the year, China's imports and exports with other SCO nations amounted to 457.24 billion yuan ($70.6 billion), a year-on-year increase of 19.2 percent. Exports came to 284.83 billion yuan ($44 billion), improving 29.3 percent; and imports stood at 172.41 billion yuan ($26.6 billion), up 5.6 percent.
China's exports to other SCO members were mainly mechanical and electrical products as well as labor-intensive goods, which together accounted for 75.4 percent of total export value. Crude oil, agricultural products, iron ore, copper and natural gas made up 61.6 percent of its import value.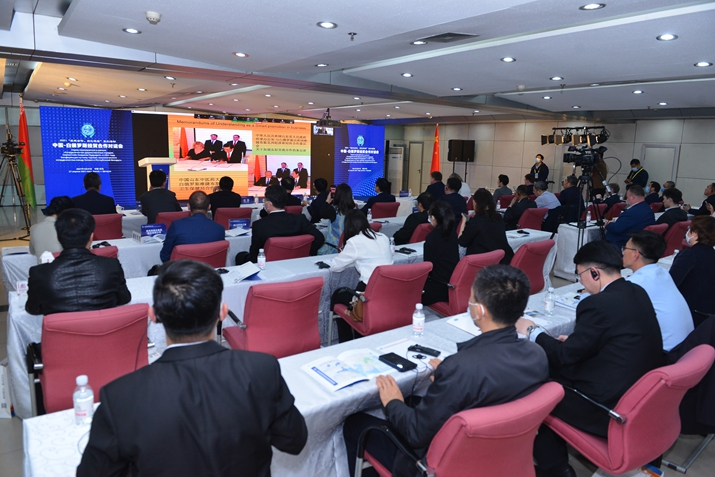 A business cooperation dialogue between China and Belarus takes place online and offline in both Qingdao, and Minsk and Vitebsk states, Belarus, on April 27 (COURTESY PHOTO)
Qingdao platform
The expo and the SCO Qingdao Forum on Local Economic and Trade Cooperation, which took place along with the expo, are annual events organized by the China-SCO Local Economic and Trade Cooperation Demonstration Area.
The area was launched in 2018, soon after Chinese President Xi Jinping proposed its establishment at the 18th Meeting of the Council of Heads of State of the SCO in Qingdao. With a core area of 108 square km, it faces Japan and the Republic of Korea to the east, Mongolia and Russia to the north, the Association of Southeast Asian Nations to the south, and the Central Asian SCO member states to the west.
Thus far, the area has signed memorandums of cooperation on the execution of 35 major projects both at home and abroad, with a combined investment of 144.5 billion yuan ($22.34 billion).
The area and the Qingdao Government also devote their efforts to the promotion of local economic cooperation among SCO member states. At the forum, the Qingdao Initiative was announced, calling for strengthening cooperation and communication between regional cities, providing more and better channels for international logistics, and improving investment and trade facilitation.
According to Liu Jianjun, Director of the Administrative Committee of the area, it has established partnerships with the Ministry of Investments and Foreign Trade of Uzbekistan, as well as the government of the Krasnodar region and the Alabuga Special Economic Zone in Russia.
On April 27, a business cooperation dialogue between China and Belarus took place simultaneously in both Qingdao and Belarus' Minsk and Vitebsk states, both on site and online. Officials and business people from the three locations introduced their investment policies, specialty products and industrial advantages. Several companies from both sides also signed agreements for cooperation.
"We not only need to establish friendly relationship and cooperation between the two countries, but also must push forward such cooperation on all levels and from all aspects. This determination covers, for example, promoting economic demonstration projects between provinces, cities and areas," Yuri Senko, Belarusian Ambassador to China, said during the dialogue.
Belarus is willing to share with China its industrial experience and provide high-quality products and services to Chinese consumers, Senko added.
Bondar Olga, an official from the Ministry of Economic Development of Belarus, said via video link that China has become Belarus' second largest trading partner, following Russia. She stressed that the dialogue between Qingdao and the two Belarusian states made for a good start for the intensifying of local cooperation between the two countries.
Liu said China and Belarus can cooperate across many areas, including the economy, culture and education. "Qingdao and the demonstration area welcome Belarusian partners."
Senko told Beijing Review that the demonstration area shows the importance of the SCO as a global organization. The rapid development over this short period of time will attract an increasing number of countries to participate in the project to promote their economic development, he said.
He Zhenwei, Secretary General of the China Overseas Development Association, a Beijing-based international economic communication cooperation platform that helped organize the dialogue, said the attendees discussed the evolution of the area at the event. "It will further develop to better promote economic and trade cooperation between China and other SCO member states."
According to He, the association has set up a representative office in the area to better serve the communication needs of governments, organizations and enterprises within the SCO framework.
Aside from the Qingdao area, there is another demonstration area in Shaanxi Province, which concentrates on intra-SCO exchanges in the agricultural field. Both combined demonstrate China's major contribution to mutual learning and collaboration between SCO countries.
China has played an important role in the SCO and contributed to its rising influence on the world stage, Norov concluded.
(Print Edition Title: Progress on a New Front)
Copyedited by Elsbeth van Paridon
Comments to taoxing@bjreview.com