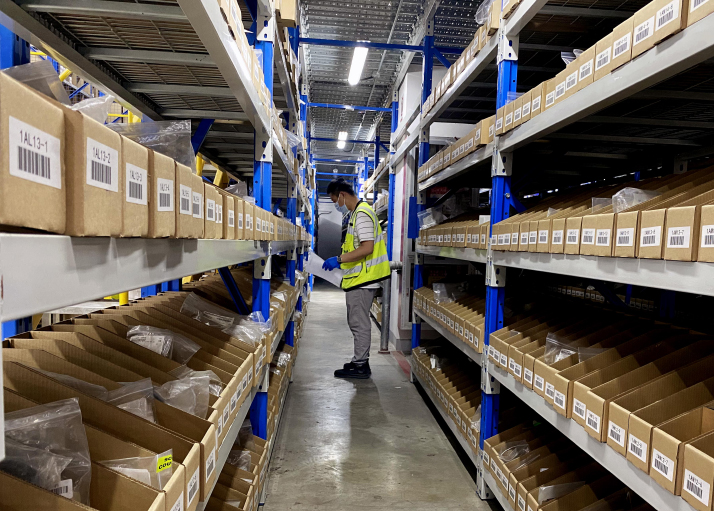 A worker at a logistics center in Shanghai checks integrated circuit parts imported from countries including the U.S. and Japan on May 20 (XINHUA)
Huntsman Polyurethanes, a U.S. manufacturer of chemical products, has been gradually ramping up its production capacity in Shanghai since early May as the city has largely contained the latest resurgence of COVID-19. "As of May 16, our production has returned to nearly 90 percent of pre-pandemic levels, and we expect to return to the top gear of normal production in the following weeks," Kenny Pan, Vice President of Huntsman Polyurethanes APAC, told Xinhua News Agency.
Shanghai has been fighting a hard battle against the Omicron variant since early March. Community transmission of the virus had been halted in all of the city's 16 districts by May 17, according to the Shanghai Municipal Health Commission. With the easing of citywide closed-off management measures, foreign businesses like Huntsman Polyurethanes that have been keeping company with Shanghai in tiding over the recent difficulties are gradually restarting their operations.
Braving the headwinds
A white list mechanism was introduced by the municipal government on April 16 to support resumption of production and minimize the impact of the pandemic on the supply chain. The first batch of 666 companies on the list, including a total of 247 foreign-invested firms, are key players in sectors such as integrated circuits, automobile manufacturing, equipment manufacturing and biomedicine. U.S. electric car maker Tesla was one of them. They were allowed to hit the restart button under strict prevention protocols. At the end of the month, the second batch of 1,188 companies were added.
"Giga Shanghai is coming back with a vengeance," Tesla CEO Elon Musk told analysts during a call on April 20, following the release of the company's first-quarter earnings. "I think we will see record output per week from Giga Shanghai this quarter, albeit missing a couple of weeks."
He boosted hopes that Tesla could produce 1.5 million vehicles this year, more than 50 percent higher than its output in 2021.
On May 15, over 4,000 electric cars produced by Tesla's Shanghai Gigafactory left the Shanghai Port for Belgium. It was the second export shipment of Tesla cars from Shanghai since its factory resumed production on April 19, according to Shanghai Customs.
Despite the effects of COVID-19 control measures in the city, Tesla's Shanghai factory delivered more than 180,000 vehicles in the first four months of the year, up 70 percent year on year, and already surpassing the total for 2020.
Shanghai Customs said they have established an online communication channel with Tesla to coordinate services and help speed up the delivery of orders.
Nevertheless, it is not all plain sailing for enterprises getting back on track. A primary challenge that both Chinese and foreign-funded businesses in Shanghai and other parts of China are encountering lies in transportation. Amid COVID-19 flare-ups in different regions, logistical capacity has been constrained due to stringent traffic restrictions.
At a national teleconference on ensuring the stability of supply and industrial chains in April, Vice Premier Liu He proposed 10 measures to facilitate smooth logistics, including issuing sufficient unified national traffic permits and allowing negative nucleic acid test results to be valid nationwide. Since then, the efficiency of the freight transportation network has improved remarkably.
Companies have also been working to face their own logistical challenges. For example, U.S. tech firm Honeywell trialed transporting its ISO TANK product, a kind of refrigerant, by train. "We found it to be an effective alternative for accomplishing our product delivery agreements and it greatly lowered the logistical cost in the first quarter," Honeywell China told Beijing Review.
ISO TANK has strict transportation requirements. To guarantee smooth delivery, Honeywell's logistics team coordinated with suppliers, logistics companies and the company's purchasing unit, applying for traffic permits, and unblocking the channels between trucks and train stations. The combined truck-train transport model has improved the logistic efficiency for the product.
Playing the long game
"The COVID-19 pandemic will not affect our commitment in long-term development in China," said William Yu, President of Honeywell China. "Since the COVID-19 outbreak more than two years ago, the strong resilience of the Chinese economy and the government's unwavering pledge to high-level opening up have further boosted our confidence in China, which is Honeywell's second largest single market and the company's largest growth market."
Honeywell has been continuously expanding its business, especially in the emerging markets in central and west China that represent one of the country's growth engines of the upcoming decades. "With our core business perfectly aligned with the China's market demands, including digital transformation and sustainability, we pay close attention to developing key verticals and continue to invest in growth industries," Yu said.
"China is the second most important market in the world for us and we see China as one of our most important future investment destinations for all four of the innovative businesses we're developing," Huntsman Polyurethanes' Pan said. The company's total investment in China has exceeded 15 billion yuan ($2.23 billion) and its Shanghai office was upgraded from a management headquarters to an investment headquarters last year.
U.S. footwear and apparel maker Skechers relishes the long-term prospects in China as well. "We still feel very confident about the Chinese market," Willie Tan, CEO of Skechers China, South Korea and Southeast Asia, told China Daily, adding that consumers are gaining interest in a healthy lifestyle as a result of both the pandemic and of national policies supporting the development of sports and wellbeing.
He said numerous new consumption scenarios, products, and services related to the sports and health industry have been fostered in the country, which creates great potential for the company's future growth.
U.S. financial services provider J.P. Morgan is also upbeat about investment opportunities in China.
"China is now the second largest economy, and also the largest manufacturing and trading partner in the world. This provides huge opportunities for financial institutions that can support multinational companies operating in China and assist Chinese companies going overseas," Mark Leung, Chief Executive of J.P. Morgan China, said at the annual J.P. Morgan Global China Summit 2022 on May 22.
He said J.P. Morgan's steadily accelerating development in China benefits from the nation's financial opening up.
With more licenses, the company will introduce more cross-border products and platforms to China and develop more localized services and support for clients, according to Leung.
"We are very focused on making sure we are well-positioned to embrace our next century in this country," Leung concluded.
(Print Edition Title: Upbeat Expectation)
Copyedited by G.P. Wilson
Comments to zhangshsh@cicgamericas.com