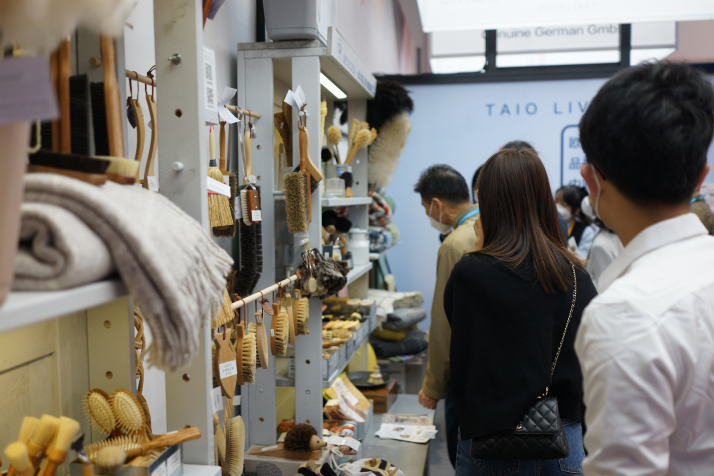 Visitors check out the different European products on display at the Taio Living booth at the Fifth China International Import Expo (CIIE) on November 7 (COURTESY PHOTO)
At the Fifth China Inter-national Import Expo (CIIE), taking place in Shanghai on November 5-10, a family of handmade brushes sit in the booth of German pillbox manufacturer Hans-H Hasbargen.
The items attracted hordes of visitors as they looked adorable and varied in shapes and sizes with tiny laptop brushes to reach between keyboard keys and larger ones specifically designed for dealing with different types of housework, ranging from vegetable cleaning to removing hair from clothes and pet care.
These brushes belonged to Bürstenhaus Redecker, a German brand whose products can be found in boutique homeware stores across the U.S., Australia and Europe. Nevertheless, it is still little known to Chinese consumers. So to explore the Chinese market, the label brought its family of brushes to the CIIE.
But how and why did a brush-making brand show up at the booth of a pillbox manufacturer? The reason can be traced back to a role-swapping story.
Role reversal
Wu Jing has been engaged in the export business for many years, selling Chinese-made products to Europe. By chance, she met Volker Hasbargen, CEO of Hans-H Hasbargen. Hasbargen purchased products from China through Wu. The two became business partners, and then friends.
In 2016, while chatting with Hasbargen, Wu came up with a proposal. "China's consumer demand is upgrading and people show a strong desire for improving their living standards. Many of them have great interest in European cultures and European-made products," Wu said. "How about we reverse the roles? Let's bring European products to China!"
In 2020, the signature product of Hans-H Hasbargen—Medi-7, a portable seven-day medication dispenser, made its debut at the Third CIIE with the help of Wu. Despite their small booth, the colorful boxes attracted many visitors, as well as Chinese state broadcaster CCTV. Its reporter later interviewed Hasbargen at his company's German headquarters. This success greatly inspired Wu and Hasbargen.
Hans-H Hasbargen's booth at the CIIE has gradually expanded since 2020, becoming a vault displaying other European homeware products under the overarching name Taio Living. This year, it further introduced a Swedish scarf brand and a French glassware brand.
With the CIIE's endorsement, the products have gained increasing popularity among Chinese consumers, according to Wu. Earlier this year, Bürstenhaus Redecker's official flagship store opened on JD.com, a leading e-commerce platform in China. The rising brand recognition is expected to boost its sales.
Wu said the CIIE serves as a great platform for her to meet with different customers from supermarket chains to shopping malls and online vendors, as well as individual and group purchasers.
Well-heeled clients
Kagami is a luxury crystal glassware brand in Japan. Its consumers are mainly the royal family and government organizations which use its products for state banquets.
Jerry Hu, the business-to-business director of NYSO, a foreign trade service provider, first discovered the brand at a fair. Although Kagami has been in the Chinese market for years, its glassware remained little known to the general public. Hu then became the brand's agent in China and helped Kagami to tap into the great potential of the Chinese market.
In 2020, Hu brought Kagami's master-made glasses, together with some other Japanese products, to the Third CIIE edition in 2020.
"With the endorsement of the CIIE, Chinese consumers get to know the brands," Hu told Beijing Review. He said Kagami's global sales more than doubled within the last two years, and China has accounted for about 55 percent of the total.
This year, Kagami for the first time had its own booth at the Fifth CIIE. "China has a large middle-income population and there are many well-heeled consumers who are able to afford upmarket products. Kagami has seen the opportunities," Hu said. To cater to the Chinese market, the company, with whiskey glasses as their main products, also began to produce wine and champagne glasses.
Some customers would even buy Kagami's products more than once, using them as gifts or purchasing them for the sake of collecting. As each of the glasses are handmade by Japanese masters, their supply sometimes falls short of demand, according to Hu.
Hu's company has also grown. "First of all, the CIIE gives us access to get in touch with more potential customers, to talk with them and find out more about them. It also enables us to improve our strategic cooperation with business partners. The event is also a good opportunity for local authorities to gain a better knowledge of our business so as to provide more supporting policies," he explained.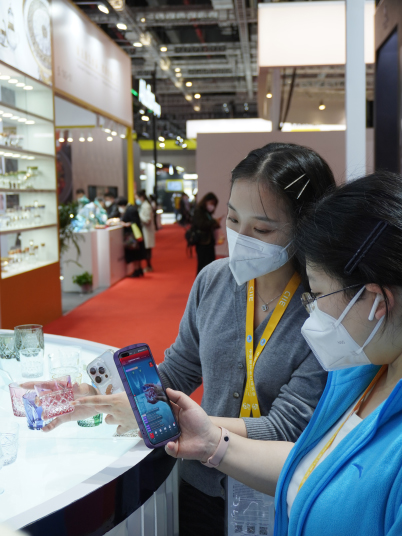 Staff members at Kagami's booth introduce the brand's crystal glassware via live-stream from the Fifth CIIE on November 7 (COURTESY PHOTO)
Platform within platform
"Listen! Can you hear the heartbeat?" Momotsune Takahashi was explaining to a visitor how to use his remote auscultation system. He attended the CIIE representing the First Sales Division of the Gokei Trading Corp., the agent company of a Japanese supplier of the product, which is utilized by medical schools to teach students.
"This one is portable and cheaper than traditional devices with similar functions," Takahashi explained. With its limited target clientele, the product is in any case a niche one for the Chinese market.
"Many Japanese small and medium-sized enterprises (SMEs) have good products and technologies to offer but, with limited funds, it's difficult for them to establish themselves in China or to attend the CIIE on their own," Zhang Jian, Director of the Investment Promotion Division with IDEC Yokohama's Shanghai Office, told Beijing Review.
IDEC Yokohama is a public interest organization affiliated with the government of Japanese city Yokohama, which assists local SMEs to develop overseas businesses. The city offers subsidies to firms attending the CIIE and those that have interest in the event can apply for participation through IDEC Yokohama.
This year marks the fifth CIIE year for IDEC Yokohama and so far, it has brought almost 20 Japanese firms to the expo. "Those who already have agents in China say the event helps strengthen their cooperation. Some companies that don't have sales channels in China have been approached by Chinese firms for cooperation," Zhang said.
Last year, the volume of transactions by a participant hit 11.9 million yuan ($1.64 million) which is by far the highest ever. "The attending companies do not aim to achieve immediate results. First of all, they would like to see what the CIIE is and by talking with purchasers, they want to know how Chinese customers view their products," Zhang added.
"So far, I have met with many professional visitors. We are willing to hear their suggestions regarding our products because it's valuable for us to explore the Chinese market; the CIIE is a great starting point for our future business in China," Takahashi said. BR
(Reporting from Shanghai)
(Print Edition: The Treasure Map)
Copyedited by G.P. Wilson
Comments to zhangshsh@cicgamericas.com