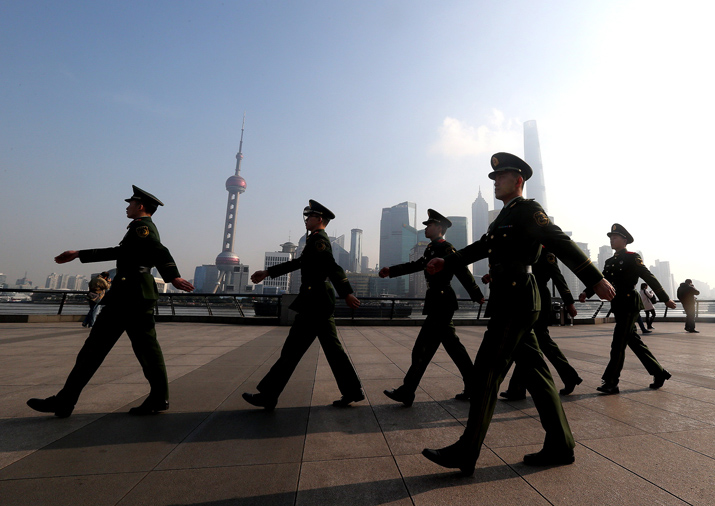 Armed police patrol the Bund area in Shanghai on January 1 (XINHUA)
China started the new year by putting its first anti-terrorism law into effect, representing the country's latest efforts to address the issue at home.
The law creates basic rules for conducting counter-terrorism operations and strengthens measures for preventing, handling and punishing those involved in terrorism crimes, in addition to establishing international cooperation channels.
The National People's Congress (NPC) Standing Committee approved the law on December 27, 2015. Zhang Dejiang, Chairman of the committee, said the new law is an important aspect of establishing systemic rules for national security. It will give China legal guarantees in improving its capacity to prevent and crack down on terrorism, he said.
Li Wei, an expert on anti-terrorism with the China Institutes of Contemporary International Relations, told China National Radio that the law's enactment conforms to China's practical needs.
"The legislation comes amid terror threats against China and China's strategy to enhance the rule of law," said Li, adding that the law aims to safeguard the well-being and property of every Chinese citizen.
The new law comes at a delicate time for China and the world at large: Terror attacks in Paris, the brutal killings of hostages committed by the so-called "Islamic State" group (ISIS) and an attack in Bamako, Mali, in November 2015 are alerting the world about an ever-growing terrorism threat. Three Chinese nationals were killed in the Bamako attack.
"China is facing the same threats from ISIS as France and must prepare for similar terror attacks, which were well-planned and targeted multiple locations at the same time with different firearms and equipment, resulting in devastation in the target city," said Li.
China itself has not escaped the swarm of terrorist attacks unscathed. In one of the deadliest cases, 29 people were killed and scores more injured by knife-wielding assailants at a train station in Kunming, Yunnan Province, on March 1, 2014.
Beijing also witnessed a deadly car attack in Tiananmen Square on October 28, 2013, which killed three people in the car and two bystanders.
"Terrorist attacks have caused heavy losses of people's lives and properties, posing a serious threat to our security, stability, economic development and ethnic unity," said An Weixing, an official with the Ministry of Public Security, at a press conference held on December 27, 2015. "The new law will provide legal support and guarantees for the country to combat terrorist activities, safeguard national and public security."
Armed police soldiers fight terrorists in a drill in Shanghai on November 15, 2015 (XINHUA)
Fostering mechanism
Khaled Matrud, a Syrian scholar, told Xinhua News Agency that the new law is a practical step for China's anti-terrorism efforts in line with its crackdown on all forms of terrorist activities and demonstrates its determination to fight terrorism, both foreign and domestic.
The law proposed creating a national leading counter-terrorism organ that will be in charge of identifying terrorist activities and personnel and coordinate nationwide anti-terrorism measures.
City-level governments and higher will also be required to set up counter-terrorism offices, and county-level governments could also be required to set up offices if it is deemed necessary.
The Central Government will provide necessary financial support for key regions listed in the country's counter-terrorist plan. The public and national security authorities, along with armed forces, will establish professional anti-terrorist forces.
In addition to creating new agencies aimed at countering harmful activities, China appointed Liu Yuejin, a key figure in China's crackdown on illegal narcotics, as the first commissioner of counter-terrorism earlier in December 2015.
"The move shows the central authorities have put the counter-terrorism work in the list of their key tasks," said Mei Jianming, Director of the Counterterrorism Research Center at the People's Public Security University of China.
The 56-year-old Liu, previously an assistant minister of public security, is tasked with coordinating the country's efforts to prevent attacks. The Hunan Province native has called himself a "grassroots police officer" in previous media interviews and has been involved in efforts to halt the illegal drug trade since the 1980s.
After the murder of 13 Chinese fishermen aboard two vessels, the Huaping and Yuxing 8 , in October 2011, Liu was appointed head of a special investigation team that worked with police in Laos, Myanmar and Thailand to capture the culprits, including the drug lord Naw Kham.
In November 2012, Myanmar native Naw Kham and several members of his gang were sentenced to death in a court in southwest China's Yunnan Province.
"After Liu's appointment, it's urgent that we set up a national intelligence-sharing platform, which will help the authorities to obtain and analyze terrorist-related intelligence, then effectively direct forces, such as the police, armed police and soldiers to stop terrorist plots and target criminal groups," Mei told People's Daily .
The new law stipulates that a national intelligence center should be established to coordinate inter-departmental and trans-regional efforts on counter-terrorism intelligence and sharing information, which should be reported back to the center.
Police and state security departments were also given more freedom to employ reconnaissance missions to collect counter-terrorism intelligence and information. However, the law specifies that any information obtained by the units should only be used for the investigation, prosecution and trials in terrorist and extremist cases.
Authorities should also rely on members of the public and strengthen their ability to collect information at a grassroots level, according to the law. In a separate clause, the new law allows police forces, when facing violent attackers with guns or knives, to use weapons directly in emergency circumstances.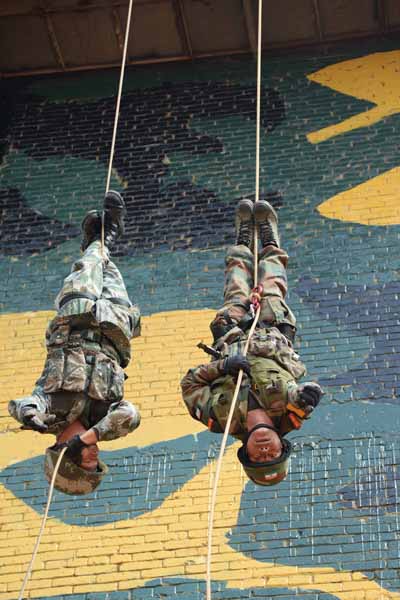 A Chinese soldier and an Indian soldier perform cable dropping during a joint counter-terrorism exercise by the two countries in Kunming, Yunnan Province, on October 21, 2015 (XINHUA)
Defining "terrorism"
For the first time, the Chinese Government released a legal definition for the term "terrorism," which it outlined in the law.
"Terrorism is defined as any proposition or activity that, by means of violence, sabotage or threat, generates social panic, undermines public security, infringes personal and property rights, and menaces government organs and international organizations with the aim to realize certain political and ideological purpose," according to the law.
An earlier NPC Standing Committee statement said the new definition had been co-created by the Shanghai Cooperation Organization counter-terrorism convention and the UN Declaration on Measures to Eliminate International Terrorism.
A previous draft of the law, submitted in February 2015, did not cover personal and property rights or political and ideological purposes.
It is urgent to strengthen law enforcement cooperation between China and other countries in areas such as intelligence sharing, case investigation, border management, creating contingency plans and carrying out mutual drills so that the threat of attacks can be handled more effectively, Li said.
Mei said a specific counter-terrorism law is the best weapon to coordinate anti-terrorism work between China and other countries and between different regions and departments within China.
But before 2016, China did not have a specialized law, though related provisions were featured in various NPC Standing Committee decisions. The committee passed a decision to improve anti-terrorism work in October 2011, but it was never made into law.
Analysts say the lack of a systematic law in this field had hampered China's fight against terrorism.
Copyedited by Jordyn Dahl
Comments to yinpumin@bjreview.com