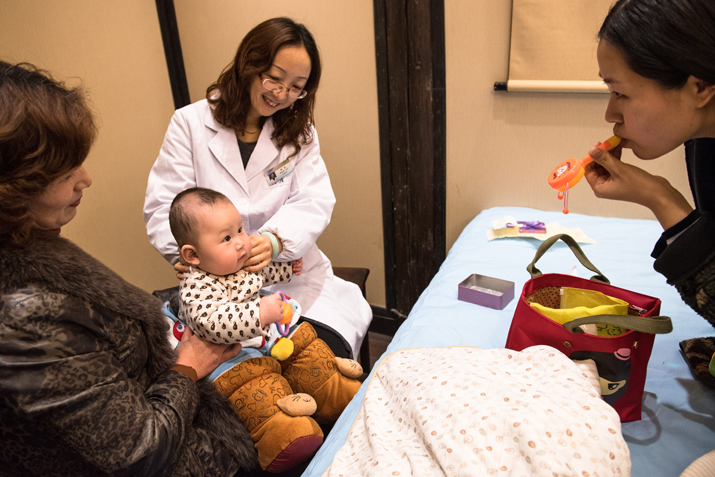 Baby Deng Deng receives massage therapy from a doctor at the Taihetang Museum of Traditional Chinese Medicine in Taizhou, Jiangsu Province, on January 8 (Laurent Hou)
If local government leaders have their way, the name Taizhou will soon be synonymous with China's Medical City (CMC), as it aspires to become the pharmaceutical and medical technology capital of Asia. Taizhou, even with a population of 5.08 million, is a third-tier city located in the country's Jiangsu Province, on the northern bank of the Yangtze River.
Taizhou's authorities highlighted both their progress and plans to become leaders in all things related to medicine at a presentation to the media on January 7. Lan Shaomin, Secretary of Taizhou's Municipal Party Committee, described a "vigorously developing health industry," with a stated goal that by 2020 the city will have built itself into a "world-famous medical center."
At the same time, officials are working to establish the region as a medical tourism center for traditional Chinese medicine (TCM), aimed at a domestic audience. Already, city planners and politicians have begun amassing a large number of multinational companies and foreign direct investment into the sprawling mass of buildings being constructed in and around the footprint of China's Medical Hi-Tech Zone.
A modern metropolis
The actual campus of CMC is located across more than 120 square km, and is studded with massive, modern buildings that dwarfed its visitors. A full-scale model of the city boasted ecological areas along the Yangtze River Delta, health centers strategically located based on anticipated need, restaurants, hotels, post offices, churches and residential housing units. All of it is being built and provided for the large amount of foreign and returning Chinese researchers that Taizhou's officials hope to recruit.
"We have mostly domestic companies now but we hope that companies from foreign countries will come and join us soon, so we can become a big family," said Fiona Wang, Deputy Director of international business development for the CMC. "We even have a museum and a children's playground to enrich people's lives after work," she explained enthusiastically.
The CMC aims to have a local healthcare industry worth more than 100 billion yuan ($15.2 billion) and house 1,000 pharmaceutical enterprises over the next three to five years. In 2010, the city began hosting the China (Taizhou) International Medical Expo, which is now held each fall. What started as a local initiative has been upgraded into a national priority, receiving central funding to support its expansion.
"Our focus on healthcare is in part due to China's aging population, and it is also a priority under China's next five-year plan," Wang told Beijing Review , referring to China's 13th Five-Year Plan (2016-20). "Taizhou has been chosen as a focus for biochemistry, biotech, and medical tourism and has developed over the last nine years into a national hi-tech zone."
According to the CMC, it currently hosts more than 560 medical enterprises, including 12 vaccine companies, TCM and general medical universities, in addition to a children's hospital. The range of medical projects in the works includes regenerative medicine, biotechnology, medical devices, and stem cell research.
The CMC staff and local officials alike spoke in earnest about their desire to recruit more foreign students to study at local universities, and were keen to draw attention to the prestigious university degrees held by the center's resident researchers.
The campus is also strategically located near the offices of local regulatory agencies, and it also offers offices to rent and research facilities to small and medium-sized businesses. The CMC claimed that most large organizations have preferred to build and manage their own facilities. In addition, the CMC has its own human resources staff "to help companies recruit domestic and foreign talents," Wang said, "as well as an intellectual property office to assist companies."
Demand for TCM remains
Yet for all of the focus on the new, sleek and modern trends that the CMC campus represents, Taizhou is known locally as a charming green city, with waterways covering 17 percent of its acreage, and a 2,100-year history. Taizhou's municipal Party secretary, Lan, told the story of Marco Polo when he visited the region seven decades ago. The explorer wrote that "the city is not very big, but is filled with all kinds of happiness."
The city certainly feels more laid-back than China's larger cities. The Taihetang Museum of Traditional Chinese Medicine, for example, felt more like a spa retreat than museum. It featured sunlit courtyards filled with people in bright white linen practicing tai chi, while others received foot massages, dozing in their chairs. Once a large family home with "99 and a half rooms," it was reformed into a museum just last year, now serving as a publicity and education base for TCM tourism. According to museum staff, its goal is to "integrate the functions of traditional medical care nursing and health keeping."
The center's walls are decorated with scrolls imparting the wisdom of ancient healers, reading "look, listen, question and feel the pulse"--the four traditional rules that TCM doctors follow as they examine patients. The elderly and infants at the center were all brought by family members from nearby cities to use the TCM facilities with the hope of curing a variety of ailments.
One young couple travels to Taizhou every day to bring their 6-month-old son, Dai Xiaotong, for a half an hour massage, part of a year-long treatment prescription. "The treatment is magic," Dai Xiaotong's mother told Beijing Review , "It is mainly relying on a kind of massage of the acupuncture point as a treatment to activate the muscle, and it has good therapeutic effects."
The treatment cost is 70 yuan ($10.77) per day, including the administration charge. But if you require a specialist, the charge increases, she explained. Though generally speaking, the cost is much lower than treatment in hospitals in larger cities, said Dai's mother.
"My baby was born with his disease, which can only be cured by Chinese traditional treatment; if you resort to Western medicine, doctors can only perform an
operation by cutting part of the muscle," the mother said. "But the operation can cause some damage to the body, and is too painful for the baby. In contrast, the Chinese traditional treatment is painless."
Nearby, another infant, Deng Deng, was also being given massage treatment to specific parts of his body, including his cheeks, to cure his ailments and avoid surgery. His mother and grandmother both echoed their beliefs of the effects of TCM as "magic."
When asked about the scale of demand for TCM versus Western medicine, Wang Hua, a gynecologist and head of the local TCM hospital, told Beijing Review , "we have seven TCM hospitals here and 55 country medical centers to improve the technology for medical treatment for our patients."
"The hospital was founded about 160 years ago. We have 700 beds, 394 doctors and 105 post graduates," Wang continued. "One Taizhou TCM hospital is getting a new building with 1,005 beds, which will be opening soon. We have over 2,000 years of TCM history here. Over 120 years ago, a book was written by a local doctor to blend TCM and Western medicine together to cure diseases, so we have a long history of integrating these two traditions."
Copyedited by Bryan Michael Galvan
Comments to zanjifang@bjreview.com