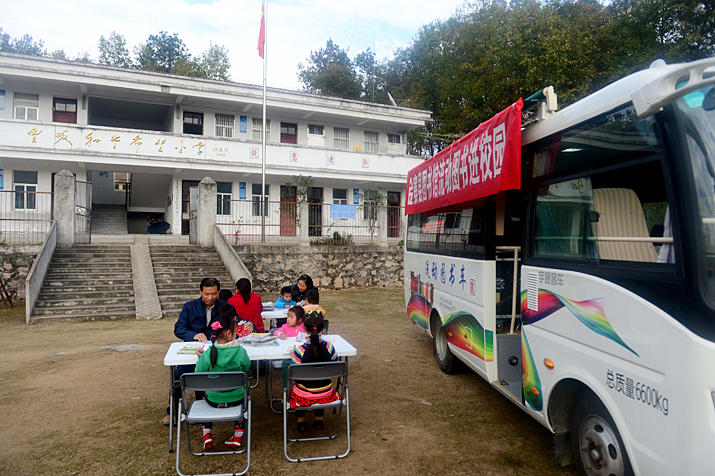 Teachers and students in Nanxi Primary School in Jinzhai County, Anhui Province, read books sent to them via a mobile library on November 5, 2015 (XINHUA)
'Have you watched 3D movies in town?" became a common greeting among residents in Youdunjie Town in Boyang County, east China's Jiangxi Province, during the most recent Chinese Lunar New Year (Spring Festival) holiday. That is in part because the Purple Golden Cinema, which opened on January 18, has become a popular recreational venue in the town. During the weeklong holiday that started on February 7, it was packed with eager moviegoers.
"I never thought I could watch updated 3D movies in my hometown," a young resident surnamed Wang told Bychina.com, a local news website in Boyang. "The visual effect is no different with that in big cinemas in Shenzhen and the price is much lower."
Wang has worked in Shenzhen, south China's Guangdong Province, for two years and came back to Boyang for a family reunion during the festival. While Boyang is on the national list of counties in need of poverty relief, cultural activities, like moviegoing, are coming to life.
In Shenzhen, a 3D movie costs about 80 yuan ($12.3), while in Youdunjie it only costs 30 yuan ($4.6). Wang recounted that in the past, residents in the town could only watch movies in open areas in the summer. The movies were mostly out-of-date and some were even in black and white. "Although those days were memorable, we want a much more advanced cinema in which we don't have to swat away mosquitoes or be cautious of possible rain," Wang said.
Movies and books
This is not a unique scene in impoverished places across China.
In Funan County, southwest China's Sichuan Province, Times International Cinema has become the most popular destination for locals during holidays since it was put into operation in late 2014.
"All my friends are very happy for the new cinema as we had to march to nearby Fuyang City for a new movie in the past," a local resident surnamed Huang posted online. Huang watched the new movie Mermaid on February 9 with his girlfriend. "It was super crowded in the cinema," Huang wrote. "We arrived at the cinema at 2 p.m. to catch the session at 2:20 p.m., but were told the tickets were sold out. We had to wait for another two hours to watch the movie."
Figures from Forward Industry Research Institute, a market survey and research company in China, show that although large cities still occupy the main portion of the ticket box in China, there has been a remarkable increase in the portion in small and medium-sized cities and counties, from 28.2 percent in 2012 to 36.7 percent in 2015.
"In the past, we spent most of the Spring Festival holiday at home, either playing mahjong or watching TV," Huang said. "It was really dull. Now with the cinema, we have more choices. Watching a movie with the whole family has been a new fashion in the town."
A report released by the State Administration of Press, Publication, Radio, Film and Television in 2015 stated that a recipient of state relief for poverty-stricken counties can get a subsidy of 800,000 yuan ($122,480) from the Central Government for constructing a cinema. After being put into operation, the cinemas can also make profits by attracting local advertisements.
"It is a significant move that is designed to enrich the cultural life in poverty-stricken regions," said Xiao Qiang, a movie industry researcher in Beijing.
The library is another place people in impoverished rural areas can go if they feel bored at home. That is why Du Quancheng Library in Wushan Town, Xiangyang in central China's Hubei Province, didn't close during the Lunar New Year holiday. "We opened for 10 hours every day during the holiday, from 8 a.m. to 6 p.m.," said Du Quancheng, founder of the library. "Every day we welcomed about 50 readers. I spent the whole holiday in the library with them and I think it was very meaningful."
First opened in 2001, the library has been a cultural landmark in the town. Nie Meicai is a frequent reader here. In 2011, Nie came across some books on pig breeding in the library. With the techniques he learnt by himself, Nie is running a pig farm in the town, which generates more than 1 million yuan ($153,100) every year.
"Every time I had some questions, I would come to the library first," Nie said. "The library has also become a gathering place for locals. Although the Internet is more convenient for searching information, it is more practical to communicate with locals face to face."
The mobile library in Jinzhai County, east China's Anhui Province, goes one step further in providing convenience to readers. The library is actually a refitted bus, which carries books selected from the Jinzhai County Library's collections. The bus arrives at different schools in remote villages in the county on fixed dates and stops on campus for the teachers and students to read.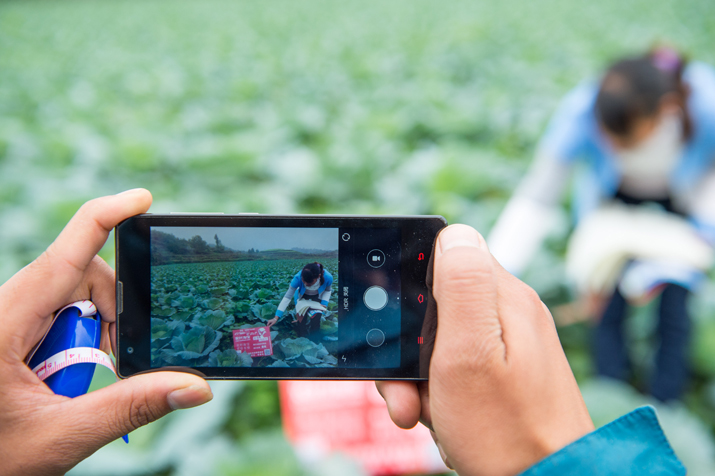 A resident in Jinpan Village, southwest China's Chongqing Municipality, takes a picture of his farmland for his online business on November 7, 2015 (XINHUA)
Technology upgrade
If books and movies are familiar terrain, cloud computing technology might sound like the bee's knees for those living with little if any technology at their fingertips, and plans are underway to extend the technology currently available to those without access.
For example, in southwest China's Guizhou Province's new five-year plan for social and economic development (2016-20), big data and poverty alleviation are highlighted as two major strategies. "This means we will make full use of big data technology to reduce poverty," Liu Yuankun, the province's vice governor who is in charge of poverty alleviation, told Xinhua News Agency.
According to the province's schedule, more than 3 million of the remaining 6.23 million people living below the national poverty line of 2,300 yuan ($375) in annual income will be lifted out of poverty by the end of 2017 and all will shake off poverty by 2020. In fact, a cloud-computing database has been built in the province with the help of big data technology, pooling all updated information about residents living below the poverty line such as their location, the causes of their poverty, how much subsidies they get and by what kind of poverty alleviation project they are covered.
Weining, a major habitat of Yi, Hui and Miao ethnic groups, is one of Guizhou's most impoverished counties because although it has favorable natural conditions to grow apple trees it is very difficult for local residents to sell their harvests due to poor marketing skills.
Now, with the help of WeChat, the most-used instant messaging and social networking smartphone app in China, local residents are able to sell 10 tons of apples per week.
The Internet has helped Chinese people overcome poverty, Chris Nebe, CEO of Monarex Hollywood, who is currently shooting a documentary about Guizhou, told Xinhua. "The Internet has become a tool for poor Chinese people to make a better life," he added.
Copyedited by Mara Lee Durrell
Comments to yuanyuan@bjreview.com