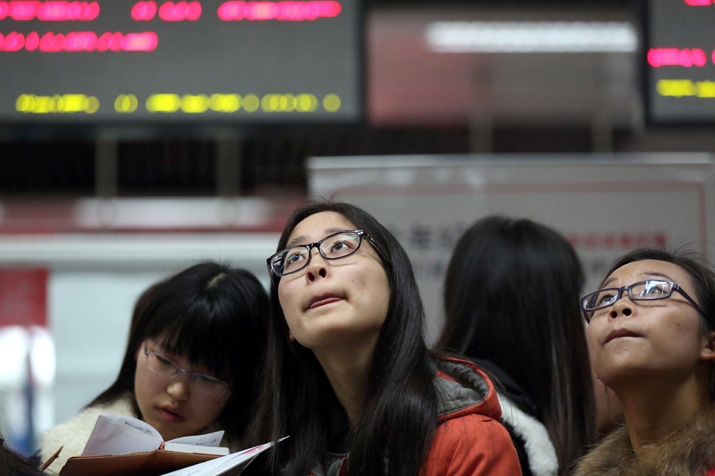 Female college graduates view employment information at a job fair held in Nanjing, Jiangsu Province, on March 7, 2015 (XINHUA)
After winning China's first gender discrimination case against a state-owned enterprise in November 2015, the plaintiff, Ma Hu, appealed for higher compensation and a formal apology. The People's Court in the Shunyi District of Beijing rejected the appeal on March 2.
The 26-year-old girl filed her complaint against China Post, operator of China's official post service, on January 26, 2015. She sought an apology and compensation of 50,000 yuan ($7,630).
The Jilin native, with the surname Deng, prefers to use the pseudonym of Ma Hu, which are separated parts of the Chinese character "lu," meaning mule, a word often used in China to describe someone stubbornly pursuing a goal.
In September 2014, Ma Hu applied for a job as a courier with China Post. After an interview and trial, she was found to be suitable and received an oral offer subject to passing the health test.
But she was eventually turned down on the grounds that, as a woman, she might not be physically suited to be a mail courier.
After nearly a year of deliberation, the court determined that China Post's rejection of Ma Hu constituted discrimination and ordered 2,000 yuan ($305) in compensation for psychological pain and trauma.
Ma Hu was delighted by the court's verdict. "It was reasonable based on the obvious discrimination by China Post against employing female couriers," she said. However, the amount of compensation was much lower than what she originally asked for.
"If the cost of gender discrimination is so low, I don't think it will have much of an effect on employers," Ma Hu told Beijing Review. "And the court didn't uphold my request for a formal apology from China Post."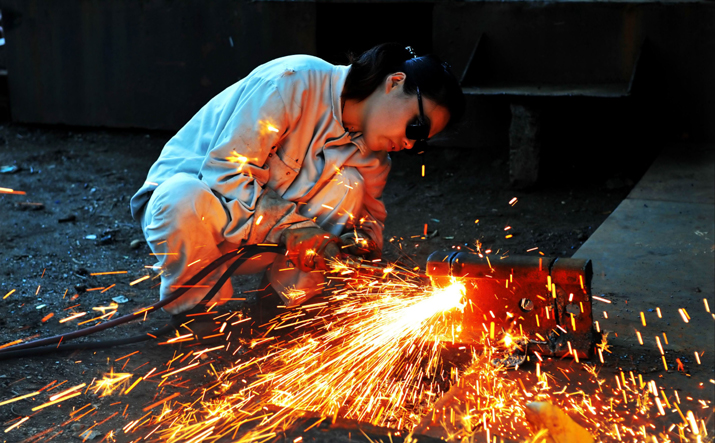 Liu Hong, the chief technician from Shougang Group, has been working as a welder for more than 20 years (XINHUA)
The tool of law
This case is the third one in China where a woman has sued an employer over gender discrimination, but it is the first where the defendant was a state-owned company.
"The discrimination by China Post was very obvious and such discrimination is quite common in China," Ma Hu said. "Even after I won the case, China Post still put 'male only' in recruitment ads for couriers."
In June 2014, Guo Jing, a female college graduate, sued Dongfang Cooking Training School in Hangzhou, capital city of Zhejiang Province, after her application of a clerical post was turned down because she was not male.
After more than six months, the court delivered a verdict that the school should pay Guo 2,000 yuan in damages but rejected her demand for a written apology.
"I have tried to show more women that we can protect our interests and rights through the already-established legal tools that we have at our disposal," Guo told All-China Women's Federation, a women's rights organization.
In 2012, the first gender discrimination lawsuit in China was filed when female job-seeker Cao Ju sued Juren Academy, a tutoring school in Beijing. Unlike Guo and Ma Hu, who refused mediation, Cao reached a settlement and received 30,000 yuan ($4,580) in compensation from the school.
The arguments in court by China Post made Ma Hu refuse mediation in her case. China Post said women are physically unsuitable for the job because some heavy lifting is required, and they refused to accept women for the position in order to protect women.
"We divide labor so everyone can do what they are good at and what they like to do," Ma Hu wrote in her article titled You Tell Me Not to Be Such a Mule. "When I wanted a job, people weren't comparing which applicant was more suitable but rather which applicant was male. I'm sorry, but please don't say that this discrimination is to 'protect' me. I have always been able to protect myself."
The Labor Law of China states that employees or applicants for employment must not be discriminated against on the basis of nationality, race, gender or religious belief. It is against the law to refuse to hire a female employee because of her gender or to have specific gender-related conditions, such as marriage or maternity-related stipulations for her employment, with the exception of the select jobs or positions that have been proscribed as "unsuitable for females."
Even though courier is not included on the list of unsuitable positions, Ma Hu said those on the list are quite outdated. "The list was drawn up in the 1990s, but the development of advanced tools and technologies has made those jobs not so labor demanding," Ma Hu said. "The law needs to be updated."
Family v.s. work
While these women have pursued their legal rights in court, the two-child policy newly released in October 2015 seems to put young women across China in a disadvantageous situation in a certain sense.
The policy brought to an end the decades-long rules that restricted most couples to only one child, with exceptions made for rural couples whose first child was a girl, families with a disabled first child, and ethnic minority couples. The change has put 270 million married women of childbearing age in an awkward position in the job market.
"If women were disadvantaged in the job market because of one maternity leave, now they could be further disadvantaged by two," said Wei Boran, a human resource manager in Beijing.
The two-child policy is a challenge for both employers and female employees.
Hou Jinmei, a 30-year-old lawyer working in Beijing, has just returned to work after maternity leave. "I was glad at first to hear the news of the two-child policy, but the financial burden and fear of losing my job pulled me back from getting pregnant again," Hou told Beijing Review .
A survey by Chongqing-based human resources website Job.cq.qq.com found that more than 70 percent of job seekers believe that having a second child would make females less attractive in the job market, even though two thirds of employers surveyed said the policy will not affect their recruitment.
"Some employers claim to have no prejudice but they play tricks," said a netizen on the website of QQ.com. "They don't refuse females directly. They include females at the interview stage but still choose male applicants. You can't sue them if they do this."
Female college students seeking to find a job have also felt the effect of the policy, which was released during the peak of the job-hunting season.
"I was asked quite a few times during interviews how many children I would have in the future," said Lin Lili, a student at Beijing Normal University. "I think it is a violation of privacy. Even if they don't ask, I know it is a main concern for them hiring females."
Lin said she has a classmate who chose to have a child during post-graduate study and it has been happening more often on campus in recent years.
"It was a way to remove the concerns of employers about maternity leave, but now we can have two children," Lin said. "Even if an applicant already has one child, employers might fear the applicant could have another one in the future."
A female graduate, surnamed Liu, from Beijing Institute of Technology wanted to become a programer but rarely reached the interview stage with her job applications.
"Of the 35 students in my class, only eight are females," Liu told Beijing Review . "It is much easier for a male student to find a job as a programer even though he might not be as outstanding academically as his female peers."
A recent survey by the Women's Federation in Shenyang, capital of northeast China's Liaoning Province, found that female college graduates will get a job after an average of 8.4 interviews - 2.1 more than their male peers.
Zhong Xin, head of the Employment Service Center with Jilin University, said it usually takes a longer time for women than men to get a job at their graduation, although women's employment rate is even higher than men's because women's general academic performances are better.
For 22-year-old Liu, marriage and children are a long way off and she never gives them a thought. "But the employers always demand higher standard for female graduates than males. Most companies require master's degree of the female candidates but bachelor's degree for the males," Liu said.
It is a dilemma for her. If she can't find an ideal job, she might go back to school for a master degree. But in that way, she will be 25 years old when obtaining the degree and the age will become a disadvantage in the job market at that time.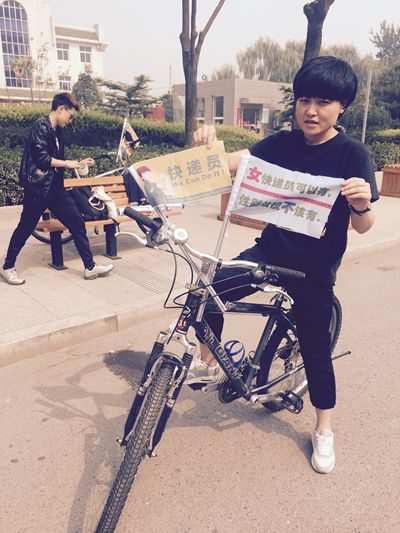 Ma Hu rides on a bike with banners saying: We can have female couriers, but no gender discrimination, and we can do it! on September 17, 2015 (COURTESY OF MA HU)
Where to go?
"To be a programer needs intense focus and often involves frequent business trips," said Liu Zhizhou, a programer working in Zhongguancun Science Park in Beijing. "It is not suitable for women. Most of the female programers in my company quit the job after three or five years, especially after they have children. I don't think it is prejudice but the way things are that makes employers cautious about employing females."
Feng Lijuan, a senior expert on human resources at 51job.com, a leading Chinese job finding platform, echoed Liu Zhizhou and said she would not call caution by employers "discrimination."
"Many employers, especially private companies, have to consider the potential contribution of employees they are going to hire," Feng said. "For example, if a job requires frequent business trips, extra work and more attention to work instead of family, a capable male candidate would be more suitable."
In Feng's opinion, the issue with women is not only limited to maternity leave. "A female employee might only fully get back to work after three to five years after having her first child," Feng said. "It is not realistic to require companies to give absolute equality when choosing their employees. It is not about gender choice. I would say it is a market choice."
For Ma Hu, such remarks stem from the label employers put on women based on their personal experiences.
"They can't use this label on every individual because everybody is different," Ma Hu said. "One label can't fit all."
Ma met several female couriers and many of them have been working for a few years and are capable of doing such work. But even so, the delivery companies still refuse to accept female candidates.
"It is more of a traditional prejudice that females are less capable than males, and it is deeply rooted in our culture," Ma Hu said. "We need to take some action."
A report publicized by the Economic and Legal Research Center of Anhui University in late 2014 showed that 33 percent of female workers expressed that they not only earn less than men for the same work within a company, but also tend to be passed over for promotion in favor of men, even if their qualifications and ability are equal to, or even greater than the men who get promoted in their place.
"I am more likely to be interrupted when delivering speech at various forums than the male speakers," said a woman who claimed to be a chief financial officer in a foreign-funded company during a street interview with China Central Television. "When I go to meet business partners with male co-workers, I am always regarded as the secretary or assistant rather than a co-worker."
Ma Hu is now working for an NGO helping females in vulnerable situations. She sees hope for the future.
The first gender discrimination case was accepted by the court after 14 months; the second one was accepted in two months. The court accepted Ma Hu's case the second day after she filed.
"We can feel courts are no longer treating gender discrimination as special cases," Ma Hu said. "We hope more women will stand up to discrimination."
"To change the situation, policies need to be worked out to avoid women having to go to court," said Xiong Jing, Executive Director of Media Monitor for Women Network, a Beijing NGO promoting gender equality. "For example, introducing paternity leave for fathers will relieve the pressure on women a lot."
"While carrying out the two-child policy, the government should take into account the negative effects it will have on female employees and make some preferential policies to offset the possible losses for this group," Ma Hu said.
Copyedited by Calvin Palmer
Comments to yuanyuan@bjreview.com