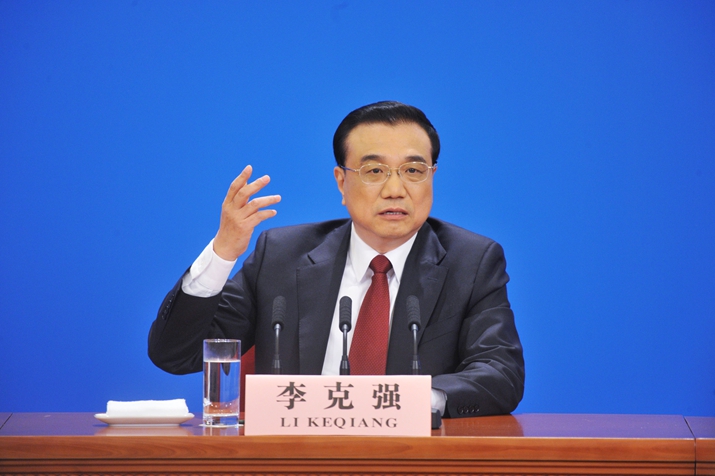 Premier Li Keqiang at the press conference in Beijing on March 16 (WEI YAO)
Editor's Note: At a two-hour-long press conference at the end of this year's National People's Congress session on March 16, Premier Li Keqiang took questions from 17 domestic and international media outlets on a wide range of issues. Edited excerpts of his answers are as follow:
Growth Target
It is impossible for me to agree with doubts stating that China cannot achieve the growth target that it has set for this year. The weak world recovery has taken its toll on the Chinese economy. Also, China's economic transition is under way and its deep-rooted problems are emerging. The downward pressure is indeed increasing. But one prominent feature is uneven development across regions and industries.
Hope and challenges coexist in China's economy. If we look at what is "fundamental" as well as the "main trend," hope outweighs the challenges facing China.
We are fully confident about China's long-term growth prospects because we believe that there will not be a hard landing as long as we stick to the path of reform. There is still huge potential in China's markets—the general public has unlimited creativity. The government has overreached its aims in many aspects of the economy, which hindered productivity, and we are also not doing an adequate job in ensuring a level playing ground. I believe that through reform we can stimulate more vitality in the market, and greater vigor in Chinese people.
The deregulation and tax cuts of the past few years will unleash the vitality of the market. Meanwhile, new forces of economic growth drivers are taking shape in a way that beats expectations. Despite slowed growth over the past few years, employment conditions are not bad. Last year we created more than 13 million jobs in urban areas. In the first two months of this year, the service sector grew 8.1 percent.
We are in the midst of pushing ahead with industrialization and urbanization. New types of urbanization are creating large demand domestically, especially in central and western regions, where there is enormous room for effective investment. If we combine the "fostering of new drivers" and "upgrading of old engines" and make them the "double engines" of the Chinese economy, they will push China through economic difficulties and land the country onto a plateau of hope.
Instability is increasing under uncertain world economic prospects. But we have ample reserves of policy instruments. Last year, despite a six-year low in world growth, we managed to reach our previous target. We realized that in the absence of all-out stimulus measures, we have instead chosen the path of structural reform, which is tough but sustainable. There will be small and short-term volatility down the road, but should there be any sign that the economy will slide beyond an appropriate range, we have the reserves of innovative macro-adjustment measures to stabilize expectations.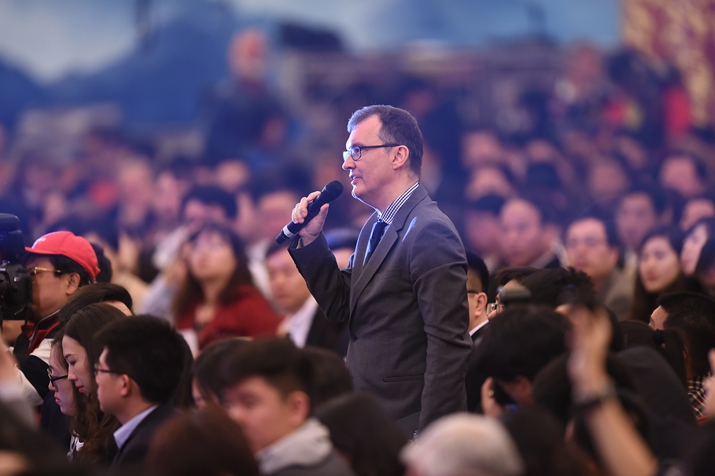 Journalists at Premier Li Keqiang's press conference (XINHUA)
New Economy
Developing the new economy will help us foster new economic drivers and move China's economic transformation forward. The concept of a new economy covers a wide range of areas and has many dimensions. It can be found in the primary, secondary and tertiary industries.
When development has come to a certain stage, it is only natural for traditional growth drivers to begin to wane. Hence, we need the boom of new growth drivers to accommodate the needs of the ongoing industrial revolution. And when we combine the new growth drivers with the upgraded traditional growth drivers, we can bring into being a hybrid driving force.
New growth drivers will also help with our efforts to cut industrial overcapacity. In companies belonging to sectors with overcapacity, there are problems involving overstaffing, and the growth of new drivers will help generate new jobs to re-employ any possible laid-off people. The campaign of mass entrepreneurship and innovation is to put in place a platform for the development of various types of companies and research institutions, and to create a broad space for crowd funding, crowd innovation and crowd sourcing.
Financial Markets
The top priority of the financial sector is to support the development of the real economy. Last year, we took a series of steps—not quantitative easing measures—to insure appropriate money supply, and to bring down the cost of financing and enhance the development of the real economy.
The financial sector operates according to its own laws, and one should always look out for possible financial risks. Last year, because of the difficulties that companies faced in some sectors, the nonperforming loan ratio of some financial institutions in China increased, but we are still in a good position to defuse the financial risks because the capital adequacy
ratio of commercial banks is still about 13 percent, which is below the international warning line. We also have other market-based tools at our disposal to help bring down the corporate debt ratio. We're determined to press ahead with the building of a multi-tiered capital market, and we can also use such a market-oriented format for equity swaps to help bring down the corporate leverage ratio.
Last year, there were some unusual fluctuations in China's stock markets. Public departments took coordinated steps to stabilize the markets and prevent any sustainable financial risk, and our measure achieved the desired result. We will continue to pursue market-oriented reform and establish a sound, legal framework for the operation of stock markets and bond and currency markets.
The government needs to improve the regulatory system in China. First, there needs to be full coverage of financial regulation, as we are seeing an increase in financial innovation products. Second, we need to step up coordination because all these financial markets and products are so highly interconnected, so such coordination must therefore be authoritative. Third, responsibility must be matched with power; central government departments and local authorities must perform their assigned tasks conscientiously and promptly handle any possible latent risk, as well as guard against moral hazards. We must sharpen our vision to exercise the most effective regulation.
We have already launched the Shanghai-Hong Kong Stock Connect and will work toward the launch of the Shenzhen-Hong Kong Stock Connect within this year.
Agriculture and Farmers
We are going to pursue coordinated development between new urbanization efforts and agricultural modernization to help move more migrant people into urban areas.
For those who are already working and living in urban areas, they will be granted urban residency if they meet certain eligibilities and requirements.
We will also develop appropriately scaled farming to boost labor productivity and enhance the competitiveness of our agricultural products.
Avoiding Massive Layoffs
There are serious problems regarding overcapacity, especially in heavy industries and petrochemical industries. We have selected the steel and coal sectors to start with the effort of cutting overcapacity and at the same time we will also avoid massive layoffs. We will assign laid-off people to new jobs and for those who still have difficulties in getting employment opportunities, the central and local governments have financial resources to cover layoffs. The Central Government has established a 100-billion-yuan ($15.42 billion) fund in this respect, and if there is a need to, we can increase that amount.
Paying Pension Benefits
Some localities have found it hard to make pension benefits payments, but these are only isolated cases. If local governments have done their best, but still have special difficulties, the Central Government is prepared to extend help to them. In the past three years, the Central Government has earmarked 1 trillion yuan ($154.2 billion) for that purpose.
In the long run, there will absolutely be no problem in meeting pension payments. Last year, the surplus of our pension insurance schemes was still at 340 billion yuan ($52.43 billion), and the accumulative balance stood at 3.4 trillion yuan ($524.28 billion). Moreover, we still have the central social security fund, which is worth 1.6 trillion yuan ($246.72 billion), as a strategic reserve that has not been touched, and we can also use state-owned assets to replenish the social security fund. So, ensuring that the elderly will be provided for cannot and will not be an empty promise.
Social Safety
There is a rising call by the general public for cutting personal contributions to social safety packages and the housing provident fund. Last year, the State Council already trimmed the contributions by individuals and businesses to insurance schemes covering workplace safety, unemployment and maternity.
There's still room for us to cut contributions to social safety insurance schemes and the housing fund, and conditions in different localities vary from each other. We still have ample social safety funds. Local governments can be given greater autonomy to make their own decisions to adjust contributions while keeping in line with their local conditions. The purpose of our efforts is to lessen corporate burdens and put more money in the pockets of our people.
Medical Insurance
Many retired elderly people are moving to places away from their hometowns to live with their children. When they get sick or hospitalized, they cannot easily get their medical expenses reimbursed from the places where their expenses occurred.
The Chinese Government is determined to achieve its goal of creating fully portable national medical insurance schemes at a faster pace. This year we will basically achieve direct settlement of such expenses at the provincial level. And we also plan to use two years of time to achieve the interprovincial settlement of expenses concerning the hospitalization of elderly people in places away from their hometowns.
Less Red Tape
Streamlining administration and delegating powers hold the key to transforming government functions. We have cut the number of items that require State Council review and approval by one third in recent three years. Yet, there are still too many items that require government approval, which have consequently held back the development of productivity and also effective consumer demand among people.
This year we are determined to further cut the number of items requiring government approval and leave more of such items in the hands of the market. For those items that still exist, procedures need to be simplified. We also need to further unify existing standards. Our efforts have unleashed the creativity and entrepreneurial enthusiasm of our people tremendously. Now, on a daily basis, as many as 30,000 new market entities get registered.
But delegating power does not mean that the government will be hands off. Instead, it needs to do a better job. The government will provide better services to the people to ensure that they can get things done with greater ease.
Transparency in Gov't Affairs
First, any information that can be made public should be released. So openness will be standard practice, instead of the exception. More information needs to be made public if it concerns an issue that involves public interests or it concerns the balance sheets of public finances. We should make government information so easy to access that it will be just one click away from Chinese people's fingertips.
Second, we need to upload as much information as possible onto the Internet. We need to release a list of the government's powers, and this will help us narrow the space for any fraudulent use of office.
Third, the government needs to actively respond to public concerns. When we introduce a particular policy, if people have any questions or doubts about the policy, the government has the duty to give necessary explanations and even revise the policy by drawing suggestions and ideas from the general public. We need to ensure that people are fully clear about what our government's policies are about.
Hong Kong's Future
Hong Kong will maintain its long-time stability and prosperity. The policy of adhering to "one country, two systems" will not change and has not changed. The development of Hong Kong is needed by Hong Kong itself and also the country as a whole. Hong Kong's development ultimately comes down to the efforts made by the people in Hong Kong.
As an advanced economy, Hong Kong achieved a [GDP] growth of 2.4 percent last year, which is not low at all. Hong Kong can further utilize its own strength as well as seize the opportunity offered by mainland development. The Central Government will give full support to any proposal from the SAR [Special Administrative Region] Government that helps maintain Hong Kong's long-term stability and prosperity and contributes to the well-being of people in Hong Kong.
Cross-Straits Relations
Economic and social ties between the mainland and Taiwan are becoming increasingly close. Many Taiwan business people are quite sensitive about any economic measures from the mainland and some wonder whether the preferential policy for Taiwan businesses would be changed. We have issued a document specifying that all the introduced preferential policies for Taiwan businesses will remain unchanged, in order to reassure them.
We will introduce more policies to boost business cooperation between the mainland and Taiwan on the premise that there will be continued peaceful development of cross-Straits relations and that the cornerstone is composed of the 1992 Consensus. As long as one adheres to the political foundation of the 1992 Consensus and recognizes that both the mainland and Taiwan belong to one and the same China, anything can be discussed.
China-U.S. Relations
There are both broad shared interests and some differences between China and the United States. Some differences can be quite sharp. Yet last year, China became the United States' top trading partner, with two-way trade reaching $560 billion. This in itself shows that the common interests between the two countries far outweigh their differences.
Both China and the United States need to act in line with the principles of equality and mutual benefit. Currently, the two countries have stated readiness to press ahead with Bilateral Investment Treaty (BIT) negotiations. China, on its part, will give U.S. investors wider market access in a gradual manner, but we hope such openings would be mutual, and the BIT negotiations should proceed on the basis of seeking mutual benefit.
There are up to 100 various dialogue and exchange mechanisms between China and the United States. As long as the two sides act with good faith and properly manage their differences, I believe our common interests will expand further. And as our cooperation grows, the number of differences may naturally rise, but the percentage of differences in the overall China-U.S. relationship will only be reduced. Broader cooperation serves the interests of both countries and the world.
The relationship has seen more than a fair share of ups and downs, but it has always been moving forward, which I believe is the underlying trend. I believe that no matter who gets into the White House after the general election in the end, the underlying trend of China-U.S. ties will not change.
Sino-Russian Ties
There is a comprehensive strategic partnership of coordination between China and Russia. The ties will not be affected by changing circumstances in the international environment, and will not cave to third-party pressures. In the meantime, China follows the principle of nonalignment, and China-Russia cooperation will not be targeted at any third party.
Our business cooperation has also been rising. Last year, Chinese imports of oil from Russia increased by 8 million tons, but because of plummeting commodity prices on international markets, China's total imports and exports declined, not just its imports from Russia. The physical volume has gone up, but the total trade volume has come down because of the falling prices, and neither country is responsible for that. We can explore cooperation in the integrated development of oil and natural gas, and we can also introduce a greater level of diversity into our trade mix.
China-Japan-ROK Ties
Last year I went to South Korea and attended the trilateral leaders' meeting. This meeting should be an annual event; however, it was only resumed last year after a three-year hiatus. As to whether the format will enjoy smooth development in the future, it's very much up to interactions among the three countries. In particular, there have been some signs of improvement in Sino-Japanese ties, but it is not fully established yet and it is still fragile. We believe that it is important to adhere to the consensus reached between the two sides on the issue of principles involving historical events, and it is important to match one's words with concrete actions.
The economy of the three countries accounts for one fifth of the global total and 70 percent of Asia's total. There are many aspects through which we complement each other and if we can leverage these, we can do even better in the global market.
Ties With Neighboring Countries
China has believed in pursuing harmonious coexistence with its neighbors all along. It is up to the efforts of regional countries to maintain stability and harmony in the neighborhood. It is also natural that some differences may arise between neighbors. But as long as we all treat each other with sincerity and seek peaceful settlements to differences through diplomatic means, regional stability will be maintained.
Development remains China's top priority. China needs a stable neighborhood and a peaceful international environment for its domestic development. And a growing China will remain a strong force upholding global peace, as it is also in the interests of it's neighbors. China will remain committed to the path of peaceful development and will not waver in its resolve to uphold sovereignty and territorial integrity. We hope all countries from within this region beyond will work together to uphold regional stability, not the opposite. That is in everyone's best interests.
Copyedited by Mara Lee Durrell
Comments to yanwei@bjreview.com