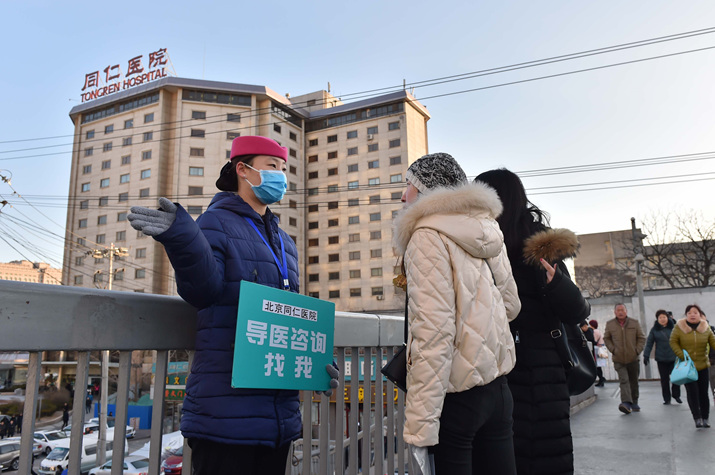 A staff member from the Beijing Tongren Hospital answers questions from hospital visitors (XINHUA)
A video shot at a hospital in Beijing went viral on the social network in late January, in which a woman wept inconsolably in the hall of the Guang'anmen Hospital. She revealed that she had been waiting for two days but still couldn't get an outpatient appointment, as they had all been booked by scalpers. The scalpers resold one appointment for 4,500 yuan ($688), 15 times higher than the original fee of 300 yuan ($46).
Patients often pay a fee to schedule medical appointments and are issued a numbered ticket upon booking. The appointments for popular specialists are normally booked out days or even months in advance. Patients who want to see these doctors have no other remedy but to turn to scalpers, who make an enormous profit by abusing the system.
This is a common scene in comprehensive hospitals in China's first-tier cities, such as Beijing, Shanghai and Guangzhou, as people from all over the country swarm to such places for medical treatments. Scalpers have thus become a common sight at hospitals, even though it is illegal.
On January 25, police arrested 12 scalpers in three downtown hospitals of Beijing, including the Guang'anmen Hospital mentioned above, Peking Union Medical College Hospital and Xuanwu Hospital. Yet the aforementioned video stoked deep-seated public ire over access to medical care, an issue that goes beyond even the scalping scandals.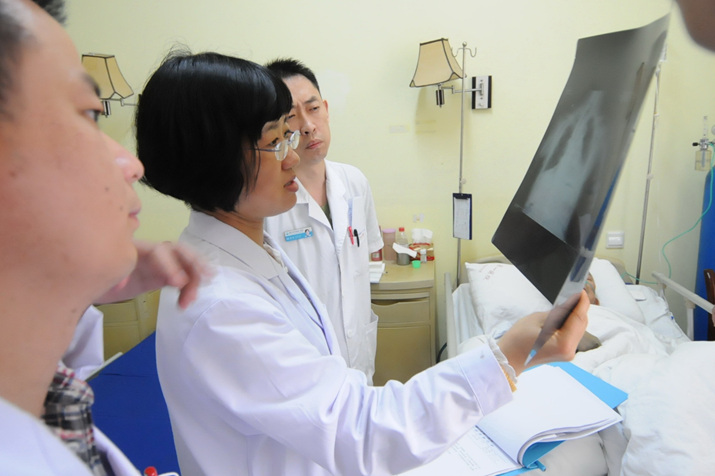 Wan Xiaoqun, a doctor from the First Affiliated Hospital of Xiamen University in Fujian Province, also works in a community hospital(XINHUA)
A hierarchical medical system
"Arresting the scalpers only solves the problem at a superficial level," said Wang Guoqiang, a member of the Chinese People's Political Consultative Conference (CPPCC) National Committee and head of the State Administration of Traditional Chinese Medicine (TCM), on march 7 at a CPPCC panel discussion "It is necessary to take quick actions against scalpers, but more importantly, we need to dig deeper toward the root of the problem, otherwise if you arrest this group of scalpers today, there will be another group coming out tomorrow."
The root, according to Wang, is caused by an imbalance in medical resources between big cities and underdeveloped areas, especially in remote rural areas. "If people can get satisfactory medical treatment locally, who would spend time and money to come all the way to Beijing?" asked Wang.
Cao Lianyuan, former President of the Huilongguan Hospital in Beijing, visited some hospitals in rural areas and was shocked by how badly equipped the local clinics were. "Some of the hospitals only have one doctor and two nurses," said Cao at a forum with some specialists from the medical field in Beijing on March 4. "The villagers, after getting serious diseases, either go to larger hospitals for treatment or just gave up if they can't afford. It is a real problem."
Cao recalled that when he was working at Huilongguan Hospital as the president, a resident doctor made a record by seeing 227 patients within one day. "With all of the high-standard medical resources going to large cities, people from other areas must travel a long way in order to access quality medical care," Cao said. "This is the real reason for the current problems in China's medical system."
According to Cao, in order to deal with the situation, a hierarchical medical system must be adopted. "There is no other way," he said.
Liu Guoen, a professor from the National School of Development at Peking University, echoed Cao's sentiments at the forum.
"To balance the medical resources in the country, we have to set up a hierarchical medical system, and to do this, we need to give full 'freedom' to the 2.6 million doctors in China."
By "freedom," Liu means untying doctors to hospitals that they work for and letting them provide medical services at more than one clinic.
In May 2015, a regulation was released in Shenzhen, Guangdong Province, allowing doctors to work in more than one hospital. The same policy has also been adopted in many other places in China as a new step to "free" doctors.
"If patients can't get an appointment with me in this hospital, they can go to another one, which might cost a lot more, but has fewer patients," said Luo Jiangping, a TCM doctor from the People's Hospital in Luohu District of Shenzhen.
By the end of 2015, more than 700 doctors in Shenzhen had joined this program. But for Liu, this is not thorough reform.
"Doctors are not totally free and they can only go to another hospital with the permission from the original hospital they are employed by," Liu said. "This is still a hurdle. On one side, we have many doctors tied-up in the hospitals in cities; while on the other side, some poor areas are suffering from a huge lack of medical staff. It is a waste of resources."
Two sides of the same coin
In addition to the free flow of doctors, patients also need to enjoy the freedom to migrate to other parts of the country without worrying about whether their new locale will cover their medical expenses.
"This year, we will basically solve the direct settlement of medical expenses that occurs at different places within a province," said Premier Li Keqiang at a press conference after the close of the annual national legislative session on March 16. "Within two years, we will try to enable the interprovincial settlement of expenses concerning the hospitalization of elderly people so that this issue will no longer be a problem."
Moreover, a national online database that has the information of every patient needs to be set up, according to Chen Xiaohong, a member of the CPPCC National Committee and Vice Minister of the National Health and Family Planning Commission, at a CPPCC panel discussion on March 10.
"Now, the information of many patients hasn't been saved online or shared nationally, which causes many inconveniences for them," Chen said. "They might have to go through the same medical tests again after they transfer to a different hospital and this directly causes disputes between doctors and patients."
"The doctor-patient relationship in China has been fraught with such incidents," said Gao Wei, a CPPCC National Committee member and Vice President of Peking University Third Hospital, at the discussion. "We can't place blame solely on one side as both sides have their reasons."
Wen Jianmin, a CPPCC National Committee member and Director of Orthopedics at Beijing's Wangjing Hospital, faulted the low salaries of medical staff as a reason for a shortage of qualified personnel since young people are not inclined to choose this profession. "For a regular appointment at public hospitals, the highest price is only 14 yuan ($2.15). It is too low based on the current consumption level."
In Wen's opinion, this is one of the main reasons why there are so many scalpers, as their cost in acquiring the numbered tickets is quite low as well—even grabbing 20 appointments at one time only costs them 280 yuan ($43), and they can resell them for several thousand yuan more.
Wen had no idea that the cost of a numbered ticket to see him has been raised to 3,000 yuan ($462). "But I get paid by the hospital based on a 14-yuan fee," Wen said. "For new college graduates who are recently employed in our hospital, they earn less than 5,000 yuan ($769) a month, which is hard to live on in Beijing."
Among all hospital departments, pediatrics is widely considered as the most difficult to receive medical services from. China's introduction of the two-child policy this year has caused significant concern that the change will further aggravate the current shortage of pediatricians.
In fact, the number of pediatricians in China dropped to around 100,000 according to China's public health statistical yearbook in 2015. On average, there are only 43 doctors for every 100,000 children.
In 1998, the Ministry of Education abolished pediatric departments in universities. Qian Xueming, a CPPCC National Committee member from Guangxi Zhuang Autonomous Region, wrote in his proposal to this year's full session of the CPPCC National Committee that he only knew five universities with pediatric departments now.
In the proposal, Qian called for supply-side reform of the nation's pediatric departments. He suggested free training programs for pediatric majors at universities around the country.
Meanwhile, Song Yi, an official from the Ministry of Education, announced at a press conference on February 24 that 38 medical universities will enroll postgraduates majoring pediatrics in 2016 and by 2020, the number of pediatric students will reach 10,000.
"The strong shortage of pediatric doctors is a serious situation and the Ministry of Education will make continuous efforts in cultivating more pediatric majors," Song said.
Copyedited by Mara Lee Durrell
Comments to yuanyuan@bjreview.com