After his son was diagnosed with acute leukemia in 2013, a man known by the pseudonym Liu Hai sold all of his property to pay for the treatments. But, after two bone marrow transplants in three years, part of which was also funded by donations via an online charity platform established by Tencent Holdings Ltd., Liu's son lost his fight for life in August.
Despite his grief, Liu wanted to do something positive. "My child is gone, but I can help others," he said.
Liu then volunteered in hospitals, advising parents of ailing children on how to get help with social aid as the yearly charity campaign initiated by Tencent Foundation, the charity arm of Tencent, drew near on September 7. Knowing that other families were experiencing the same ordeal, he wanted to do as much as he could to help. "Many children with illnesses can be cured if they receive financial aid in time," Liu said.
As one of China's IT giants, Tencent strongly cooperates with public charity foundations which seek to raise money for specific projects by publicizing them on the company's charity website Gongyi.qq.com.
This year, more than 6,500 public welfare projects participated in Tencent Foundation's three-day campaign, attracting 12.68 million individual donations totaling 829.9 million yuan ($126.8 million).
Besides public donations, Tencent Foundation and 300 partner enterprises—including the Industrial and Commercial Bank of China, China Post and Amazon China—donated a further 476.99 million yuan ($72.9 million).
"The lack of money is a headache for NGOs as well as low public participation [in their fundraising activities]," said Deng Guosheng, Vice Dean of the Institute for Philanthropy at Tsinghua University. Deng pointed out that Tencent Foundation's campaign can help charity organizations overcome these problems.
Internet plus charity
Most people in China have probably at some time come across unobtrusive little donation boxes dotted around cities. To publicize a donation campaign in times past, NGOs usually needed to stage some fancy activities and cooperate with the media to make their voice heard. But the effect was still limited. However, mobile Internet now provides a platform that not only enables such organizations to reach more people, but also facilitates contributions to charity anytime, anywhere.
Late in August, a charitable art sale raged on Tencent's WeChat platform, China's most used social networking app, which collected 6.6 million yuan ($1 million) in only four hours. Many WeChat users posted newly acquired paintings on their personal stream, and some even used them for their phone's wallpaper.
The artworks for sale were painted by autistic people, and the money raised will be donated to a program called Enlighten Life With Art, which aims to help people with disabilities such as autism, cerebral palsy and Down syndrome as well as eliminate the social prejudice they face.
During this year's charity campaign, Tencent Foundation held social activities in five cities—Beijing, Shanghai, Hangzhou, Shenzhen and Chengdu—at which donors could meet NGOs and gain a better understanding of their projects.
In addition to monetary contributions, people could even donate time spent browsing WeChat. For this, users agreed to be exposed to advertising, whose revenue WeChat would donate to charity.
That's Tencent new goal: making charity a lifestyle choice by connecting Internet users' lives offline with their activities online.
Besides Tencent's website, another 12 online platforms have been authorized to promote charity fundraising drives by the Ministry of Civil Affairs (MCA), including ones belonging to e-commerce giant Alibaba's Taobao.com and news portal Sina.com.
This year, Alibaba launched its 9/5 Philanthropy Week campaign on September 5, China's Charity Day. The company called on each participant to devote three hours every year to charity work and published a series of philanthropy plans covering a variety of programs including environmental protection and assisting children and women in difficulty.
"We must shoulder the responsibility for our country and for the whole world in the future," said Jack Ma, founder and Executive Chairman, at Alibaba's 18th anniversary conference recently. The company announced on September 11 that 270 million individual acts of charity took place during the weeklong campaign.
Besides facilitating charitable donations of time and money, Internet companies also apply cutting-edge technology to serving charity programs, for example searching for missing people using facial recognition technology and assisting cancer screening with artificial intelligence-based medical imaging technology.
"For a long time, innovations in the public welfare sector have lagged behind technology, commerce and government reform," said Xu Yongguang, Director of the Narada Foundation, a private foundation approved and supervised by the MCA. In Xu's view, the involvement of businesses in public welfare can be a sustainable way to help deal with various social issues.
"China is enhancing its Internet development. The Internet Plus initiative has provided massive opportunities for Internet-related fields," said Zhang Xunhong, Director of the Internet Social Work Bureau under the Cyberspace Administration of China (CAC).
"A number of online platforms for charity organizations together make basic rules for this field, which is helpful for sharing the whole country's public welfare information," said An Ning, Deputy Director of the MCA's Social Organizations Management Bureau.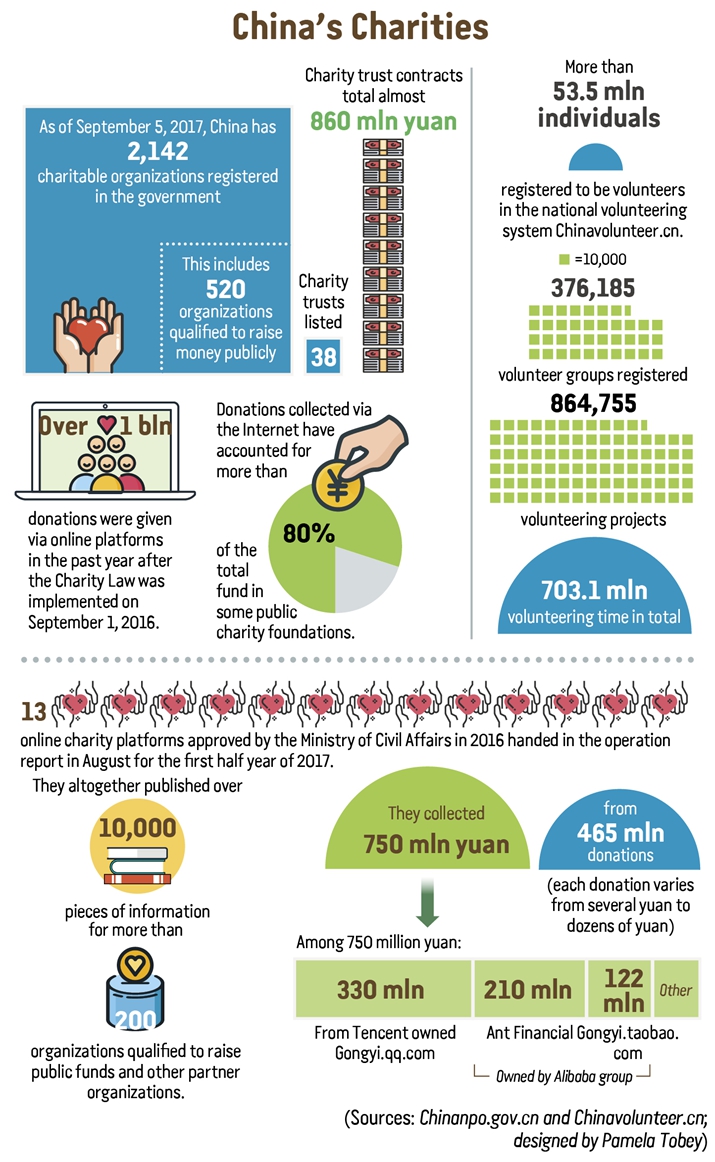 The way ahead
While Internet companies have brought a wave of netizens' enthusiasm to charity development through popular social campaigns, some questions have also been raised.
As the artworks by autistic painters went viral in August, some online commentators doubted whether they were really painted by people with autism, and others questioned if Tencent and the project's initiator, Shanghai-based World of Art Brut Culture, received any commission, despite the latter being a private non-profit organization.
Tencent responded to all the doubts online, publishing a statement about how they launched the project and how donors could track their donations as well as releasing videos showing autistic painters creating and introducing their works.
The company also stated that the money raised would not be funneled through Tencent's charity platform; it will go directly to Ai You Future Foundation, a Shenzhen-based organization.
"For public fundraising projects, donations will go to the accounts of the organizations qualified to raise money publicly, which are also responsible for the usage of the funds," said Yang Sibin, member of the Academic Council of the China Charity Alliance.
Many charities today are Internet-based, and they are increasingly run on third-party platforms. To safeguard against fraud, the Charity Law, which took effect on September 1, 2016, stipulates that only charitable organizations officially approved for public fundraising activities can post relevant information online.
"In the past, NGOs concerned most about finding people who could donate. But now, [they must provide more information:] Donors need to know who will finally benefit from their donations and what the whole process is like, not only where the money goes," said Zhang Jianmin, Vice Secretary General of China Women's Development Foundation.
Tencent Foundation, established in 2007, renewed its transparency policy earlier this year, requiring organizations on its platform to publish the amount of funds raised, the expenses, and the plan of the target project. Those who meet the requirements are approved to participate in its annual charity campaign in September.
"The exposure of complete and true information guarantees that participants have a good record, which earns public trust and also enables people to select better projects and helps them accomplish their goals," said Chen Yidan, Tencent Foundation founder.
However, compared to projects promoted by huge organizations or celebrities, community-level organizations that lack online crowdfunding skills and the capability to operate efficiently are marginalized in large social campaigns.
Among the more than 6,500 projects in Tencent Foundation's campaign this year, the top 10 percent received 178 million yuan ($27.2 million) by 4:00 pm on the first day, which accounted for 75 percent of the total amount raised by that time, according to Nanjing-based Xinhua Daily.
"Community-level organizations can hardly solve their financial problems by relying solely on yearly charity day campaigns. They should know how to 'advertise' their projects. I have donated to several projects and also find that some projects are carelessly designed," said Xu Yun, associate professor at Nanjing University of Finance and Economics in Jiangsu Province.
But Liu Qiang, founder of an NGO in Nanjing, sees the positive side. "Although the amount of money I raised [through Tencent Foundation's campaign] is small, I'm still excited because community-level organizations need to depend on giant platforms to attract more participation," Liu said.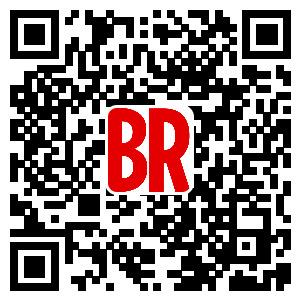 Scan here to see photo gallery
Copyedited by Chris Surtees
Comments to ffli@bjreview.com