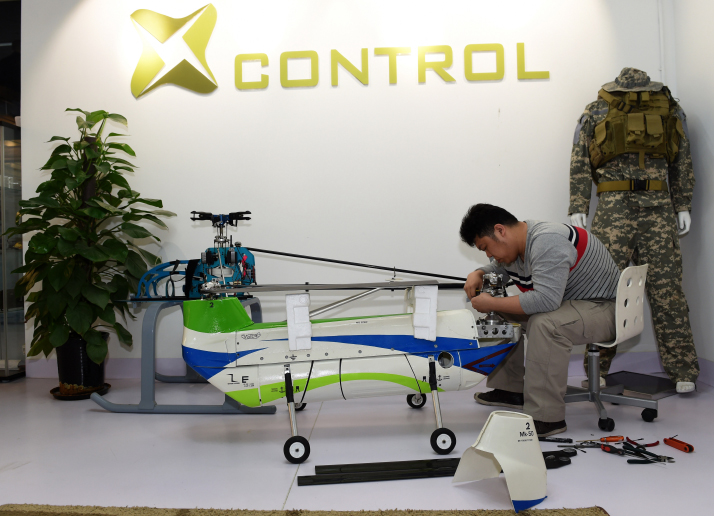 A technician works at a company focusing on unmanned aerial vehicle development in an innovation demonstration zone in Beijing, on April 3, 2018 (XINHUA)
The E9 Zone, located in east Beijing's Chaoyang District, used to be a wasteland after a dairy plant moved out in 2012. But two years later, a makeover took place in this 78,000-square-meter area, turning it into a modern industrial park that integrates both culture and technology industries. By the end of March, over 80 innovative companies were settled in the zone, including three unicorns. A unicorn is a startup company valued at over $1 billion.
The zone's transformation is part of Beijing's plan to phase out some non-essential functions, become the country's center of scientific and technological innovation and pursue high-quality development.
Industrial upgrading
Beijing is currently home to over 21 million people, and the number is expected to climb to 23 million by 2020. Traffic congestion, soaring property prices and excessive use of resources are all severe urban ills facing the huge metropolis.
Lin Keqing, Executive Vice Mayor, said at a conference in March that Beijing will soon introduce a plan to promote high-quality development, which will feature economic growth, sound governance, ecological conservation and the improvement of people's lives.
To ensure high-quality development, Beijing has been attracting innovative technology companies to inject life into idle factories among other measures.
"With more companies settling in, the E9 Zone has become an ideal place for people to develop and share their innovative ideas," said Cui Jingjing, founder of GEO, one of the three unicorns in the industrial park. Cui's company is an artificial intelligence and big data service provider. She said the comfortable and open environment in the zone facilitates people's innovative thinking and creativity.Yang Likun, founder of Beijing Jingshi Technology, said the modern office environment in the E9 Zone is one of the main reasons why the company chose to move in, along with the cheap rent, which was 40 percent lower than the company's previous location. Moreover, the company nurtures partnerships with other innovative companies in the zone.
So far, there are over 60 former industrial sites that have undergone similar metamorphoses in Chaoyang, with others scattered throughout Beijing.
In addition to transforming old factories, Beijing has worked on moving out traditional logistics, warehousing and manufacturing companies so as to facilitate industrial upgrading and high-quality development.
For example, the renowned Beijing Zoo Wholesale Market with 350,000 square meters had over 90,000 traders who contributed only about 50 million yuan ($7.4 million) in tax per year before relocation started in 2015. After the move was completed in 2017, the area is being transformed into a financial technology (fintech) hub focusing on regulatory technology, risk management, financial security and innovative services. In 2017, the first-phase 10,000-square-meter office area that houses fintech and innovative companies generated 50 million yuan in tax.According to the Beijing Financial Technology and Professional Service Innovation Demonstration Zone (Xicheng District) Construction Plan released in December 2018, the area will be turned into a core sector of the demonstration zone.
In order to attract fintech enterprises and professional service providers to the office space, the Xicheng District Government will offer financial support such as move-in and rent subsidies for three years, and a fund of up to 50 million yuan to companies going public. Funds will also be given to programs to improve the overall environment of the area and key buildings and offer quality services to companies and institutions that make their home in the zone.
Li Sufang, deputy head of the Beijing Municipal Development and Reform Commission, said a total of 1,307 traditional manufacturing companies and 500 wholesale markets and logistics facilities moved out of the city or upgraded in the past couple of years. By reducing low-quality and low-efficiency industries and industrial forms, more space is available for high-end emerging industries.In 2014, Beijing published a catalogue of prohibited and restricted new addition industries. Last year, a revised edition of the catalogue was released, showing support for high-end manufacturing that shores up industry segmentation. For example, there are no restrictions on industries related to new-energy vehicles and their components and industrial robot manufacturing.
Moreover, new material products supporting aerospace, national defense programs and major national special projects are not prohibited or restricted, according to the catalogue. Qualified national-level hi-tech enterprises or hi-tech enterprises in Zhongguancun, a technology hub in Haidian District known as China's Silicon Valley, are also encouraged to apply for approval.
From 2014 to 2018, Haidian moved 2,360 manufacturing enterprises out of the city to make more room for companies focusing on innovative technology. According to district head Dai Binbin, on average, 50 science and technology companies are established in Haidian every day. Furthermore, per 10,000 people, there are over 300 patents registered, 30 times that of the national average.
According to Li, companies in the technology service, culture, sports and software industries accounted for 50 percent of new companies in Beijing in 2018, up from 25 percent in 2017. Among them, there were more than 70,000 companies in the information service and science and technology industries, 40 percent of the total.
Beijing's high-quality development plan has already yielded results. In 2018, its per-capita GDP reached $21,300, ranking first nationwide.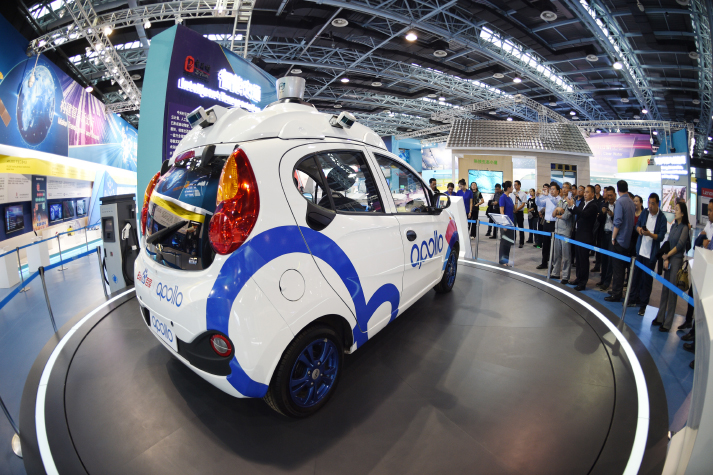 A self-driving car is on display at the Zhongguancun National Independent Innovation Demonstration Zone in Beijing on September 27, 2018 (XINHUA)
Opening up
Deepening opening up of the service industry is also a top agenda item for Beijing's high-quality development. According to Lin, the city will introduce more supportive policies this year concerning cross-border trade, entry and exit procedures for high-caliber professionals and intellectual property rights protection.
Beijing will also learn from advanced international economic and trade rules so as to elevate the level of opening up and promote high-quality development. All the policies aim to help Beijing become friendlier to business people and investors from all around the world.
"As a foreign company, we found the approval process very convenient, including the filing and tax registration," Lars Eckerlein, Senior Vice President of ABB (China) Ltd., told China Daily. ABB is a Switzerland-headquartered company focused on industrial technology.
"Our service unit has been developed rapidly in recent years thanks to the policies set by the capital," he added.
Copyedited by Rebeca Toledo
Comments to luyan@bjreview.com